2021 Digital Marketing Trends: Top Recommendations | Cardinal
The year 2020 had a lot of marketers scrambling to keep up. It was a year like no other, really, with current events dramatically shaping digital marketing trends. Unless you've been living under a rock, this laundry list should sound familiar: socio-political turmoil, including mass protests, violent street clashes, and an upcoming election; a cooling U.S. economy; destructive wildfires and unpredictable weather phenomena; and of course, our old, pugnacious nemesis, COVID-19.
The reason these developments so directly affect marketers is all the, ahem, unprecedented uncertainty they create. Who knows, for example, what social media advertising costs will look like a week, month, or year from now? What new updates will Google unleash at us? And who can predict how long the eCommerce "boom" will last, especially when we don't know when the world will get the green light to return to normal?
What is normal, really, and where the hell did it go off to in such a hurry?
The point is, the time is now for marketers to closely scrutinize their goals, performance metrics, and KPIs. To survive and thrive again, marketers must be nimble and adapt new strategies quickly and precisely. As we've seen with our own client portfolio at Cardinal, those brands, businesses, and people that can find a way to be flexible in the face of adversity will be best positioned to stick around, grind it out, and begin looking forward to 2021.
"We're not just creative people, but we're analytical people. At the end of the day, I think using those faculties to be able to not just pivot but even, perhaps, in this state of things, as they're today, we're ready to disrupt going forward." –Kurt Lee Hurley, CMO of American Family Care, during an interview with Cardinal CEO Alex Membrillo.
2021 Digital Marketing Trends: Analysis and Predictions
The good news is that it's not all doom and gloom. And many organizations are cautiously optimistic about the future. In light of all the craziness, we thought we'd put together our predictions for the coming year in digital marketing trends. Having spent most of 2020 right in the thick of it, helping clients in industries like law, education, and healthcare navigate these turbulent times, we've got some ideas about the direction things will take in a few key areas of marketing.
While there are certainly new trends and technology to account for, what you'll by and large find is that a lot of these marketing strategies and trends aren't necessarily new, but they're evolving in notable ways that should inform your outlook going forward.
Article Contents:
We're about to embark on a comprehensive survey that examines how digital marketing is evolving in 2021. If you want to jump to a specific trends section, use the links below.
Pay-per-click (PPC) Advertising
Conversion Rate Optimization (CRO)
Search Engine Optimization
Search engine optimization (SEO) is always a moving target because search algorithms are constantly evolving. That regular flux certainly won't change in 2021. But we have noticed certain trends that promise to be a lot more than just "flash in the pan" changes.
That's not to say things like COVID-19 won't have lasting effects on SEO (just look at Google coronavirus search trends for 2020). But there are far more fundamental changes that will impact the world of SEO in the near to long term. So we've earmarked the five SEO trends we think will matter most come 2021.
User Experience
User experience (UX) is not just a buzzword, and it cannot be overlooked by folks in SEO. Not only is designing digital experiences and customer journeys from the user's perspective—and for the user's benefit—a best practice, it's now becoming a central ranking factor for search algorithms.
That's right.
According to a May 2020 Google Webmaster Central Blog post, Google Search now factors so-called "UX signals" into its rankings. This change is underscored by new Core Web Vitals, which organizations can use to take the pulse of their UX health. "Core Web Vitals are a set of real-world, user-centered metrics that quantify key aspects of the user experience," say the writers at Google Webmaster Central. "They measure dimensions of web usability such as load time, interactivity, and the stability of content as it loads."
Put simply: to keep your pages ranking in 2021, UX will be just as important as on-page/off-page SEO, if not more so.
One has to believe that this shift toward ranking, based at least in part on UX signals, is based on a simple premise: if the experience is bad, people won't get what they need and then bail. Why would Google rank pages that make for this kind of poor experience? Indeed, a brief survey of the data shows that there's something far more important than SEO at stake for companies that are unable to deliver consistent, well-designed UX:
Our takeaway? People expect speed, ease, and convenience wherever they are, on whatever device. If they can't find it, they move on. And Google is adjusting its algorithm accordingly.
How to prioritize UX in the coming year:
That means SEOs ought to have a vested interest in making sure that their websites are up to par from a UX perspective. This will require an even greater emphasis on off-page and technical SEO strategies that make life better, faster, stronger for site visitors. Because these so-called UX signals aren't going anywhere, your content needs to do a couple of core things in order to rank well:
Load fast. There are a number of ways to optimize for page speed, from the way images are handled, to CSS and Javascript code optimization. The PageSpeed Insights tool is a great place to analyze URLs.
Be easy to use and find. Site structure, navigation, and usability matter. As does SEO.
Be accessible across all devices and platforms. You can use tools like BrowserStack to audit your sites and ensure a compatible, bug-free experience no matter what device someone is using.
Based on the latest updates from Google, it's safe to conclude that sites that can deliver this caliber of user experience will be rewarded with better search visibility.
Read our article "Google Core Web Vitals: What to Know and How to Prepare" to get more information on what you can do to improve your website's UX.
Semantic Search
Moving forward, so much of the SEO world will be shaped by how people search for things on the internet. And while that seems like a simple thing, it's rooted in something a tad more complicated: semantics. Generally, semantics is the study of words, their relationships, and what those relationships mean in specific contexts.
The perfect thing for search engines like Google, right?
In 2021 and beyond, semantic search will be how search engines use the myriad data available to determine the context, intent, and meaning needed to retrieve the most relevant content possible. In layperson's terms, semantic search is how the Google algorithm can take your incomplete, grammatically incorrect, seemingly random search query and find exactly what you were looking for.
Here's how Alexa Blog defines semantic search:
"Semantic search refers to the ability of search engines to consider the intent and contextual meaning of search phrases when serving content to users on the web."
Semantic search is just as much about UX as it is about SEO when you think about it. Rather than putting the onus on people to use exactly the right search terms to find what they need—that perfect sequence of words—search engines are taking it upon themselves to interpret our gibberish, fragmented language, and obscure questions.
Semantic search by the numbers:
Increasingly, people are treating search engine experiences, be they web-based, mobile, or voice-activated, as conversational. They use normal language, not Google keyword speak, which leaves it up to search engines to interpret this language, piece together meaning, and bring back the most relevant content. Just look at these mobile search stats from Google supporting the shift toward semantic search:
There has been an 85 percent increase in mobile searches starting with "can I" (Think With Google)
There has been a 65 percent increase in mobile searches for "do I need" (Think With Google)
There has been a 65 percent increase in mobile searches for "should I" (Think With Google)
It's all conversational. Which brings us, of course, to voice assistants. You can't really talk about semantic search without mentioning voice assistants. Google Assistant, Amazon Alexa, Siri—these assistants are at the center of this broader shift to semantic search.
By their very nature, voice assistants are designed to interpret and respond to searches spoken in natural language. And they're powered by semantic search capabilities. Indeed, nearly 70 percent of Google Assistant requests "are expressed in natural language, not the typical keywords people type in a web search" (Think With Google). It follows that this search behavior is directly influencing search algorithms.
"If there's one thing I've learned over the 15 years working on Google Search, it's that people's curiosity is endless. We see billions of searches every day, and 15 percent of those queries are ones we haven't seen before–so we've built ways to return results for queries we can't anticipate." –Pandu Nayak Google Fellow and Vice President, Search
How to prioritize semantic search in the coming year:
Optimizing for semantic search is an ongoing effort. As you plan, execute, and update your content for 2021, keep a few questions in mind. First and foremost, how and why do your users search for your content? What answers, information, content, or even experience are your target audiences likely looking for? How can you create authoritative, enriching content to meet the demands of these prospects, customers, clients, and partners?
From there, here are the areas we recommend focusing on when it comes to semantic search:
Content that answers questions. You might dedicate entire blog posts or website pages to a particular question that your prospects or target buyers commonly have. FAQs. Interview transcripts. The point is to be thorough, accurate, and authoritative. Search engines will reward you for it.
People-optimized content. No keyword stuffing. No compromising good structure, flow, and material for the sake of keyword ranking. In terms of readability, think easy-to-understand sentences, bulleted and ordered lists, a skimmable hierarchy of headers, and supplementary images and video. Oh, and you might want to hire a specialized content or copywriter—it's worth it.
Structured data. A semantic schema for a given product, question, article, ratings, or review can certainly help search bots find and understand your pages. Assuming you have the website resources and expertise to execute schema properly, you might want to make structured data part of your strategy.
Internal linking. Linking between your content not only makes it easier to navigate to related content, but it creates a structured map of content around a central topic or search term for search engines to crawl, index, and serve up in search results. Certain software integrations, such as Yoast, will automatically suggest relevant content to link to on a given web page. They'll also alert you to broken internal links, which can hurt your site health and SEO.
Topic optimization (vs. keyword optimization). Build out clusters of valuable content around high-level topics, sometimes called the "skyscraper" or "topic cluster" method. A topic cluster around semantic search, for example, might include subtopics dedicated to things like schema and writing for voice assistants.
A good, measurable indicator of your efforts around semantic search will be earned featured snippets, knowledge graphs, and other SERP features, all of which can be tracked through various SEO tools (Moz, Ahrefs, SEMRush, and so on).
Search Intent
We firmly believe that come 2021, the marketers who understand their audience's intent and the questions they're asking will achieve better organic search rankings (see our treatment of "Semantic Search" above). It's not that controversial of a take when you consider that, in 2019, Google rolled out its BERT update dedicated to "understanding" peoples' searches better. Here's a bit more from Google Fellow Pandu Nayak on search intent:
"At its core, Search is about understanding language. It's our job to figure out what you're searching for and surface helpful information from the web, no matter how you spell or combine the words in your query. […] With the latest advancements from our research team in the science of language understanding—made possible by machine learning—we're making a significant improvement to how we understand queries, representing the biggest leap forward in the past five years, and one of the biggest leaps forward in the history of Search."
Since rolling out this rather massive update, the Google search experience has become much more conversational. The Google algorithm can now interpret intent from all kinds of natural language queries, long and short. That obscure 90's one-hit-wonder you're looking for, but don't know much about beyond the first three notes—somehow, Google is going to help you find it with even the most ridiculous search query.
Among other catalysts, this focus on search intent is an evolution of the search engine experience to accommodate the growing popularity of voice assistants and voice search (as mentioned). Instead of big-thumbing text into a search bar, people now ask Siri, turning these conversational AI platforms into powerful search engines. Going forward, the preference for "searching the way one speaks" will only grow stronger, and Google is clearly adapting to meet this need.
And it begs the question: is your content optimized for no-touch search experience powered by voice?
If we can find a way to inference and optimize for the intent behind what our audiences are searching for, we can potentially tap into a significant lift in organic search rankings. Here are a few search intent stats that support that claim:
Comprehensive retail keyword analysis revealed four primary "intents": informational; commercial; transactional; and local (Moz)
Brands see 80+ percent brand metric lifts for intent-based targeting compared to demographics-based targeting alone (Think With Google)
Brands have achieved a 677 percent increase in organic traffic to a landing page after optimizing for search intent (Ahrefs)
Can you imagine a 600 percent increase in organic traffic to one of your high-value landing pages, just by making things more human? It's amazing how far a little bit of empathy can take you. After all, that's what optimizing for intent is really all about.
How to prioritize search intent in the coming year:
From an SEO perspective, the shift toward intent means that you can't just focus on top-of-the-funnel, short-tail keywords anymore if you hope to maintain strong organic keyword share. Says Think With Google, search intent is redefining the marketing funnel altogether:
"Stop marketing to the average: Be useful. People respond to brands that understand their needs. So, it's important to optimize your media for both relevance to the consumer and lifetime value for the brand."
Put differently, think about how to bring value to the journey as you build and optimize content around the four core "intents": getting information; making a purchase; shopping and comparing products; getting to a certain website or digital "place." From there, we recommend that you:
Build content based on your target customer's intent. First and foremost, use clear, concise sentences and write the way people talk. If a certain target segment has demonstrated commercial intent, write content that answers those searches and, ideally, nurtures them toward a purchase decision.
Publish FAQs around natural queries and use schema for these FAQs to send stronger signals to Google that yours is authoritative content it needs to rank. Google loves to pull FAQs or portions of FAQs and throw them into snippets that offer a zero-click answer for a given search engine query.
Bucket your target keywords based on the four intents to help inform your SEO strategy. Ahrefs provides a great breakdown of keyword "modifiers" that indicate a certain type of intent (informational, commercial, transactional, and local). What need does your target audience typically need to be filled?
Research intent-based content needs. People who want to buy something like product overviews, walkthroughs, and reviews, for example. Others prefer dedicated landing pages or blog posts. SERPs will reveal a lot about the content people want based on their intent.
Zero-Click Search Results
Increasingly, search results take people to Google properties, such as YouTube videos, snippets, and knowledge graphs—stuff that Google can serve up in search results without requiring a "click" from the user. Why? Because it's all about what the end user wants. And people want the answer, information, or "thing" they're looking for as quickly as possible.
A "zero-click" search result provides the answer or information a person needs without the need to spend any more time clicking through to a website. As of 2019, zero-click searches account for more than 50 percent of all Google searches. Not surprisingly, Google is getting really good at giving their users all they need on a single SERP page, through things like featured snippets, knowledge graphs, and video carousels. Duplicate listings, where a snippet holder would also earn a top spot in the traditional list of search results, are now a thing of the past.
Examples of zero-click searches:
To demonstrate the experience, search Google for "coronavirus" and look at the SERP. There's a glossary with information about symptoms, statistics, and testing. There's aggregated news from local and national sources, as well as a localized map of case volume for your area. Because the SERP is Google property, they have tremendous leeway and space for creativity when it comes to giving people all they need straightaway.
Here are a few more examples of zero-click search experiences:
A knowledge graph for a particular health condition. When you search for, say, "migraine headache," Google will display an interactive knowledge graph with overview, symptoms, treatments, and specialists.
A simple calculator for a common calculation. For example, when you search for "mortgage interest calculator," you'll be presented with an embedded calculator where all you have to do is input the numbers right there in the SERP.
A movie or album carousel. When you search, for instance, "movies by sofia coppola," Google will give you a tidy horizontal panel including all of the esteemed director's films.
Zero-click search results by the numbers:
Zero-click search results are a funny thing. The data seems to indicate that they're becoming the norm, with Google constantly innovating new ways to enrich SERPs and "keep people on Google" without clicking through to third-party websites. However, therein lies a caveat: the more effective that Google gets at delivering zero-click search results, the less likely people are to click through to your website, which could mean lost traffic and, potentially, conversions.
Interesting twist, huh? Here are a few other thought-provoking numbers to consider:
Let's get this straight: we really, really, really want to rank our content on SERPs, but a) the majority of mobile users never click a search result and b) earning a featured snippet actually reduces CTR to our web entities? It's certainly something to chew on as you build your 2021 SEO strategy.
How to prioritize zero-click search results in the coming year:
Start with the understanding that Google is doing all it can to keep search traffic on its own entities (Google Search, Google My Business, and YouTube). Have we driven that point home adequately? Knowing that, you can optimize content for both zero-click search results and related Google channels, hopefully without hurting SEO for your own web entities.
That means focusing on a few key areas:
Creating well-optimized video content and publishing to YouTube
Building a verified, complete, and frequently updated Google My Business listing for all of your locations

Creating schema for your FAQ, location info, and events
It might feel a bit like throwing out the baby with the bathwater, this constant kowtowing to the latest whims of the Google algorithm. But the zero-click search experience actually is a lot better for users (assuming it's not flooded with paid search ads). And with Google still firmly atop the rankings in terms of users, search volume, and popularity, keeping up and keeping your pages ranked isn't an opportunity your business can afford to miss.
Google My Business
Okay, let's start here: the demand for local search is significant, with more than a billion people using Google Maps every month and more than five million apps and websites using Google Maps Platform products every week. Due to this demand, Google continually releases new features, such as posts, new service and product options, COVID-19 and options for black-owned businesses, and even a website builder. Google wants to make it easy for the many people searching locally for:
Services
Hours
Addresses
Phone numbers
Menus
Customer photos and video
Company websites
Reviews and ratings
This of course creates yet another opportunity to rank and access local markets. It also helps level the playing field for smaller enterprises. Instead of trying to break into the ranks for highly saturated, highly competitive, high-traffic keywords, businesses can build their visibility in more localized markets. As it turns out, a lot of business decision-makers and consumers turn to their local markets first.
"I love to keep things local. I'm always going to start local. I have an ad agency background myself, so I have a lot of connections in terms of whatever we need, whether it's production or audio, video, or even when we were searching for a new agency a couple of years ago. I always like to start locally." –Chryssa Rich, Director of Marketing–Marketing Speaker and Panelist–Inventor, in a recent interview with Cardinal Digital Marketing
Google My Business by the numbers:
If your Google My Business listing still strikes you as a low-ROI activity, or something down on your list of priorities, you might want to think again. Here are some Google My Business data that might change your mind:
5 billion+ people use Google Maps every month (Google Cloud)
5 million+ apps and websites use the Google Maps Platform every week (Google Cloud)
The average business is found in more than 1k searches per month, with 84 percent coming from discovery searches. Between Q4 2017 and Q4 2018, direct searches grew 38 percent, website clicks from GMB listings 29 percent (BrightLocal)
900 percent increase in mobile searches for "___ near me today/tonight" (Think With Google)
500 percent increase in "near me" mobile searches that contain "can I buy" or "to buy" (Think With Google)
Local search demand is a lot deeper than you might think. Most people start by looking for what they need within their immediate vicinity. And tapping into this search demand could provide your business with a tremendous competitive advantage.
How to prioritize Google My Business in the coming year:
Location-based search is built on a basic premise: when a person located in Chicago searches Google Maps for "Chicago-style hot dog," they probably want to see results limited to their immediate area. This is why Google My Business optimization factors heavily into local search experiences, and engagement and activity on a GMB listing are strong ranking signals for Google.
If local search is part of your digital marketing strategy, you'll want to keep your Google My Business listing complete, detailed, and updated on an ongoing basis. The first thing to do is to sign up, claim your business, and verify it through the Google My Business service (the verification process can take a couple of days or weeks). Once your location is established and verified, go through your Google My Business listing and optimize every aspect of the listing that you can.
Update service availability and business hours. It's pretty frustrating when you go looking for a business on Google and they don't have their hours posted. Or you want to order food and a restaurant hasn't posted menu information or a link to a web page.
Post your COVID-19 update. People are turning to search engines and business listings to see if their favorite spots are open, which services are still available, and how COVID-19 is affecting operations. Google My Business has included a dedicated space in its dashboard for COVID-19 updates.
Share your review form. Reviews are super important, both for your digital reputation and as a local search ranking factor. Consider including a link review form your email messages, customer communications, and website to encourage more customers to review your business.
Add location managers for your listing. Managing listings for multiple locations can be time-consuming for a single person. Google allows you to add managers to specific business listings to help save time and scale as you continue expanding to new locations.
Publish FAQs. Answering common questions can help get customers what they need without having to contact you, all in one place.
Add photos of your business, product, or services. People come to your listing to get a feel for business, brand, and experience. If you're a restaurant, for example, people will look for photos of your space, your food and menu, to decide if it's the right vibe for their night out.
Share weekly posts about products, events, or specials. Keep your Google My Business traffic engaged and informed with posts about your latest product sales, promotions, and special events. Post daily, post weekly, and give both customers and Google a lot of content to find.

Read "How to Optimize Your Google My Business Listing in 2020" to get more tips that will help you develop a compelling GMB listing that helps searchers and helps your ranking.
Pay-Per-Click (PPC) Advertising
First, the good news: pay-per-click (PPC) advertising isn't going anywhere in 2021. If anything, highly targeted, highly efficient PPC campaigns will be even more important to digital marketers. How marketers execute targeted and efficient PPC campaigns, however, might look a little different.
As you build out your 2021 PPC strategy, remember that businesses still get a $2 return for every $1 they spend on Google Ads (according to Google Economic Impact). While the underlying reasons and trends are many—and not without their fair share of debate—few disagree that PPC can be very effective. To that end, we've narrowed the focus to three PPC trends sure to make waves this coming year.
"A CEO might not understand a paid search campaign or an SEO campaign, but they can understand your lead volume from inbound went up 100 percent, and those leads for quality and drove 20 percent increase in inbound revenue generation. That you're starting to speak their language. A lot of it is understanding who your audience is and translating what you're doing, which might be tactical into strategy, but then also outcomes." –Cody Lee, Vice President, Summit Partners, in a recent interview with Cardinal Digital Marketing.
Privacy Concerns and Limited Data Availability
For professionals in the PPC world, intelligence around the search terms and language people use is essential information. At a fundamental level, this is the data that we use to understand audience behavior and dial in PPC campaigns. It's how we determine our target audience, optimize spend, and build out supporting campaign creative.
Due to the increased scrutiny around data privacy, including new legislation such as General Data Protection Regulation (GDPR), access to keyword and search query data will be even more limited in 2021. Take Google, for example. The world's largest search engine now limits the availability of search data, including query information in its widely used Search Terms Report. Here's the statement on data privacy from Microsoft CEO Satya Nadella:
"At Microsoft, our mission is to empower every person and every organization on the planet to achieve more. We are doing this by building an intelligent cloud, reinventing productivity and business processes and making computing more personal. In all of this, we will maintain the timeless value of privacy and preserve the ability for you to control your data."
In achieving this mission, Microsoft focuses on six core areas that are pertinent to our own discussion about privacy:
Control
Transparency
Security
Strong legal protections
No content-based targeting
"Benefits to you"
At their core, these changes are meant to protect people's data and comply with domestic and international privacy regulations. For the PPC folks who spend money on clicks, however, these limitations directly affect their ability to ensure the efficiency of their campaigns. That's because knowing someone clicked a PPC campaign target keyword without knowing the term that the user clicked—and spending valuable marketing budget on that click—is a bit like flying blind.
For marketers, evolving data privacy regulations will create new challenges in 2021.
PPC data privacy by the numbers:
Data privacy is no longer that thing that search marketers can conveniently overlook, sneak around, or leave to someone else's responsibility. Data breaches and fraud crimes now seem to come one after the other, often making national or international press. These incidents have severely impacted consumer sentiment around data collection. People are weary! They're being bombarded with pop-ups and disclosures when they reach a website.
And new data privacy regulations can really pack a punch:
A business's failure to adhere to GDPR can result in a fine of 20 million Euros or 4 percent of global turnover (PPC.org)
Data and privacy concerns are so pressing that Gartner predicts 80 percent of marketers will "abandon personalization" by 2025 (Gartner)
By 2023, more than 30 percent of all "brand public relations disasters" will be caused by data ethics issues (Gartner)
91 percent of people are concerned about the data companies can collect on them (Search Engine Journal)
12 percent of consumers say they "get customized assistance from brands" (Smarter with Gartner)
As this sample of privacy and personalization data suggests, the stakes around data privacy are high. PPC marketers have officially been put on notice, something we might not have said so definitively in previous years.
How to prioritize data privacy in PPC this coming year:
In terms of how to strategize around these changes in 2021, marketers would be wise to rethink how they collect and track data. How do you do so today and how are these strategies and tactics impacted by new limitations to data availability? There's room for adaptation here. And there are still ways to target specific demographics while launching lean, mean, PPC campaigns.
First and foremost, though, it's time to prioritize an organization-wide data security process for 2021. This process ought to bring in the stakeholders from Marketing, Sales, IT, Customer Service, and so on. Going forward, your ability to protect consumer data and not run afoul of data protection laws will likely become a matter of survival.
PPC Automation and AI Will Continue to Dominate Trends
If you've done any work with PPC, you know that campaign efficiency is the holy grail. Generally, that means maximizing conversions while minimizing cost, something PPC marketers constantly strive and innovate for. And this focus on campaign efficiency has now given way to new automation technology, powered primarily by machine learning and artificial intelligence (AI), that can automate campaign efficiency.
What makes PPC automations so powerful are their ability to more accurately target people at the optimal level of "buyer readiness." New automation technologies can do things like predict click-through rate (CTR) and conversions, freeing up time so that marketing people can better guide strategy and shape messaging.
Some insiders are predicting that manual bidding will disappear entirely in the very near future.
PPC automation by the numbers:
Most PPC ad platforms are offering some form of automation. As the data shows, many PPC marketers are taking advantage to make their jobs easier, their campaigns more efficient:
Using Maximize Conversions can improve CPC 426 percent vs. manual configuration (CXL)
84 percent of marketers surveyed reported that machine learning is speeding up PPC work (Acquisio)
How to prioritize PPC automation in the coming year:
If you're not finding ways to at least automate the time-consuming aspects of your PPC campaigns, you're likely falling behind a competitor who is. Tinkering with bids comes to mind, as do rule engines and ad scripts. All of this can be automated, leaving more time for PPC strategy, including the people you target and the campaign creative you use to do so.
The key is to find what works for your team and the clients you manage. The idea is to maximize conversion value, right? If it's an automated solution that gets you to that end, fine—as long as you're delivering results. Here are some areas of PPC you can automate according to Search Engine Land:
Dynamically generated ad copy based on your site content or user data
PPC reporting for the campaign performance metrics that matter most to your team
Error checking to identify and address unexpected errors that might affect campaign performance
Bids based on your target conversions, spend limits, or return
One last thing! As you automate more and more of your PPC campaigns, make sure to scrutinize your ad placements to make sure you're not advertising at a sensitive time, or running afoul of the highly critical public eye.
Responsive Search Ads (RSAs) Become the Default
By now, you've likely heard of responsive search ads (RSAs). Actually, by now most PPC marketers not only know about RSAs, but are using them thanks to Google's push to make RSAs the default option. Introduced in 2019, this new(ish) kind of ad should probably be filed under automation, as they're powered by Google AI. With RSAs, Google optimizes your headlines, ad copy, and CTA for you based on audience and search terms. Your job is to supply the content.
Here's a tidy definition of RSAs from Microsoft Advertising:
"Responsive search ads make creating ads easier by eliminating the need to figure out which headlines and descriptions work well together. You provide up to 15 headlines and 4 descriptions, and using these, Microsoft Advertising will mix and match the most optimal combinations to create effective ads for potential customers."
In practice, RSAs are designed to save you time and improve performance for your ad groups. Just feed the system lots of variations for ad headlines and descriptions and let AI do the rest—Microsoft-powered, Google, or otherwise. The ability to automatically optimize for audiences, devices, and so on—at scale—makes a lot of sense, right? Google certainly thinks so: RSAs work so well that Google may be phasing out expanded text ads altogether.
Responsive search ads by the numbers:
Since they were introduced in 2018, RSAs have performed very well in a number of different tests. Here's a quick snapshot of some of the data that points to the eventual discontinuation of expanded text ads (ETAs).
Given this sampling of results, which time is revealing to be quite indicative of the broader efficacy of RSAs, it's not hard to see why this type of ad automation is likely to become the norm.
How to prioritize responsive search ads this coming year:
First and foremost, you're going to have to make peace with ceding more control to your PPC advertising platforms. Like it or not, you'll be using RSAs more and more if you plan to make Google Ads, Microsoft Ads, and others part of your 2021 PPC strategy.
That means a lot less tinkering and tailoring with text ads, a lot more time tinkering with your campaign creative. Is it time to find yourself a battle-tested ad copywriter for those killer, high-converting headlines? It certainly looks like it. Here's what Microsoft Advertising recommends for RSAs:
8-10 headlines, both short and long for better cross-device usage
2-3 titles tied to target keywords, also with varying title lengths
1 dynamic keyword insertion that automatically matches a target search
1 brand title to be included in the most optimal place
Conversion Rate Optimization (CRO)
With the influx of automation and new advertising channels, conversions are more important than ever. And the ability to apply CRO best practices—to fine tune every step of the funnel—can translate into tremendous ROI.
Conversion rate optimization (CRO) can get a bit technical, so we like to break it down into simple terms:
Get people to your site.
Turn those site visits into tangible, revenue-generating outcomes.
A "conversion" might look like a form-fill to download an ebook, for example. A purchase from your eCommerce shop. Or maybe it's a trial sign-up or direct purchase of your software subscription. See below for an example of "conversion":
Your "rate" is the percentage of people that end up completing your desired goal, usually a percentage.
With this in mind, we urge you to consider CRO from two perspectives:
How people are getting to your website or digital experience (the journey from an ad, social media post, etc.).
What people are doing once they're on your site.
This gives us a bigger picture of all the key "touchpoints" along the journey, from awareness to conversion, each of which can be optimized to increase the chances that somebody makes it to the finish line. These include:
Display and PPC advertising
Landing pages
Blog posts
Website copy
Site structure, navigation, and page speed
Email and text messaging campaigns
Calls to action (CTAs)
Forms
What's so interesting about CRO is that the discipline is all about getting more out of the website traffic you already have. It's an opportunity to test, tweak, refine, and rebuild so that more people make it to the finish line (a purchase, a download, etc.) when they reach your site. And the reward can be tremendous, both in terms of revenue generation and overall user experience. So what are the conversion rate optimization (CRO) trends that will drive this important part of digital marketing in 2021?
Mobile Optimization
Lots and lots of people will be interfacing with your digital channels on mobile devices. According to emarketer.com, people are spending 23 additional minutes per day on their smartphones in 2020. Statista estimates that there are more than 3 billion smartphone users worldwide. And in 2019, the mobile conversion rate for U.S. online shoppers was 1.53 percent (Statista). Put simply, if your conversion funnels aren't optimized for mobile, you're going to leak conversions and revenue.
How to prioritize mobile CRO this coming year:
Though the emphasis on mobile experiences and conversions isn't news, the pace has quickened. Today, the focus is optimizing for a proliferation of new mobile experiences, including voice assistants, augmented reality (AR), and mobile search experiences. CRO specialists are especially concerned with their mobile checkout experiences: according to Google, the average mobile checkout experience takes 120 taps, with a 27 percent abandon rate.
To that end, audit your mobile checkout experience. How is your mobile abandon rate looking? A lot of missed revenue and goal completions might be hiding in your mobile checkout experience, so scrutinize that journey from "tap to tap." Are there friction points, confusing user flows, or things that simply take too long on mobile? What about entering credit card information and user authentication? It's that important.
Leverage RSAs, too. Thanks to responsive ad formats (covered above), you can rest assured that one part of your conversion funnel—your paid ads—are automatically optimized for whatever device your target audience is using.
Personalization
Here's an eye-opening stat from the team at Epsilon: 80 percent of consumers are more likely to make a purchase from brands that personalize the experience. Personalization matters, both for traditional "consumer" buyers (B2C), and "organizational" buyers holding the purse strings (B2B).
Personalization works because, at its inherent best, it makes for a more relevant customer experience. If you know, for instance, that I'm a tennis enthusiast from San Diego shopping for gear, why would you show me content related to thermal cold-weather gear? It's a rudimentary example, but you get the picture. And in 2021, CRO specialists will need to continue finding creative ways to precisely segment and personalize various aspects of their conversion funnels.
How to prioritize personalization in CRO this coming year:
The idea is to build digital experiences tailored to specific personas. With solutions like Optimizely, for example, you can create personalized web pages that display only for people coming from certain IP groupings, geographic locations, or even companies. These personalized landing pages can be used in conjunction with highly segmented—and personalized—email marketing campaigns to deepen the level of personalization and, ideally, increase conversions.
Identity access management (IAM) will be increasingly important in 2021, too. You don't want to put users on a well-orchestrated journey to a purchase, for example, only to lose them with a cumbersome login experience that takes them to another page or interrupts the user flow. IAM solutions can solve this problem, seamlessly integrating authentication experiences that allow for deeper personalization without interrupting the user experience.
Transparency
We touched on the importance of transparency in PPC advertising (see: Privacy Concerns and Limited Data Availability). CRO specialists will have similar concerns about data privacy and transparency. After all, optimizing for conversion through personalization, mobile optimization, and other tactics is all well and good; but not at the expense of user privacy or, worse, being "creepy."
If we've learned anything from our own adventures in marketing, it's that people won't buy from brands they don't trust. Can you blame them for valuing the trust factor? 2020 was full of breaches, hacks, and cybersecurity issues, some from well-known brands. For example:
And the list goes on. It's no surprise that big names in marketing and tech are coming under increased scrutiny around what they do with user data.
How to prioritize transparency in CRO this coming year:
Of course, trust can have a direct impact on conversions. To help build trust, build some transparency into the way you build and orchestrate your customer journeys. For example:
Disclose data usage in a way that users can't miss it (and that doesn't confuse them)
Review default data usage settings to make sure you're adhering to both regulations and best practices
Invest in secure systems and software vendors with a reputation for the highest standard or data security
Tell users which apps have been granted access to your product or service and the specific details of those permissions
Data & Design
McKinsey recently published research indicating that the top companies integrate data across the organization, including design. We've seen the importance of integrating data and design in the way we design website experiences.
Whereas internal consensus among web designers and even copywriters might favor guiding users to a specific landing page, the actual user data—heat mapping, click tracking, etc.—often indicates what users actually want. The two aren't always the same. In 2021, the companies that can marry design and data stand to differentiate themselves considerably.
How to prioritize CRO data and design this coming year:
This kind of collaboration can be far-reaching and deep. Mckinsey calls it "data synchronicity." We see it as an opportunity for CRO specialists to work with their counterparts in design and data to build and refine customer journeys. The impact of this kind of collaboration on UX and, ultimately, conversions, can be significant.
Social Media Marketing
Social media is its own ball of wax, isn't it? The nuance, controversy, and ever-shifting demand that we as marketers have come to know and love only intensified in 2020. The need to adapt quickly and precisely is as urgent as ever, especially as new and powerful channels emerge.
In reviewing our own social media strategies with clients, a few common themes continue to crop up as we look to 2021. Here are the four focus areas that we'll be prioritizing as we build out and monitor new campaigns and expand into new channels.
Upticks and Evolutions in Usage
The COVID-19 outbreak, specifically, has created all kinds of short-term and long-term effects on the social media landscape. According to Facebook, "in the US and UK, Gen Z, Gen X and baby boomers all say they're spending more time checking social media due to concerns around COVID-19." Indeed, Facebook usage is way up since the outbreak of COVID-19, as is the amount of time people are spending Instagram every day.
Which makes sense, right? People are spending a lot more time at home, either voluntarily or as a result of imposed lockdowns in their city or state. Social media provides an engaging way to stay connected, pass the time, and find entertainment while we're stuck at home. And while it's unclear the extent to which these upticks in social media usage will extend into 2021, marketers ought to be keenly interested in some of the new insights emerging around how—and how much—people are using social media.
Here are a few data points that help underscore the profound ways social media usage is evolving:
People are scrolling, posting, and engaging across nearly all social media channels. As you navigate this ever-evolving demand, here are a couple of 2021 social media trends to keep an eye on.
The Rise of the So-called Cancel Culture
Whether you agree with it or not, cancel culture is a real phenomenon, and it's something that digital marketers have to be aware of. To be "canceled" on social media is to be collectively targeted for backlash or boycott. It's digital shaming, really. And in today's age of mobile-enabled social media, nearly any person, group, company, or organization can be quickly and swiftly "canceled." The consequences can be severe. Here are a few recent examples:
What these three 2020 examples of cancel culture tell us is that the waters of social media are choppy, murky, and sometimes treacherous. Protecting one's brand reputation against backlash and cancel culture has to be a consideration in 2021. The implications of any unwanted attention can be too terrific and irreparable.
How to Stay Ahead of Cancel Culture in 2021
Again, whether you agree with cancel culture or not, from a brand perspective, you don't want to be on the wrong end of this social media trend. Here are a few tactics for protecting your brand's reputation on social media:
Regularly audit any ads that are on automation. This will help avoid unknowingly publishing or advertising to questionable outlets, or posting at a sensitive or inopportune time (after a national tragedy, for example).
Formalize review workflows for social media posts and ads, including close scrutiny of copy, creative, and other reflections of your brand. Get sign off before clicking publish and always double check! The more diverse your stakeholder review, the better chance you'll avoid showing a blind spot.
Dedicate internal resources to "listening." Which current events, social media trends, and competitor behaviors have bearing on your micro and macro social media operations? Today, there are AI-powered solutions that can automatically provide regular, tailored alerts so your team doesn't miss a thing.
Calls for Social Media Transparency
Not unrelated to the rise of cancel culture are growing concerns around how social media platforms, such as Facebook and Twitter, filter content and decide what's real, and what's fake, what's hate speech, and what's not, and what content, ultimately, makes it onto their platforms.
Given the sheer volume of content and number of users on these platforms, as well as the speed at which content can be posted, shared, and catch fire, regulating what's legitimate and what's "fake" is no small undertaking. How does Twitter, for example, decide which topics to display on its "trending" lists? Is it based on an algorithm? Is it biased? And what is Facebook doing to help flag, report, and remove hateful, harmful, or blatantly inaccurate content?
Naturally, the major social media channels have garnered a response in the face of massive public pressure. Consider these recent developments from the world of social media:
Even though major platforms are committing to a coordinated response, the spread of hate, disinformation, and hurtful content remains a big, big problem. For digital marketers looking to 2021, transparency will be of utmost importance. People will scrutinize what you post more closely than ever, and they'll expect some kind of explanation should any kind of slip-up—real or perceived—come to light. If nothing else, we can be sure that the social media landscape will remain rather turbulent come 2021.
Paid Social
As trends and consumer behavior in social media go in 2021, so goes paid social advertising. What we do know is that paid social continues to experience tremendous growth and upside. The analysts at Statista predict that social media spending will eclipse $113 million in 2021, with average ad spend per internet user surpassing $23.
Why are businesses so eager to commit marketing budgets to paid social campaigns? Paid social works, first of all. It can be highly targeted. And new ways to reach consumers, such as Messenger, as well as integrated authentication and payment options, will provide for some exciting opportunities to innovate and improve return.
Facebook Ads
Say what you will about advertising on Facebook, but the platform is still a behemoth. As we mentioned before, Facebook usage is way up. According to Statista, Facebook ad revenue is predicted to $94 billion in 2021. To tap into this tremendous pool of ad revenue, here are three Facebook Ads trends that we think will hold salt in 2021:
While many sectors are barely treading water amidst the pandemic (retail is down 10 percent, for example), eCommerce is up 18 percent. Predictably, the booms and busts are happening along lines drawn by the global pandemic. Many people are staying home, by choice or by requirement. At least in the United States, many businesses are in flux, stopping and starting operations based on local and national COVID-19 developments. Some are choosing to close altogether, especially those reliant on seasonal demand or special events.
It's a tough time, for example, to be in the business of wedding rentals, travel, or food and drink. But if you're in the business of home fitness equipment, now might be the time to invest more in Facebook ads. To capitalize on this eCommerce boom using Facebook ads, here are a few tips:
Advertise your products in highest demand. Looking at your product portfolio as a whole, it might be time to dial up ads for home improvement, cooking, and home fitness—products in high demand thanks to COVID-19.
Identify opportunities to take advantage of lower ad costs as more companies pause their advertising budgets, which can be monitored through Facebook Ad Manager and, to some extent, automated (see above).
Make mobile a priority. Mobile accounts for 94 percent of Facebook ad revenue as of Q3 2019. As we've mentioned, COVID-19 has only increased the amount of time people are spending on their phones, which means optimizing your ads for mobile and taking advantage of new mobile-only advertising techniques is more important than ever.
Be helpful. It might seem counterintuitive, but eCommerce isn't just about sales and revenue. Think about how your products might solve a problem or make things more comfortable for people stuck at home. Use this information to inform your ad creative for Facebook ads.
You might say we're living in the golden era of video, with an explosion of new channels, formats, and video advertising formats. This is especially true of Facebook: according to HubSpot, there are 8 billion video views on Facebook every day, and 84 percent of marketers use Facebook to promote their videos. Here's a couple of other eye-popping stats:
35 percent of marketers use Facebook Live to advertise (HubSpot)
In 2019, Facebook COO Sheryl Sandberg said that three million advertisers had purchased ads for Facebook Stories.
Video creative optimized for mobile-first is 27 percent more likely to drive brand lift and 23 percent more likely of "driving message association" (Facebook Business)
An estimated 85 percent of viewers watch Facebook video without sound (Digiday)
Square videos earn an estimated 30-35 percent more video views and 80-100 percent more engagement (Buffer)
Videos provide entertainment, joy, humor, or distraction. They can educate, enlighten, and promote. Video marketing on Facebook is super flexible, with cost-efficient options for most budgets and objectives. New predictive analytics, powered by AI, help you make sure that your campaigns are efficient, whether you're advertising on Messenger, Playables, Carousels, or Stories. Speaking of new options, check out augmented reality and Instant Experiences, which provide interesting ways to engage your audience.
One of the compelling things about Facebook video ads is how they're embedded in the flow of a normal user experience. They're integrated almost seamlessly into your streams, feeds, and stories. User experience is important as you build out your own strategy for Facebook video. Here a few other things to consider:
Audience. Your people should be your starting point, not ad creative or technology. Your audience will tell you which ads will do best, on which devices, and when.
Sound. As we mentioned above, up to 85% of people watching Facebook videos with the sound off. Maybe they're multi-tasking, in public, or sitting at their work desk. Optimize your videos for both sound-on and sound-off for better engagement and accessibility.
Specialists. Look for ad creatives that specialize in Facebook video ads, specifically, because quality matters and there are more than enough Facebook-specific formats and touchpoints to warrant a specialist.
Data. You can dig into a rich data set thanks to Facebook Ad Manager, including insights into audience segmentation, conversion optimization, and spend reports.
The unpredictable costs of Facebook Ads:
What a time to forecast your Facebook ad spend! We know that global cost-per-click (CPC) for Facebook ads is down, as are Facebook advertising costs across the board. Consumer behavior has shifted and some advertisers are weary (if they haven't hit pause or pulled out already).
Will this trend hold forever? What's more likely to happen is that companies will adjust and adapt their Facebook ad strategies, eventually reigniting competition among advertisers and, subsequently, ad costs. "Some 89 percent of advertisers say they have taken action with their budgets in response to COVID-19," according to research from Facebook, "with 45 percent saying they have adjusted media type usage or shifted budget among media types."
Eventually, the cost of Facebook Ads will self-correct, especially as the platform continues to grow its tremendous share of users. In the meantime, you'd be wise to keep a watchful eye on your Facebook ad spend, test, test, and test some more, while constantly looking for actionable data about your target market.
In its 4 Strategies to Adapt Your Ad Measurement During Challenging Times, Facebook recommends some high-level strategies for 2021:
Focus on the fundamentals, such as audience research and segmentation, spend management and reporting, and really good ad creative.
Refine your ad testing, including multi-cell A/B testing, to make sure you're maximizing conversions, spend, and ROI.
Use industry-specific impact evaluations to get a more tailored and relevant look at the performance of your campaigns.
Instagram Ads
Instagram has evolved from a rather simple photo-sharing platform to a full-blown social media giant, replete with a dedicated business arm, advertising platform, and advanced analytics. As you consider how you'll make Instagram part of your 2021 digital marketing strategy, take a look at some of the numbers from Instagram Business:
There are one billion Instagram accounts active every month (!!)
90 percent of Instagram accounts follow a business
500 million accounts use Instagram Stories every day
87 percent of people say influencers have inspired them to make a purchase
There's tremendous opportunity here, for businesses of all shapes and sizes. Instagram is particularly suitable for helping businesses launch their online presence during the pandemic. Using video, images, and stories, brands can build and engage their target audiences in really interesting ways. The platform seems to roll out new features and in-the-flow ads and shopping experiences that should at least be on your radar for the coming year. Here are the different types of Instagram ads you have at your disposal:
Stories Ads
Photo Ads
Video Ads
Carousel Ads
Collection Ads
Ads in Explore
In addition to these highly versatile ad experiences (we encourage you to explore each and find what works best for your product or service), here are two new Instagram features that marketers might want to keep an eye on.
Instagram's primary competitor, Tik Tok, is really riding the wave right now. As popular as the platform is (it has experienced outstanding growth in 2020), it's also up against censorship fights and bans in various countries. And its core format—short video—is pretty easy to replicate. In fact, it's really nothing new (remember Vine?).
Enter, Instagram Reels, which the platform introduced in August. According to the Instagram blog, Reels allow users to "record and edit 15-second multi-clip videos with audio, effects, and new creative tools. You can share reels with your followers on Feed, and, if you have a public account, make them available to the wider Instagram community through a new space in Explore. Reels in Explore offers anyone the chance to become a creator on Instagram and reach new audiences on a global stage."
Okay, technically Reels aren't "paid social." But marketers have a powerful tool at their disposal here. Reels are like a robust mini-creator studio within the Instagram app. It's dynamic. It's quickly shareable. And the possibilities are endless. Put Reels together with Instagram Stories, which more than 500 million accounts use every day, and you have a potent way to reach new users, build your brand's audience, and even sell products.
Increasingly, businesses are using Instagram to market and sell products directly, and Instagram is responding with new features to improve this experience. Some businesses, for example, can publish "shoppable" Instagram posts, in which they tag products much the same way as they would tag another account or use a hashtag. People can then tap through to an integrated shopping experience from that post.
Businesses can also use Instagram Stories to build ads that drive traffic to their shop. Have you ever seen the "tap here to shop" or "swipe up to see the shop" Stories? Businesses can use Stories in this way to advertise products and link users directly to their website or online shopping experience.
As a shopping, advertising, and brand-building platform, Instagram is quite powerful. Just look at some of these numbers:
Every month, 130 million Instagram accounts tap on a shopping post to learn more about products and 70 percent of shoppers use Instagram for "product discovery" (Facebook for Business)
Instagram Ads generated an estimated $20 billion in 2019 (Bloomberg)
60 percent of people say they find new products on Instagram and 30 percent of the most viewed stories are published by businesses (Instagram Business)
LinkedIn Ads
Though LinkedIn Ads might not get as much press, or have as much pizazz, like Instagram and Facebook, they're very real. Primarily used for companies marketing business-to-business (B2B), LinkedIn can deliver significant ROI. Here are a few data points that might tip the scale for you, especially if you're a B2B marketer.
LinkedIn advertising revenue is approximately $1.30 billion and 49 percent of marketers in the U.S. use the platform for marketing (Statista)
94 percent of B2B marketers use LinkedIn to distribute content and it's the #1 social media platform for lead generation (LinkedIn Marketing Solutions)
1 in 2 prospects open a LinkedIn Message Ad (LinkedIn Marketing Solutions)
As you put together your paid social strategy for 2021, consider these trends as you decide whether or not to invest in LinkedIn ads.
Adoption is slow-growing but on the rise:
We came across some interesting research from eMarketer. They predict that more than half of all marketers will use LinkedIn for advertising by 2021. And why not? There are a lot of B2B buyers that are not only active on the platform, but use it to stay up to date on the latest in their industry, learn about new solutions, and connect with like-minded professionals. In the B2B space, where buying cycles are longer than B2C and relationship building is essential, this kind of advertising makes a lot of sense.
Here are some of the LinkedIn Ad formats you can take advantage of:
Sponsored Content that appears in mobile, desktop, and tablet feeds for the audiences you specify
Sponsored Messaging that appears in the Messaging portion of the LinkedIn experience
Text Ads that appear on various pages throughout the LinkedIn UI, including the top right panel on the home feed
Dynamic Ads that can be customized for specific users based on their behavior, profile, and history on the platform
It's worth noting that advertising on LinkedIn is typically more expensive than other platforms. Neil Patel pegs LinkedIn cost per click (CPC) at $2 minimum (often much higher). Then again, B2B advertising—and gaining access to B2B buyers—is a different beast. LinkedIn estimates that 4 out of 5 users influence business decisions. And with new ways of targeting LinkedIn ads, we predict more B2B marketers will make LinkedIn a larger portion of their ad budgets in 2021.
Targeting is getting much, much better:
Which brings us to our second important trend to consider for LinkedIn ads: targeting and demographics. Within LinkedIn Campaign Manager, you have a lot of options for getting extra granular with your ad targeting. You can really dig deep into the job roles, company sizes, and industries that are clicking through to your website, for example, or converting on your ads. Here are a few tips:
Video Marketing
Video is going off. To say we're in the golden era of video would be an understatement, especially when there seems to be no end to the new formats, innovation, and audience engagement techniques out there. In terms of audience, the stats are kind of wild.
Now, when you think about video, your mind probably first goes to YouTube. And for good reason: YouTube continues to be one of the most popular video platforms out there.
YouTube engagement and views are at an all-time high, with YouTubers seeing 20-30 percent more views (Mediakix)
People tend to forget that YouTube is the world's second-largest search engine
In the United States, YouTube has achieved a market reach of around 90 percent, while racking up 2 billion logged-in users as of 2019 (Statista)
60 billion U.S. users access YouTube daily (Statista)
And then comes Twitch. According to the same MediaKix report, streaming on the Twitch platforms has increased by more than 30 percent, indicating a marked uptick in streaming and live events. Gamers, radio programs, and other media producers are using this platform to expand their reach through engaging live streams.
The point is, the importance of video to all digital marketing channels is growing and growing fast. Exponentially. Which means this medium is critical if you hope to connect with your audience and attract new people to your brand in 2021. To that end, here are a few key video trends to keep an eye on:
More Videos on the Search Engine Results Page (SERP)
If it's more pleasing, convenient, and useful to people, Google is probably going to make it a priority—especially if it's a Google property. This is exactly why we're seeing more and more YouTube videos at the top of search engine results pages (SERPs).
This trend is part of the broader algorithmic trend toward interpreting search intent and creating rich, no-click or one-click search experiences. This is why when you search for, say, "new movie trailers," the first thing you see is a video carousel containing the most recent releases. Google is assuming you want to watch the latest trailers and giving you what you want straight away.
It's also why certain "how two" searches prominently display an embedded YouTube video that gives you the answer, explanation, or step-by-step video instructions, right there in the SERP. All you have to do is click play to get all you need.
For marketers, this yet another opportunity to engage users, build brand awareness, and get content to rank. But there's really no way to game the system; you can only please it by creating a lot of rich content. So: create more video content! A quick win that we recommend to our own clients is to repurpose long-form written content, such as blog posts, into smaller video "chunks." The same can be done with interviews and webinar replays, all of which can be optimized for search (metadata, lazy loading, and so on).
As a best practice, optimize your video content for SEO, including:
Thumbnail
Transcription
Description
TikTok's Growing Global Influence
We've talked about Instagram's choice to "absorb" the TikTok format into its own "Reels" functionality. That's because there's just no ignoring TikTok's meteoric rise. Instagram doesn't really have a choice. Just look at some of these demographic and usage numbers:
With so many users worldwide, and the ability to share content across other social media platforms (you've probably seen TikTok videos pop up in your Instagram Explore tab or Facebook Video feed), TikTok's ubiquity is staggering. The question is, how can marketers tap into this thriving platform? We have a feeling this question will be answered one way or another come 2021.
That is, assuming TikTok is still around. In the past, we've seen similar platforms like Vine and Snapchat taper in popularity, be reborn, or disappear altogether. As we write this, TikTok is embroiled in a legal battle with the Trump administration, facing a ban that could potentially kill the platform. The outcomes of these ongoing legal issues, as well as purchase negotiations with the likes of Walmart and Oracle, could very much impact the role of TikTok for marketers in the coming year.
The Rise of Webinars and the Shift to Virtual Events
It's a really tough time to be in the live events industry. Many live events sectors have been absolutely decimated by COVID-19, especially concerts, live shows, and professional conferences. Since March 2020, we've seen a wave of cancellations and indefinite postponements.
A recent survey of business event professionals, suppliers, and planners from PCMA provides some interesting insights into the fate of the event industry:
87 percent have canceled events as a result of COVID-19, while 66 percent have postponed an event
70% of respondents have moved face-to-face events to a virtual platform ("many don't see that as a short-term fix during the pandemic but something that will continue alongside in-person events going forward").
48 percent of respondents believe people will be hesitant to travel moving forward
Yet events are an integral part of lead generation and brand awareness for many, many businesses. Not surprisingly, marketers have adapted by pivoting to virtual events, with mixed results. The challenge now becomes how to develop effective and engaging virtual events, especially when in-person events might remain off limits in 2021.
Webinars, on the other hand, remain relatively unscathed. Take a recent report from ON24: compared to 2019, the day of week, time of day, and other audience adoption metrics has remained relatively steady in 2020 (despite the pandemic). If anything, marketers are investing more into webinars now that live events are out of the question. The challenge is finding new ways to keep webinars engaging, interactive, and integrated with email marketing and lead nurturing activities.
Zoom's Rapid Rise to Prominence
Poor, poor Skype. Somehow, the familiar video conferencing tool was totally overtaken and overshadowed by the rapid rise of Zoom that was triggered by the global pandemic. And one really can't mention video trends without mention of this ubiquitous video conferencing solution.
Almost out of pure necessity, thanks to most everybody working from home and relying on virtual meetings (including teachers!), Zoom has rapidly gained worldwide traction. And when we say rapid, we mean it. Just look at some of these stats from a recent BBC article about the rise of Zoom:
30x increase in usage in April 2020
More than 300 million daily participants at its peak
Sales expected to reach $1.8bn in 2020
In terms of how Zoom can be used for marketing purposes, the jury is still very much out. Still, it is a video platform at its core, meaning you have the ability to record Zoom meetings and use those recordings in other marketing channels. This lends well to repurposing Zoom-hosted webinars, for example, or case studies and customer testimonials.
Email Marketing
As we've seen with the marketing trends we've covered up to this point, necessity really is the great motivator. As marketers strategize for the year to come—one sure to be fraught with all kinds of uncertainty and upheaval—they need to focus on getting the most out of their core marketing activities.
And it doesn't get much more "core" than email marketing which, despite external market conditions, has remained quite reliable. One study from Omnisend shows a 31 percent increase in YoY open rates and a 22 percent increase in YoY conversion rates in the "post-COVID" era. Another study from Campaign Monitor indicates that open rates and unsubscribe rates both improved in the months following the March 2020 lockdown (YoY).
While it might be premature to call email marketing pandemic-proof, it's safe to say that it will remain a part of your 2021 marketing strategy. At least it ought to. So here are a couple of email marketing trends to keep in mind as you build out your email strategy for the coming year.
Email Investments Will Likely Increase
As marketers tighten their budgets to continue weathering the COVID-19 fallout, they'll increasingly shift what budget they do have to lower-cost options with higher potential ROI. After all, the need to generate leads and drive revenue will remain, global pandemic or not.
Email marketing allows businesses to nurture prospects through a long decision-making process without the same kind of budgetary commitment of say, paid social. The question is, where to direct email marketing investments? According to Smart Insights, 45 percent of email marketers report that engagement is their #1 obstacle to successful email marketing campaigns. And 65 percent of respondents think personalization is the best way to improve email marketing effectiveness.
Beyond basic personalization tactics, such as personalized subject lines or body copy, here are a few other email personalization investments to consider for 2021:
Re-engagement. Think about innovative ways to use email to automatically re-engage people who have already engaged with you somehow. For example, certain e-commerce integrations allow you to email people who left items in their cart without completing the purchase or to deliver personalized product recommendations directly to a customer's inbox.
Dynamic segmentation. How can you leverage email marketing solutions already in your tech stack, or available from vendors, to generate emails that include personalized content and offers based on behavioral data you have about a person? According to Statista, this kind of dynamic email content is the most effective personalization tactic.
Email Marketing Automation Will Expand and Intensify
Personalizing email marketing campaigns is all well and good, but it can be extremely labor-intensive—prohibitively so, for larger enterprises. This is why so many organizations are seeking new ways to efficiently automate the process. Here's a good example from our recent blog post, Can Marketing Automation Help Doctors Improve their Patient Relationships?:
"Take some time to create pre-made emails that you send to your patients based on certain parameters. For example, your practice could have a setup in place that registers when patients come to your office. This system could then trigger a follow-up email to them a day or so following their visit that lets them know that if they have any specific questions or concerns to feel free to reach out to your team. This little follow up – that would be signed and sent by the doctor who saw them, is enough to make them feel like they were more than just a number."
By linking web analytics to email marketing platforms, a fundamental of email automation according to Mailchimp, organizations can trigger personalized email campaigns based on user behavior. And while adoption and sophistication of this kind of integrated personalization vary from industry to industry, it ought to be a priority in 2021.
Here are a few email automation numbers from Statista that underscore why:
90 percent of consumers find personalization appealing
#1 personalization experience used by global marketers are email campaigns
54 percent of U.S. consumers are interested in mobile shopping recs based on purchase history
Dynamic email campaigns the #1 "most effective personalization tactic" in the United States
What makes automation so appealing is the ability to automatically gather and segment customer data then trigger timely, personalized campaigns. What it requires, on the other hand, is an investment in email marketing software and web analytics that integrate directly with your customer relationship management (CRM) solution. Here are a few good examples of email marketing automation tactics:
Create a blog subscriber welcome series. This can be as simple as one email that welcomes new subscribers to your blog, or a multi-email campaign that shares relevant resources.
Enhance your existing confirmation emails. How can you make order confirmation emails more productive and useful? Is there an opportunity to include links to relevant information, how-to articles, or case studies? What about cross-sell or up-sell opportunities that add value to the customer journey?
Launch customer anniversary emails. Customer appreciation goes a long way to garnering loyalty! Put in place automated thank-yous that include special product discounts for annual customer anniversaries.
Integrate email marketing with your website. Email marketing automation software, such as ActiveCampaign or HubSpot can integrate with your website and trigger email campaigns based on specific website activity.
Send emails to users who abandon their carts mid-purchase. When integrated with your website, you can use marketing automation software to send website visitors a follow-up email with a coupon code to entice them to come back and complete their purchase.
From there—and that's no small there, by the way—the possibilities for innovations in email automation are quite limitless. It will all depend on what works best for your target audiences.
"Attribution continues to be a problem for everyone. […] Again, I go back to the problem of having the systems and you have to make sure that your systems are talking, especially with your financial system, so we can really go and look down at all the encounters and really attributed to those ads." –Hernando Ruiz-Jimenez, CMO, New York-Presbyterian Hospital during a recent interview with Cardinal Digital Marketing
Email Nurturing Will Shift to Omnichannel Marketing
Though it might be the case in the B2C world, few B2B prospects and buyers come to you with their wallets out. It's just not how the lead nurturing and buying cycle works in B2B. More frequently, the "first touch" (awareness and lead capture) is the beginning of a nurturing cycle that involves multiple organizational stakeholders and "marketing touches" that extend across weeks or even months. It's the perfect avenue for email lead nurturing.
Traditionally, lead nurturing has been limited to the email marketing world, but that is changing and changing fast. Today, and especially in the B2B world, businesses need to reach and nurture leads through multiple channels. Here are a few data points that help explain why this evolution is happening:
Because lead nurturing isn't limited to email alone—and leads don't engage with your marketing channels statically, in a vacuum—omnichannel marketing has become the new norm. Omnichannel marketing is really a catchall for advanced nurture programs that consider and care about multiple touchpoints in a lead lifecycle, including:
Organic search, or how people find you using search engines
Organic social, or the people engaging with your brand's various social media channels
Social media ad re-marketing or advertising to specific social media users based on their past behavior and engagement
Programmatic ad re-marketing that retargets users on digital entities outside of social media
Online marketplaces, such as Amazon, Walmart, and other places that people go shopping online
YouTube videos, which, as we've established, a lot of people engage with on a daily basis
Podcasts, a fast-growing medium for entertainment, professional development, and market intelligence
Sales outreach through various media, such as email, LinkedIn messaging, and good old cold calling
Reviews on platforms like Google, Yelp, and Facebook Business
The list goes on. And building out an omnichannel marketing program for lead nurturing, one that's comprehensive and driven by multi-touch attribution data captured from some or all of the sources above, is no small undertaking. That might explain why 25 percent of marketers say organizational and structural challenges are the top reason they haven't adopted data-driven attribution (Think With Google).
Still, as we look to 2021, where the number of marketing channels only promises to continue proliferating, and lead nurture cycles become more layered, varied, and interconnected, finding a way to implement an omnichannel approach will be imperative.
In Summary: 2021 Will Be The Year of "People First"
Omnichannel marketing is a great place to close this article on 2021 digital marketing trends because omnichannel marketing captures what we think will be the guiding high-level trend in 2021 and beyond: putting people at the center of everything you do.
As with any year, 2021 will have us digital marketers knee-deep in all kinds of strategies, tactics, and technologies. And of course, there will always be new trends and external market conditions to keep pace with. But the success of it all will really boil down to how well we treat people—how well we're able to empathize, recognize, and serve their needs. When a brand incorporates empathy into its marketing strategies, what it's doing is validating its customer base. The more validated a customer feels, the deeper a relationship that the customer will build with the brand.
There's no doubt that COVID-19 has rattled some cages. People are still anxious, unsure, even scared. And we do turn the corner, things are sure to look a little different. Research from McKinsey & Company, for example, indicates that more people intend to continue online shopping post-COVID. And 77 percent of Americans have tried out new shopping methods, brands, or places to shop.
More broadly, McKinsey predicts a market shift in consumer behavior to "value and essentials." Indeed, we're moving away from an age of passive consumers toward the age of active consumers. In 2021, brands will be co-created. Customer voices will be heard, one way or another, especially as the economy moves more and more toward services—toward an experience that fosters a relationship with customers and fulfills their needs continually. This shows empathy. This is the human-centered approach.
So the question for digital marketers in 2021 will be, where along the customer journey—across your SEO, video, email, social, paid advertising, and so on—can you create value and adapt to shifting consumer behaviors?
📈 42 Digital Marketing Trends You Can't Ignore in 2021
Want To Uncover Your True Potential and Achieve Financial Freedom? We invite you to join a free Masterclass with award-winning business leader, Eric Siu, where he shares his 5-Step Blueprint to Starting Your Dream Online Business That Gives You Freedom & Fulfillment. Click Here To Reserve Your Spot Now.
At one time, artificial intelligence, data-driven marketing and voice search engine optimization (VSEO) were ambitious concepts bordering on the ridiculous. Today, these innovative digital marketing trends are among the top priorities for most business owners in 2021.
And why wouldn't they be? After all, if your business has any intention of remaining competitive in today's online landscape, you must adapt to the rapidly evolving changes in digital marketing. As Brian Solis puts it:
"Each business is a victim of Digital Darwinism, the evolution of consumer behavior when society and technology evolve faster than the ability to exploit it. Digital Darwinism does not discriminate. Every business is threatened."
Make no mistake: We live in a time when technology marketing moves fast and consumer interests and behaviors are hard to predict. Marketers can no longer stick their heads in the sand and hope that educated guesses and the same old methods will work forever.

---
---
42 Digital Marketing Trends for 2021
Read on to discover 42 digital marketing trends that will help your business not just survive, but thrive in this age of innovation.
1) AI-Powered Optimization
Just a couple years ago, Gartner analysts predicted that by 2020, AI technologies would be pervasive in almost every new software product and service. In fact, according to Techgrabyte:
"Artificial intelligence is the biggest commercial opportunity for companies, industries, and nations over the next few decades," which means that "AI latecomers will find themselves at a serious competitive disadvantage within the next several years."
Here are the top reasons why organizations are adopting AI in their business: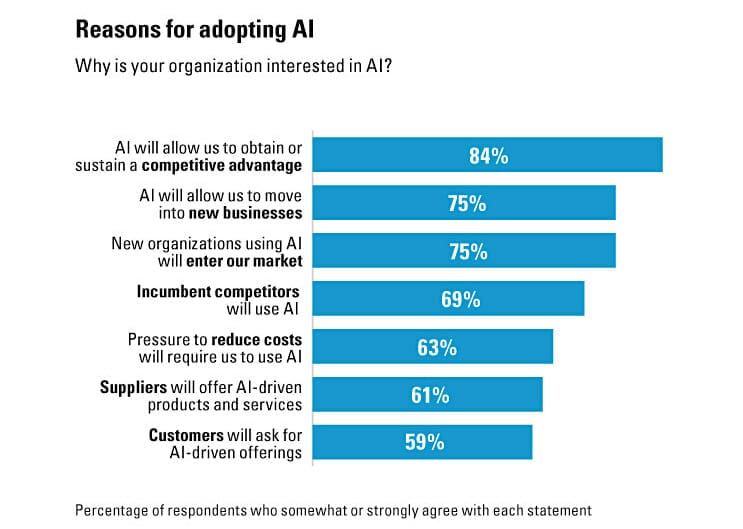 AI can analyze consumer behavior and search patterns, and use data from social media platforms and blog posts to help businesses understand how customers find their products and services.
One exciting example of AI in practice is chatbots (more on that later). Mastercard created a Facebook messenger bot – which uses natural language processing software to decipher what the customer wants and respond as if it were a real person – to automate handling payments: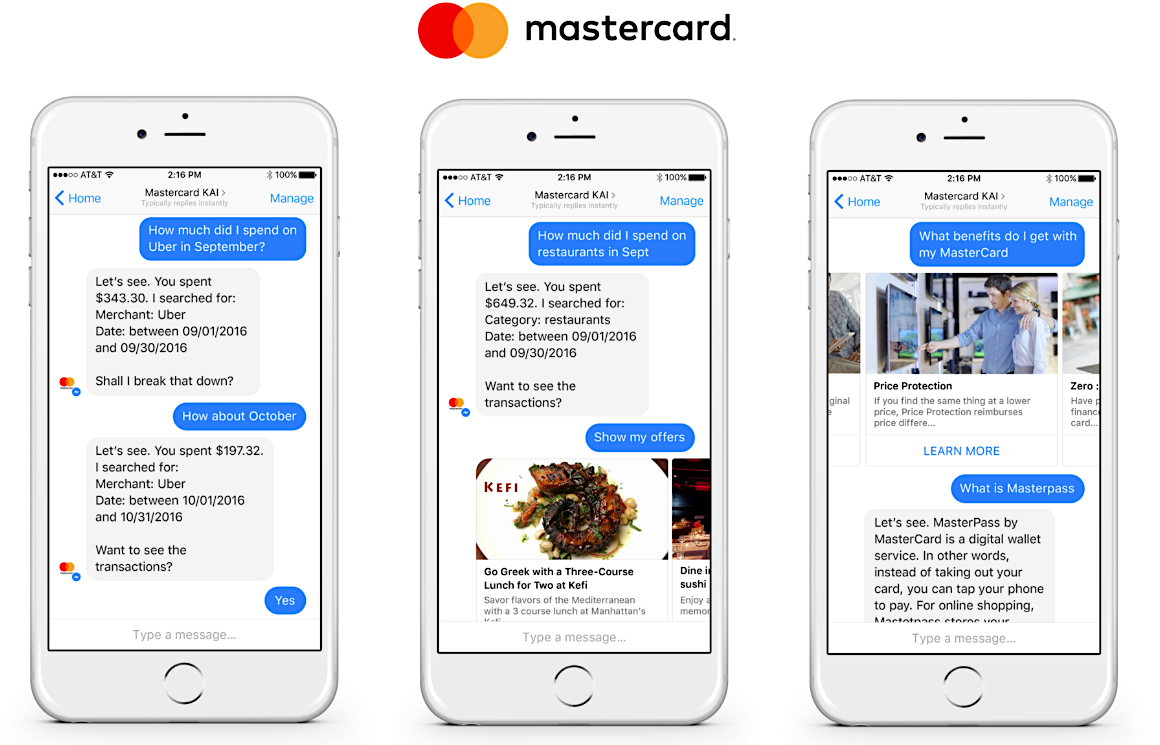 Artificial intelligence is fast becoming the driving force behind many services, including content creation.
If you want to rank your content in tough niches, content optimization is necessary. "Content optimization" in SEO refers to things like:
Including primary and secondary keywords at the correct densities

Having an appropriate word count

Ensuring great readability

Having optimal meta title and description tags
And, most importantly, making sure you nail the search intent.
Google understands what people are looking for and what kind of content best serves their intent. For example, if you search for 'fish oil', Google knows that the dominant search intent is to learn about the health benefits and side effects: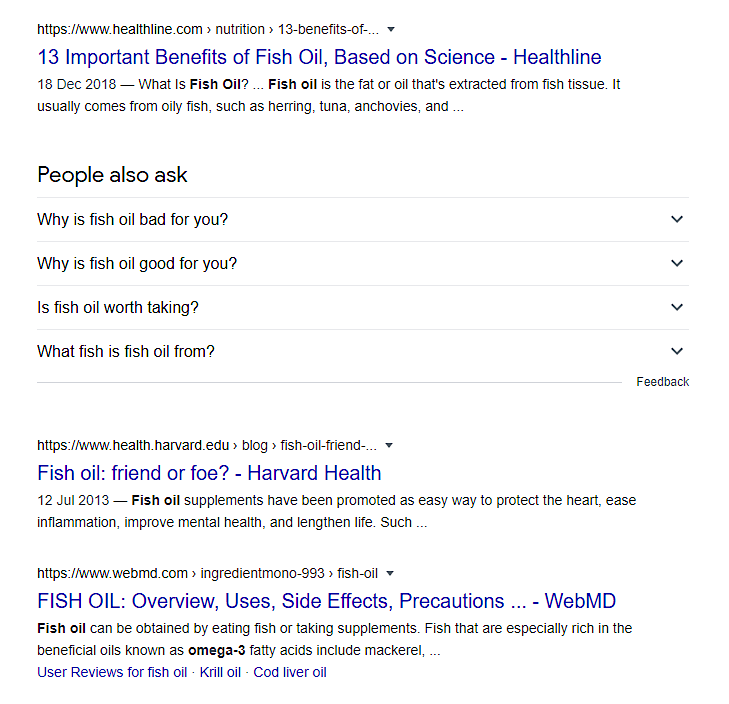 Therefore it's highly unlikely you could rank #1 for this keyword with an e-commerce product page. If you get this step wrong, all the time and effort you spend on content production, promotion and link building will go to waste.
The easiest way to implement content optimization into your SEO and content workflows is by using a content optimization tool like ClickFlow. ClickFlow's Content Editor feature pulls data from the top 20 current ranking pages, and helps your writing team put together a perfectly optimized piece of content.
Using Artificial Intelligence to serve up subtopics and related keywords will make any article ultra-comprehensive and give it the best possible chance to rank on page one. It gives you a recommended word count, feedback on readability, and an overall optimization grade based on keywords and subtopics covered: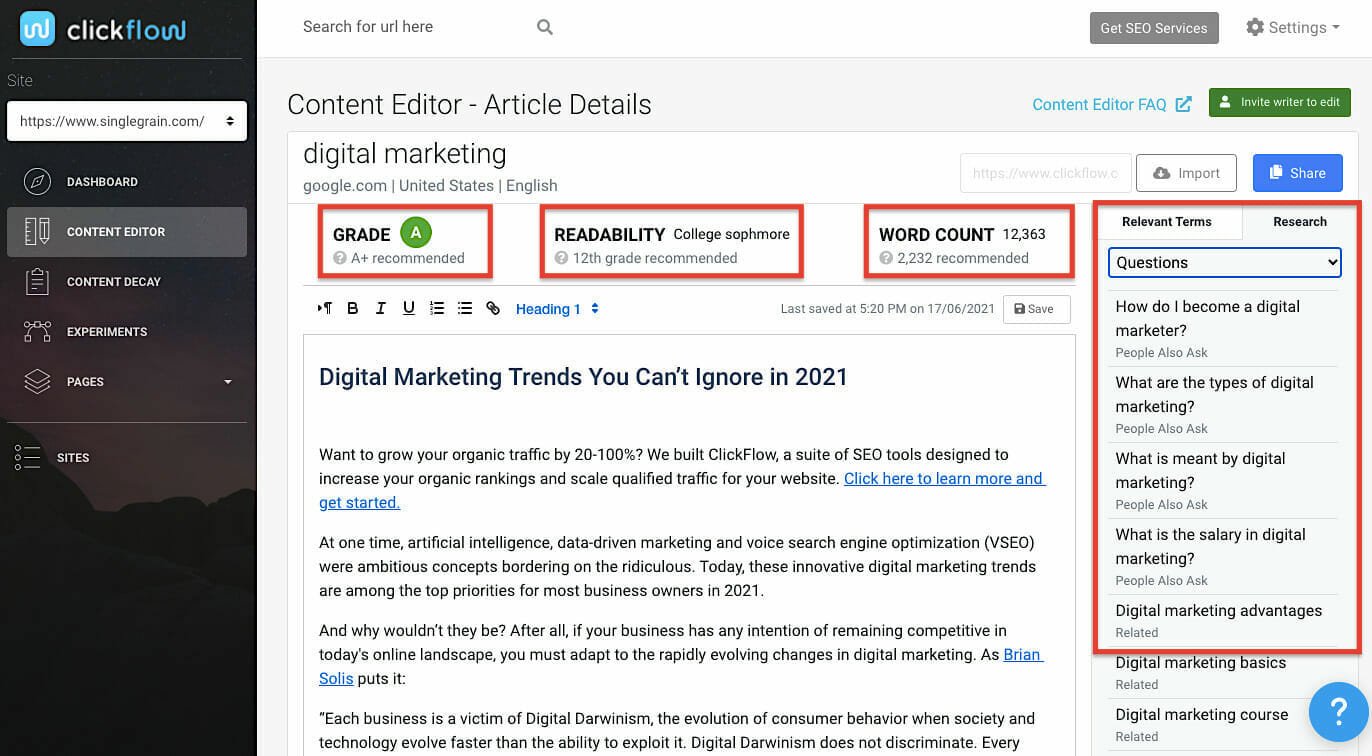 This was one of the key strategies used in this case study, in which ElectricityRates.com was able to increase organic clicks by 327% in 30 days. Using the Content Editor helped them identify that their existing content was not nearly in-depth enough and the important keywords that were missing:

Businesses adopting AI in 2021 will be able to cut staffing costs and accelerate growth, getting an edge over their competitors.

2) Programmatic Advertising
Programmatic advertising means using AI to automate ad buying so you can target more specific audiences. Real-time bidding, for example, is a type of programmatic ad buying. This automation is much more efficient and fast, which means higher conversions and lower customer acquisition costs.
It's changing the face of digital advertising so swiftly that, according to eMarketer, 86.2% of digital display ads in the U.S. will be programmatic by 2020.
According to Irina Kovalenko of SmartyAds:
"Most search-driven manual advertising campaigns (even those performed with professional tools) take into account three or four targets: the keyword, time of day, and location. Such tools like programmatic demand-side platforms can use hundreds of targeting signals to individualize the advertisement and even target according to lifestyle or behavior habits when integrated with customer data platforms."
Here's a quick look at how programmatic advertising works: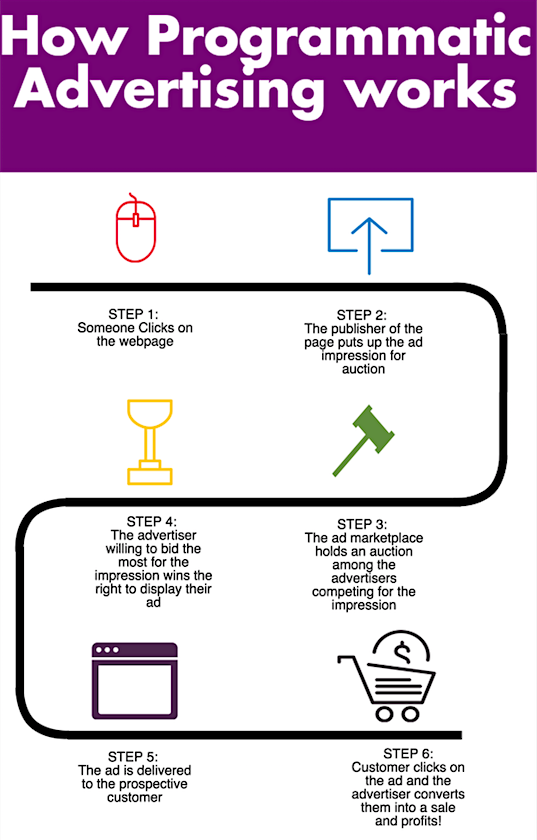 To learn how to capitalize on this digital marketing trend, check out PPC Hero's guide to get started.
Dive Deeper:
3) Chatbots
Chatbots will continue to be an important part of digital marketing in 2021. This AI-based technology uses instant messaging to chat in real-time, day or night, with your customers or site visitors.
Surveys show that:

Many customers prefer interacting with chatbots as they are responsive 24/7, give answers promptly, accurately recall your entire buying history, and never lose patience. These virtual assistants offer outstanding customer service by meeting customers' expectations and automating repetitive tasks – which means that you can focus on more important work.
Many brands already use chatbot technology, including rideshare brand Lyft. You can request a ride from Lyft via chat (Facebook Messenger and Slack) or voice (Amazon Echo), and their chatbot will let you know the current location of your driver: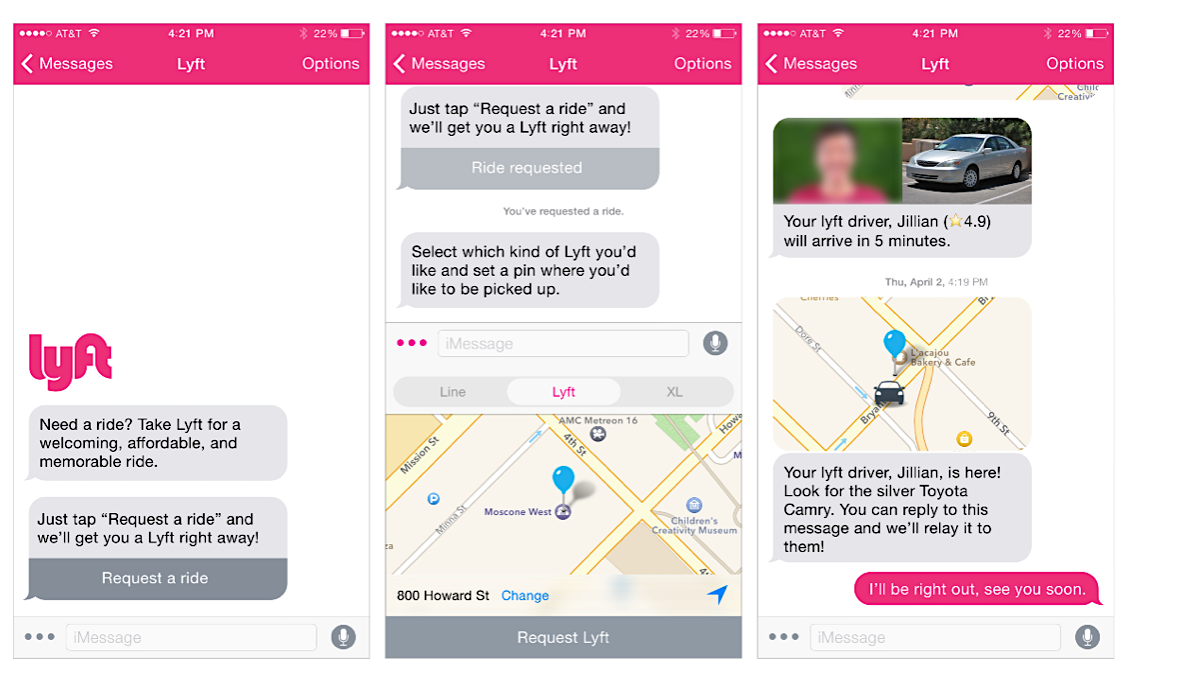 Passengers can use the app to choose the type of ride, make a request, track the location of the car, send friends a time estimate of their arrival, and make payment.
Other brands that are successfully using chatbot technology include Whole Foods Market, Fandango, Sephora, Staples, The Wall Street Journal and Pizza Hut.
Dive Deeper:
4) Conversational Marketing
With all that talk about chatbots, the reality of modern marketing becomes clear: it's more conversational. People want it that way, and so brands are reacting. When consumers have a question, 82% want an "immediate" response.
Conversational marketing facilitates a one-to-one, real-time connection between marketers and customers: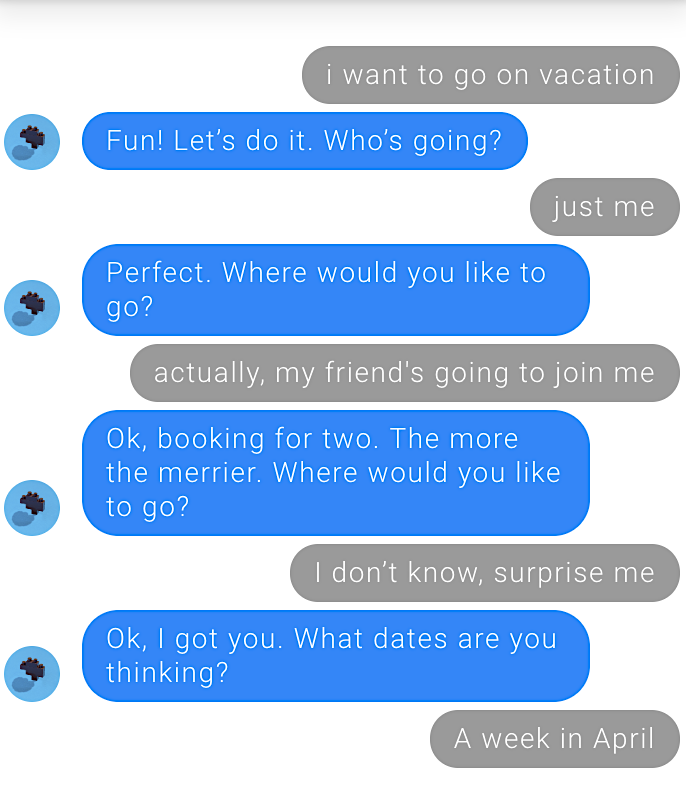 Unlike traditional strategies, this form of marketing is now available across multiple channels, allowing brands to meet customers on their terms: on the devices, platforms and time schedules that suit the customer best.
You can schedule Instagram posts, manage notifications, and analyze your performance – all using RecurPost's post scheduler and automation tool. RecurPost studies the engagement level of your posts and suggests the best time to post content on your Instagram account resulting in increased interaction and performance of posts.
As per David Cancel, founder and CEO of Drift:
"Today's buyers expect to find what they're looking for now, not later. As we prepare for the future, it will be more important than ever for businesses to be available across a broad spectrum of channels, and to make sure you're communicating the way people prefer to communicate."
Ultimately, the primary goal of conversational marketing is to enhance the user experience through a feedback-driven model that fosters higher engagement and greater loyalty.
Dive Deeper:
5) Personalization
If you want to stand out in 2021, you need to personalize your marketing – and that means personalized content, products, emails and more.
Consider these personalization stats:
63% of consumers are highly annoyed with generic advertising blasts
80% say they are more likely to do business with a company if it offers personalized experiences
90% claim they find personalization appealing
Kevin George from EmailMonks asserts that "personalized, triggered emails based on behavior are 3x better than batch-and-blast emails."
When you want to study examples of the power of personalization, it's hard to overlook Netflix and Amazon, with their tailored recommended products or movie titles. Here are a few other companies that are successfully using personalization today:
EasyJet launched a data-driven email campaign that uses customers' travel history with the airline to build personalized stories, which then suggest where they might like to travel next. About 12.5 million unique emails have been sent, which had a 25% higher click-through rate than non-personalized emails.
Cadbury's created a personalized video campaign that matches a Dairy Milk flavor with users based on data from their Facebook profile, including age, interest and location. The campaign generated a 65% click-through rate and a 33.6% conversion rate, proving that the personal touch works.
Starbucks uses a gamified mobile app that draws on data like purchase history and location to get as personal as possible, allows customers to customize their drinks, and encourages further use with its rewards system – which skyrocketed their revenue to $2.56 billion: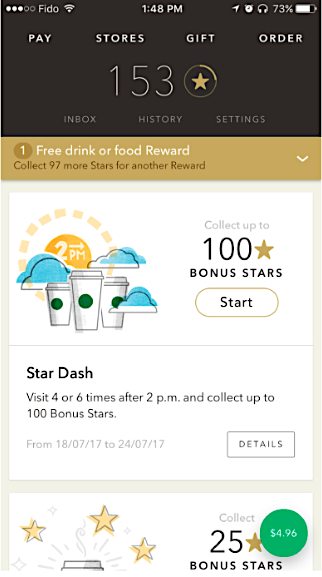 Dive Deeper:
6) Video Marketing
Video marketing is one of, if not the, most important marketing trend today and likely for the next 5-10 years. These numbers show the importance of incorporating video into your digital marketing strategy in 2021:
70% of consumers say that they have shared a brand's video
72% of businesses say that video has improved their conversion rate
52% of consumers say that watching product videos makes them more confident in online purchase decisions
65% of executives visit the marketer's website and 39% call a vendor after viewing a video
Video is by far the most popular way customers want to learn about new products: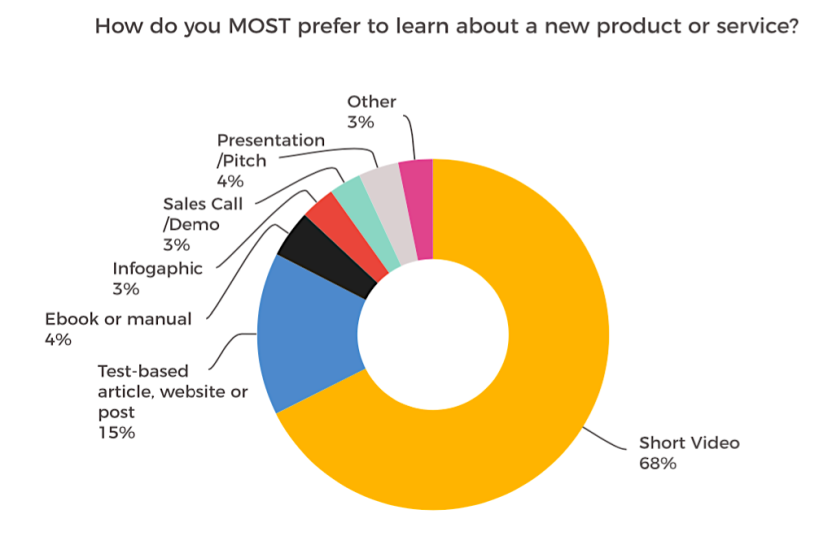 And don't just think YouTube. There are plenty of ways to drive higher engagement with your video marketing, as you can make a video post or start a live broadcast on Facebook, Instagram or LinkedIn.
One of the issues that marketers have faced in recent years is the growing shift to mobile devices. Those long-form sales pages and emails of yesteryear are fading fast because they're simply too difficult to read on small mobile screens. However, video can present the same information in a format that works perfectly regardless of the device.
If your site includes video, it's 50X more likely (50 times!) to drive organic search results compared to text. Why? Because people find video content more compelling, so Google pushes pages that include videos higher in the rankings.
One of the best things about video marketing is that it makes it easy to reformat your content. Imagine that you've recorded a video for your YouTube channel. Instead of just publishing it on YouTube, you could also:
Get it transcribed so you have a text version of the video
Publish the transcription on your blog under an embedded YouTube video for better rankings
Upload the raw video with the transcription as subtitles to Facebook (native Facebook videos get a much higher impression share and engagement than shared YouTube videos)
Turn the transcription into a standalone blog article with a short rewrite and addition of relevant stats and images
Rip the audio alone and use it as a podcast episode
Use video thumbnails in your email marketing campaigns and the word "video" in subject lines to increase open rates by 19%
Here are some other video marketing trends that are gaining more and more traction:
Live video is particularly popular with a large number of businesses who use it for interviews, product demos and behind-the-scenes glimpses of the brand, such as life in the office, how products are made, company events, etc.
1:1 video is when businesses or marketers create personalized video messages rather than make phone calls or send emails. With the decreasing cost of film equipment and increasingly high-quality smartphone cameras, this is easier than ever.
Video SEO. YouTube and other videos are displayed in the SERPs, so video optimization is becoming much more important – like using text overlays and closed captions, in addition to your description, title and file names. Check out this guide to learn more about YouTube SEO.
360-degree video content. This trend towards a more interactive experience is on the rise – just look for the circular symbol in the top left corner to start sliding the moving image left or right as it's playing, like this 360˚ video from Hong Kong Airlines (香港航空):
Dive Deeper:
7) Influencer Marketing
Influencer marketing is a type of word-of-mouth marketing that focuses on using key leaders to amplify your brand message to a larger market. Influencers can be well-known celebrities, but more often they are Instagram or YouTube personalities with a huge niche following who can help spread the word about your business or product through their social channels.
Because influencer marketing is generally more authentic than corporate advertising:
63% of consumers trust influencers' opinions of products much more than what brands say about themselves
58% of people have bought a new product in the past six months because of an influencer's recommendation
For this reason, Iceland, a popular British supermarket chain, switched from ads with celebrities to a campaign that features real-life moms. Teaming up with YouTube community Channel Mum, it now works with a number of vloggers to promote its products in a more "authentic" fashion.
And research shows that 35% of moms trust online videos more than traditional ads.
Influencer marketing is not just a trend: A mediakix study predicts that the ad spend for influencer marketing could reach $10 billion by next year: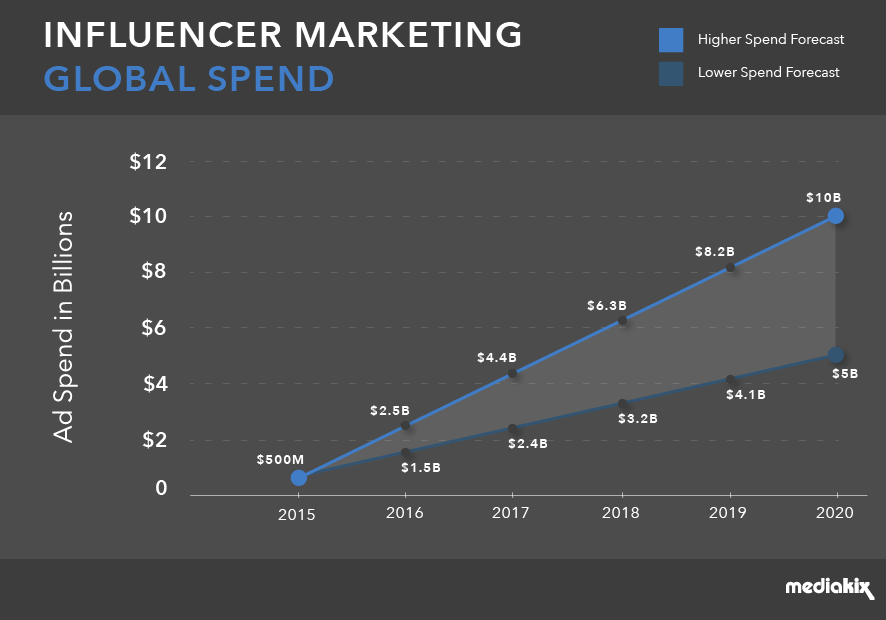 Influencer marketing is also going to be affected by artificial intelligence. With each year, AI is making the process of finding the right influencers to partner with easier and faster. It's helping identify those with better engagement, fewer fake followers, and a higher chance of generating a positive return on investment (ROI). In addition, artificial intelligence is transforming influencer marketing in the following ways:
Image recognition with ANN (Artificial Neural Networks)
Determining influencer performance with NLP (Natural Language Processing)
Predicting incentives with ANN
Determining an influencer's influence
Flagging posts that don't follow disclosure guidelines
Elimination of fake engagements and spam bots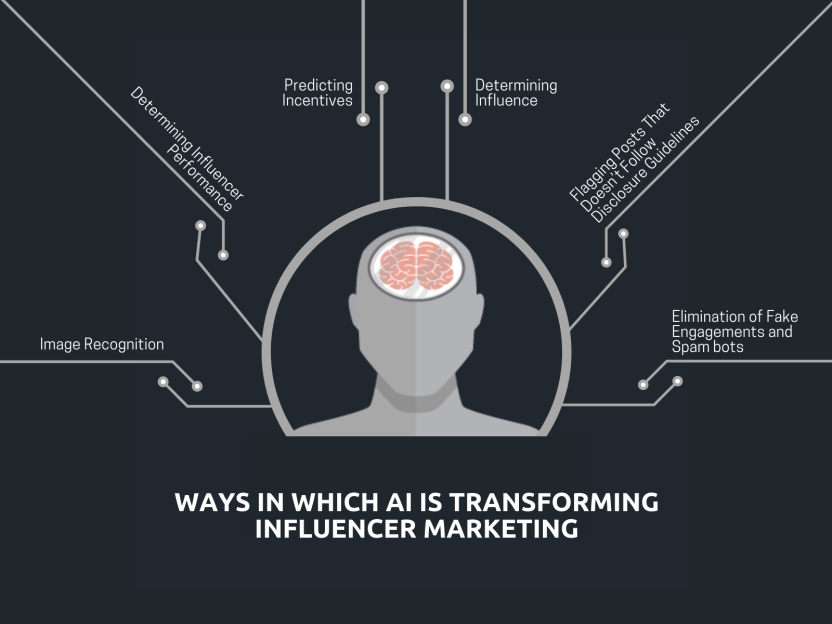 Dive Deeper:
8) Social Messaging Apps
If you think social messaging apps are just for sending emojis to your friends, take a look at these numbers: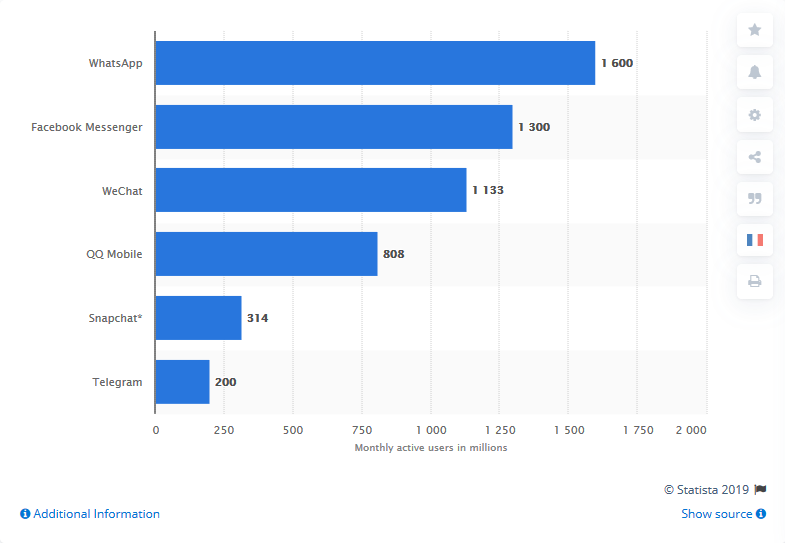 These statistics show the popularity of social messaging apps, and since people are spending more time messaging each other, it makes sense to market your company's products and services where your potential customers are hanging out.
Social messaging apps can be very useful in sending messages to customers directly, as they allow personalization and add value to the user experience. In addition, people expect businesses to have a presence on messaging apps because it's a direct and easy way to interact with them. In fact:
63% of customers are more likely to return to a company website that has live chat. Click To Tweet
Reasons for your brand to use messaging apps include:
Cultivate contact
Deliver information
Boost sales
Involve people in events
Regain potential customers
Provide support and assistance

9) Visual Search
Visual search can take the user experience to a totally new level: People can upload an image to conduct a search and get more specific results.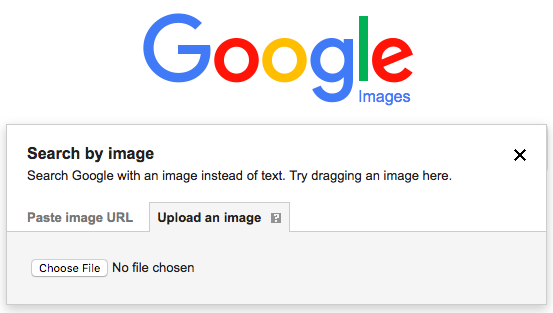 A) Pinterest Lens
Not surprisingly, Pinterest has jumped on the visual search bandwagon. They came out with Lens, a visual search tool that allows users to take a photo of an item to find out where to buy it online, search for similar products or view pinboards of related items.
As Marketing Land puts it, it turns your phone's camera into a search bar: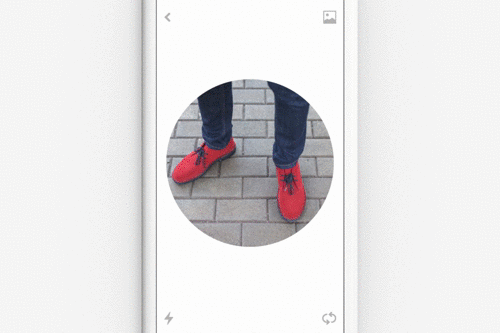 Since the launch of the beta version, Pinterest's Lens now recognizes 2.5 billion home and fashion objects, has inspired over 600 million searches on Pinterest's mobile apps and browser extensions, and has seen a 140% uptick from launch day.
Pinterest has continued to update its functionality:
Make sure you are optimizing for visual search, because (not surprisingly) the top search categories for Lens are:
Fashion
Home decor
Art
Food
Products
Animals
Outfits
Beauty
Vehicles
Travel
B) Google Lens
And Pinterest is not the only one with visual search. Google Lens is a visual search engine by Google, which recognizes objects and landmarks through a camera app. Here's what you can do when you take a photo of the following items:
Apparel and home goods: Find similar products and where to buy them.
Barcodes: Use a barcode to find info about a product, like where to buy it.
Business card: Save the phone number or address to a contact.
Book: Get a summary and read reviews.
Event flyer or billboard: Add the event to your calendar.
Landmark or building: See historical facts, hours of operation, and more.
Painting in a museum: Read about the artist and learn more.
Plant or animal: Learn about species and breeds.
As CNet says, "Google Lens is turning into what Google Glass never was" when it comes to real-time augmented reality.
C) CamFind
CamFind is another visual search mobile app which enables you to search for anything from your phone simply by snapping a picture.
Instead of typing queries into a search engine, you can directly search via images to find similar images, price comparisons, local shopping results, etc. You can also take a picture of a movie poster and CamFind will show you movie information, trailers, showtimes and local theaters.
D) Bing Visual Search
And with Bing Visual Search, you can search for a specific element within an image without having to go through all the current hoops.
For example, say you're looking for kitchen decoration inspiration and an image attracts your attention. You click on a thumbnail result to get to the "Detail View." The overall décor is great, but you're particularly interested in that nice-looking chandelier. Wouldn't you love to know where you can get one just like it? With Bing Visual Search, now you can.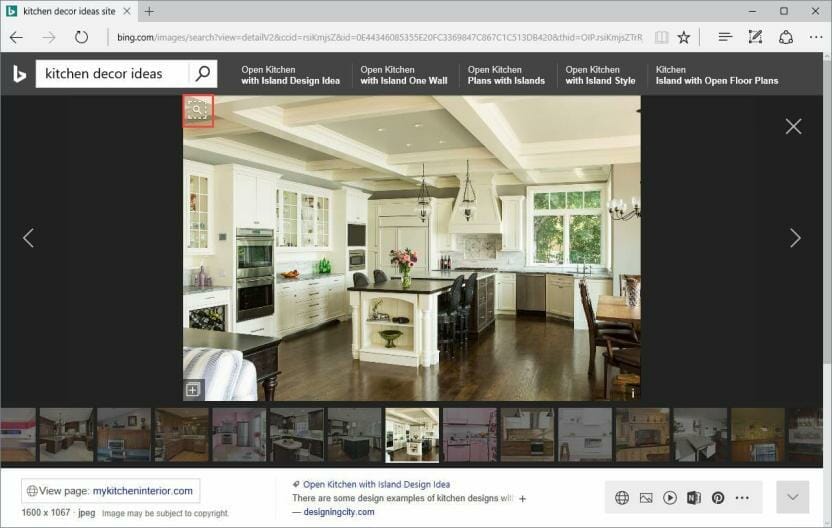 As per Social Media Today:
62% of Millennials are more interested in visual search capabilities than any other new technology
Images are returned for 19% of search queries on Google
There are over 600 million visual searches on Pinterest each month
Marketers can get the edge on competitors by jumping on the visual search trend in 2021 to draw customers and serve them the perfect product.
10) Micro-Moments
A micro-moment is "An intent-rich moment when a person turns to a device to act on a need – to know, go, do or buy."

People generally make instant decisions within these four Micro-Moments: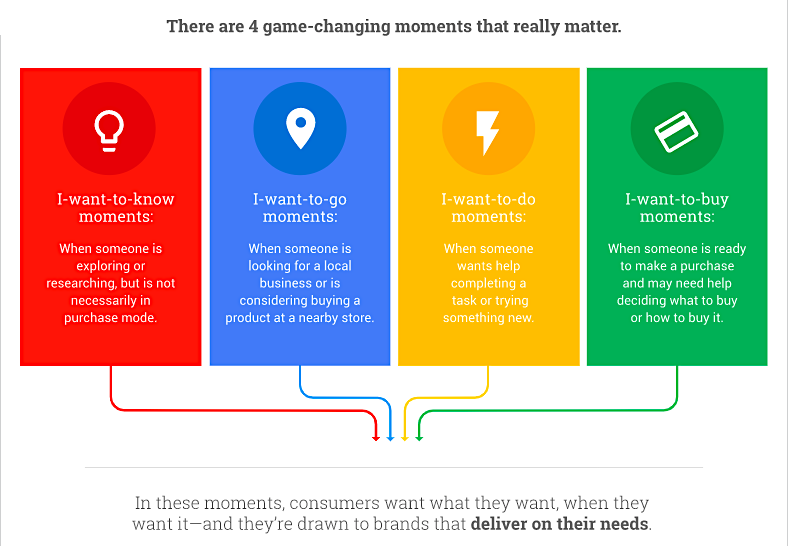 To take advantage of micro-moments in 2021, you need to be where consumers are searching for information in the moment – or, as Google puts it, marketers have to "be there, be useful, be quick."
The growing popularity of micro-moments means that marketers must rethink the linear marketing funnel that follows a set path: awareness, consideration and decision.
In 2021 and beyond, the customer journey will be more dynamic and unpredictable, as it needs to respond to rapid changes in consumer desires. After all, in the mobile age, people have become accustomed to instant gratification. If they think or talk about something, they want to learn more, see more and buy more of it with just a few clicks of a button.
According to Mention: 
"When we act on our needs in the moment, our expectations are high and our patience is low. This makes the quality, relevance and usefulness of marketing more important than ever."
To get the most out of micro-moments in 2021, you should:
Identify your consumers' "I want to buy" moments
Be there in these moments of need
Deliver relevant content
Make it easy for them to make a purchase
Measure every moment that matters
11) Voice Search & Smart Speakers
The increasing use of voice search has made it important for companies to rethink their digital marketing strategies in 2021. Consider these numbers:
50% of all searches will be via voice by 2020
55% of all American homes will own a smart speaker by 2022
72% of people who own voice-activated speakers say that their devices are used as part of their daily routines
Voice shopping is set to jump to $40 billion in 2022, up from $2 billion today
Global smart speaker shipments have almost trebled between Q1 2018 and Q2 2019, growing from 9.36 million units to 26.1 million units
Overall, people expect to be using voice search far more in the future: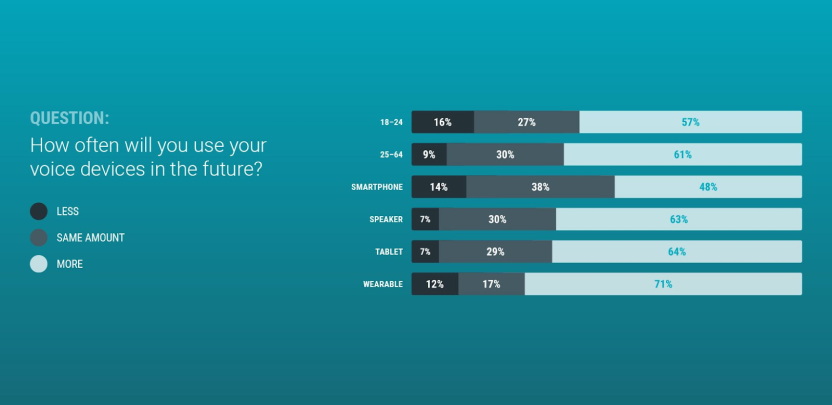 Voice search plays an important role in providing all the relevant information that people are searching for through audio content. AI is getting smarter and the number of errors made by voice assistants like Alexa, Siri and Google has reduced greatly.
As Digital Marketing Institute puts it:
"Adopting a voice search strategy isn't just about remaining relevant – it's also about creating a unique and optimized customer experience that will foster relationships and build brand loyalty."
Many brands are already including voice search in their digital marketing strategies to deliver value-based content effectively to their customers:
Patrón Tequila helps consumers access personalized cocktail recipes
Domino's allows pizza-lovers to order from the comfort of their couch without having to pick up the phone or even place an online order
PayPal users can engage Siri to send money to friends, family or businesses
Nestlé created a skill that provides voice instructions as you cook
Campbell's has a skill that helps hungry consumers choose and cook recipes
Google Assistant has 2,000 "actions" and Alexa has 30,000 "skills," which are functions that allow these voice assistants to react very specifically to user commands and queries: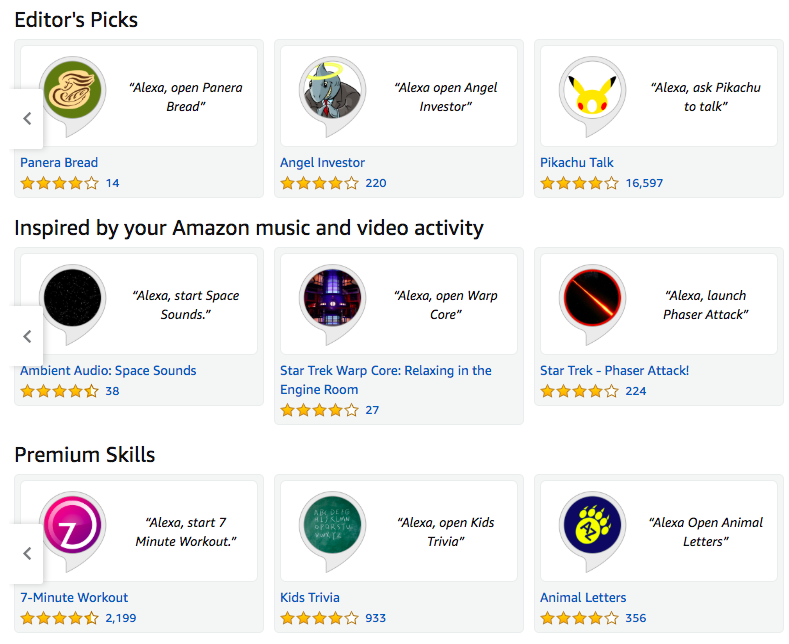 And keep in mind that not only will more companies produce audio content in the hopes of gaining brand awareness (so you should, too), but ads are likely on their way next. That means that Alexa will tell you the answer to your question along with a "word from her sponsor."
For all voice technology, remember to write in a conversational tone, focus on getting featured snippets on Google, and think about keywords that people will speak rather than type.
Optimizing for voice search is a great way to spread brand awareness, but how is that going to convert into sales? Well, in 2021, we'll see more businesses try to tap into this potential, experimenting with new ideas to use smart speakers as a lucrative channel for driving sales.
Right now, Jetson is an early runner in the voice commerce space, allowing people to use their voice-enabled devices to make purchases:
The key for companies to realize is that voice search isn't another channel to force messaging and sales. Instead, marketers must develop a unique approach to consumer interaction, and this channel should be part of a broader, more connected brand experience.
Dive Deeper:
12) Social Media Stories
First, Snapchat came out with the concept of "My Story," then Instagram and Facebook stories were introduced, and then YouTube unveiled their own story format: Reels.
To keep it all straight, here's a social media stories timeline: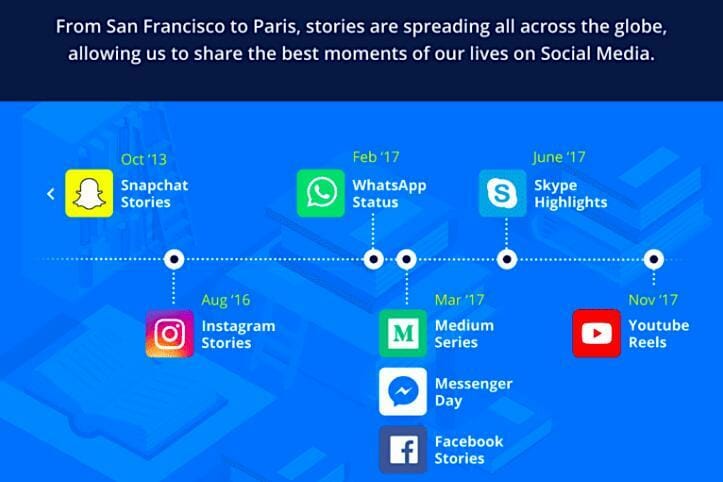 Since these types of stories disappear after a set period of time, this is a great opportunity for marketers to make good use of FOMO (fear of missing out).
The benefits of using social media stories include:
Increased brand awareness
Constant engagement with followers
Cost-effectiveness
Increased traffic to your web page
Opportunity to reach younger audiences
Get inspired by some of these ways to use social media stories:
Use polls within Instagram Stories
Add links to your social media Stories
Take advantage of Snapchat geofilters
Add location tags
Add mentions for other brands and your fans
Give live video a try when creating Stories
Invite followers to explore more with clear call-to-actions

13) Browser Push Notifications
Push notifications are on the rise, with 85% of online stores using them last year. Consider these other stats:
At least twice as many people sign up for web push notifications compared to a newsletter.
Only 10% of the best email marketers can achieve a newsletter sign-up rate that matches the performance of web push.
6.4 hours is the average time that passes before the recipient opens a newsletter. In the case of web push, the recipient will see the message immediately.
The updates to the GDPR (General Data Protection Regulations) and stricter filters have dented the potency of email marketing. Moreover, the younger audience favors other methods of communication and prefers to deal with less touchpoints when engaging brands.
As part of the bid to engage users on multiple channels, browser push notifications are something you will see more and more brands adopting in 2021 – and they are getting more sophisticated and personalized. In fact, using personalized push notifications increases conversions:
7% open rate for segmented push messaging compared to a 3% open rate for generic, broadcast messages (a 2x improvement)
54% of users convert from a segmented push notification, compared to only 15% for broadcast messages (a 3x improvement)
Notifications triggered by behavior are being used to re-engage people who have shown interest but failed to convert, and in recovering revenue from abandoned shopping carts: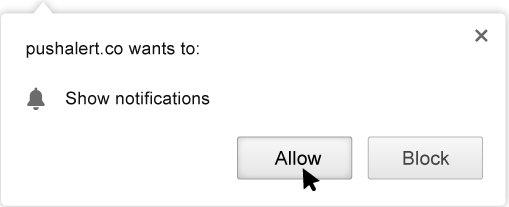 Notifications can even include images and CTAs to maximize conversion rates from such efforts: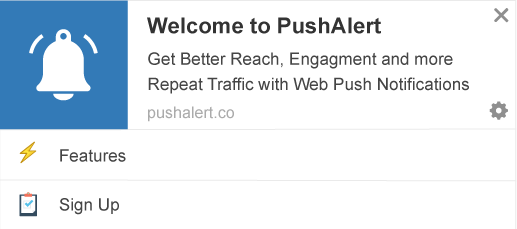 Dive Deeper:
14) Content Marketing Continues to Dominate SEO
In November 2019, Google rolled out some major updates to its search algorithm. The updates included the new BERT system, which is designed to aid Google in its efforts to understand the natural language that people use in their search queries.
The advice from Google's John Mueller is that "rather than chase the latest SEO trends, it's more important to ensure a site has fast speeds, useful links, and well-written content."
In fact, content marketing is so important that 88% of B2B content marketers agree that creating content makes their audience view their organization as a credible and trusted resource:

Stats from Content Marketing Institute:
Content marketing costs 62% less than outbound marketing and generates 3x as many leads.
Content marketing has lower up-front costs and deeper long-term benefits than paid search.
615 million devices now use ad blockers, which means your ads are not being seen by as many people.
Small businesses with blogs generate 126% more leads than those without blogs.
Content marketing rakes in conversion rates 6x higher than other methods.
Even amid all the innovation, content marketing remains a reliable, powerful way to attract new customers to your site and build relationships with them in real, quantifiable ways that deliver long-term value for your business. Click To Tweet
With Google continuing to value well-researched, regularly updated articles, many leading businesses will continue to invest heavily in content marketing.
Dive Deeper:
15) SEO A/B Split Testing
Modern marketing is all about testing and analysis. By using SEO A/B split-testing, you can isolate the variables in your campaign and easily identify which versions are driving the results you need. This form of testing offers marketers a methodical approach to making effective changes to their content.
Platforms like ClickFlow suggest pages with untapped SEO potential — a high-impression count but a low click-through rate (CTR) — which you can then improve to increase traffic, leads and, of course, conversions: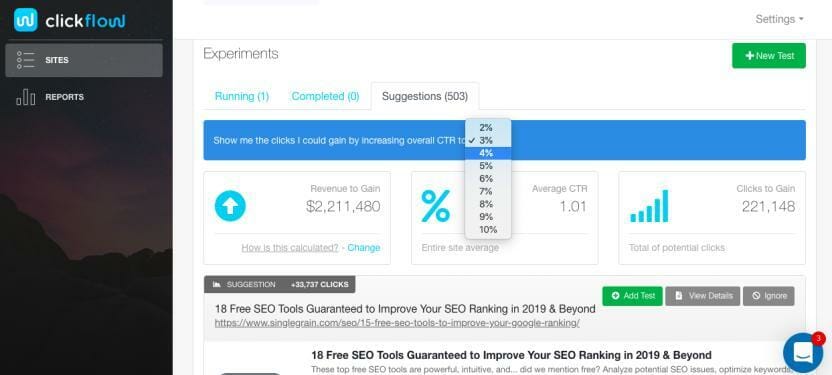 ClickFlow lets you set a target CTR value, then it serves up pages along with a keyword report that lists the keywords that your page is already ranking for now. Better yet, it suggests valuable new keywords that you should target to get more traffic.
Inside the app, you make changes to title, meta description, title tag and body content, which are automatically reflected on your site: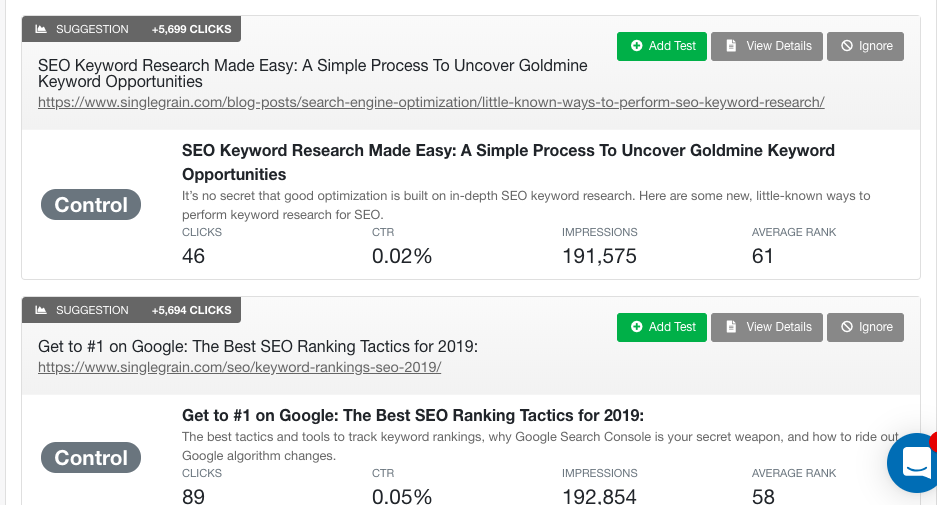 Choose your target CTR: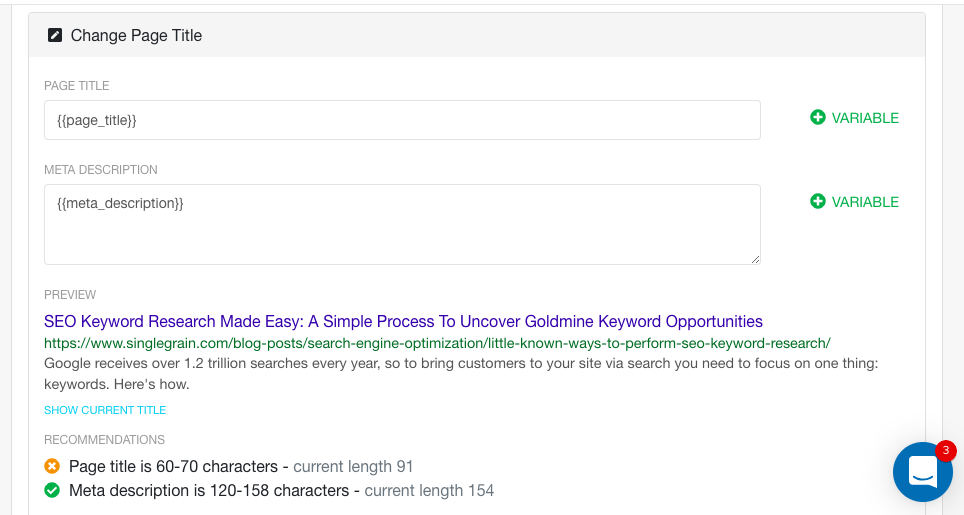 Run the experiment for at least 15 days and ClickFlow will show you how many more clicks you're getting — and the additional revenue you're gaining from the enhancements.
SEO A/B testing squeezes the most SEO juice out of your site and gives you insight into the variables that move the needle. With this strategy and the right tools, even a small budget can deliver a great ROI.

16) Social Commerce & Shoppable Posts
With e-commerce and social media both growing at alarming rates, it's no wonder brands are using the two together to maximize opportunities for sales.
In March of last year, Instagram unveiled Instagram Checkout, which lets users complete their purchase from within Instagram: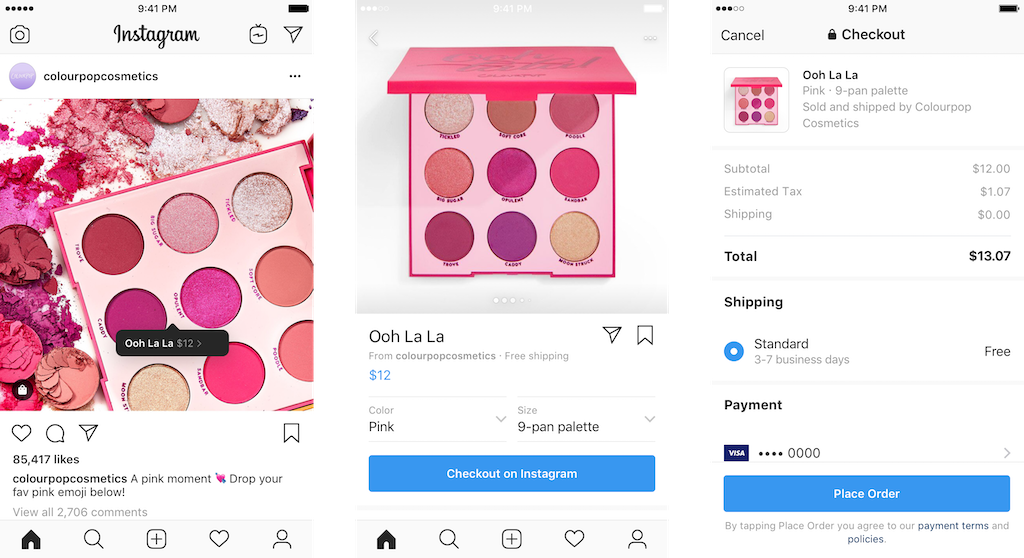 E-commerce brands hope this will reduce the risk that customers will abandon their purchase because they have to switch apps or sign in to an unknown store.
By now you've heard that Instagram is hiding likes, and with all the fuss, you'd think that the photo-sharing app was on the decline. Think again.
Social media is integral to digital marketing, and visual platforms like Instagram are gold for marketers. Better yet, visual commerce is taking off as more consumers are willing to buy products through ads they see in their feeds.
Instagram reports that the platform has 1 billion users, and 90% of them already follow active shopping brands, with many visiting these profiles on a daily basis. So what better way to leverage this massive potential than by using shoppable posts?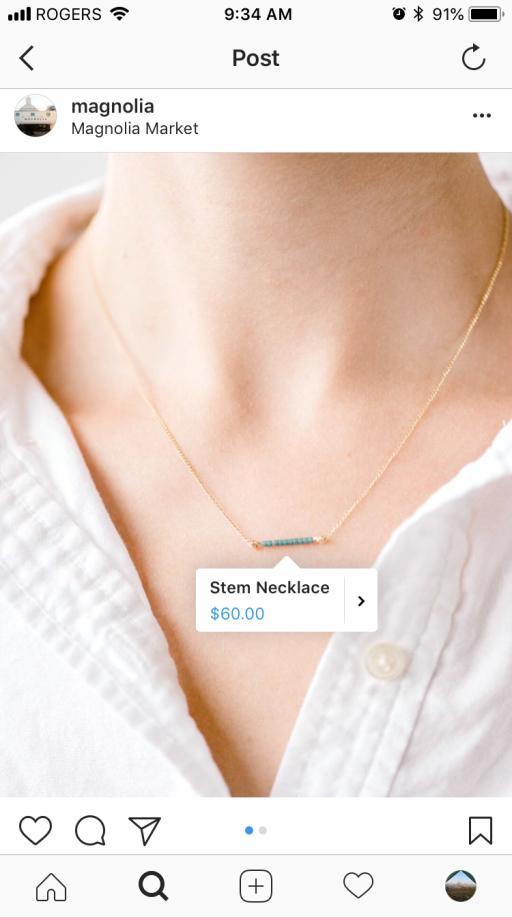 E-commerce brands can create and post interactive ads that allow users to click and shop with ease. Instagram believes this will make it easier for businesses to reach prospective new customers through Instagram, as it will effectively shorten the sales funnel, giving consumers the instant access they desire.
17) Interactive Content
Speaking of instant access, that brings us to one of the fastest-growing digital marketing trends in recent times: interactive content.
In 2021, we're destined to see a shift from traditional text-based content toward dynamic, engaging content that offers users an immersive experience. For example, think about:
Quizzes and polls
Embedded calculators
Augmented reality ads
360-degree videos
Here's a good example of a 360 VR video:
And here's an example of our Marketing Impact Calculator to help you calculate how much more money you'll make with marketing: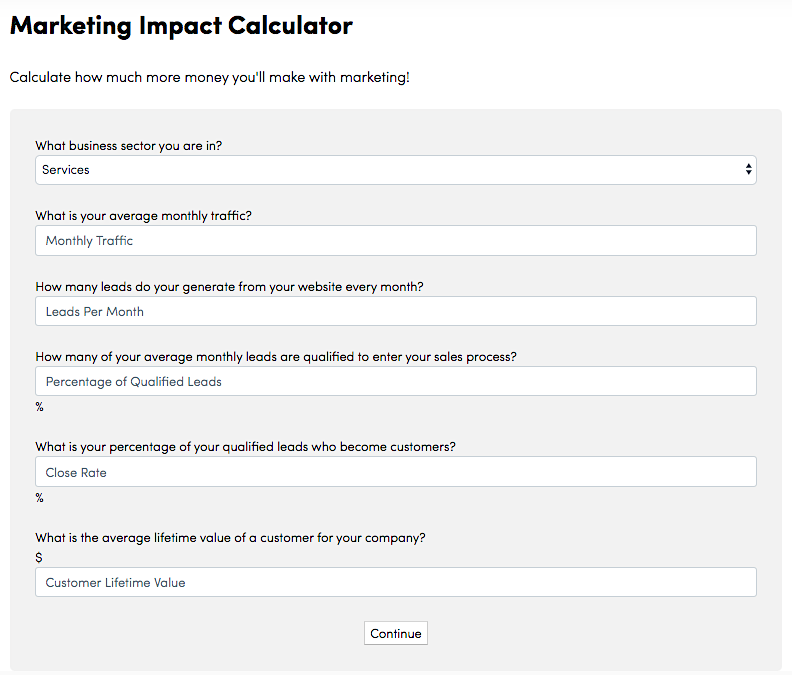 If you need convincing, consider that 91% of buyers are actively searching for more interactive content. People like it not just because it's fresh and original, but because it makes them feel more connected to brands and more involved in the buying process.
Interactive content is more engaging, more memorable and more likely to generate the results your business needs.
Learn More: 7 Types of Interactive Content – Why & How to Use Them
18) Omnichannel Marketing
Omnichannel marketing was one of the buzzwords of 2020. While the phrase may now seem a little worn out, the strategy is as ripe and relevant as ever in 2021.
Omnichannel marketing is the process of marketing across multiple platforms (such as social media, apps, email and blog) so you can connect with prospects on more touchpoints. When you do omnichannel marketing right, you can offer an enhanced user experience and cohesive brand message that drives people to action.
To stay ahead, brands must present a seamless, consistent voice and message across all available mediums, including physical storefronts, social media channels, online, in catalogs and anywhere else you can imagine. All channels should be linked in one all-encompassing strategy for the best results.
Stats show that brands using three or more channels in an automation workflow can generate great results:
Engagement rate: 18.96% on omnichannel vs. 5.4% on single-channel
Purchase frequency: 250% higher on omnichannel vs. single-channel
Average order value: 13% more per order on omnichannel vs. single-channel
Customer retention rates: 90% higher for omnichannel vs. single-channel
With ever-more sophisticated SaaS companies providing the tools to manage multiple channels more efficiently, it's becoming easier to manage an omnichannel strategy, although it can be a challenge.
Users demand personalization and want to be able to browse a physical store, view products on social media, and purchase online. And if you're not keeping up with their demands, someone else will get that business.
This is another area where AI and big data are playing a role by helping brands understand consumer behavior better and personalize at an individual level at scale. Getting inside the head of your ideal customer's buying journey is key to actioning an effective omnichannel approach.
Dive Deeper:
19) Augmented Reality (AR) & Immersive Technologies
Gartner predicts that by 2022, 70% of enterprises will be experimenting with immersive technologies, and 25% will have deployed to production.
While virtual reality (VR) makes a lot of noise and gets everyone excited with grand sci-fi ideas, AR is much more implementable from a marketing standpoint. Experts predict that AR will continue to outpace VR in terms of market share: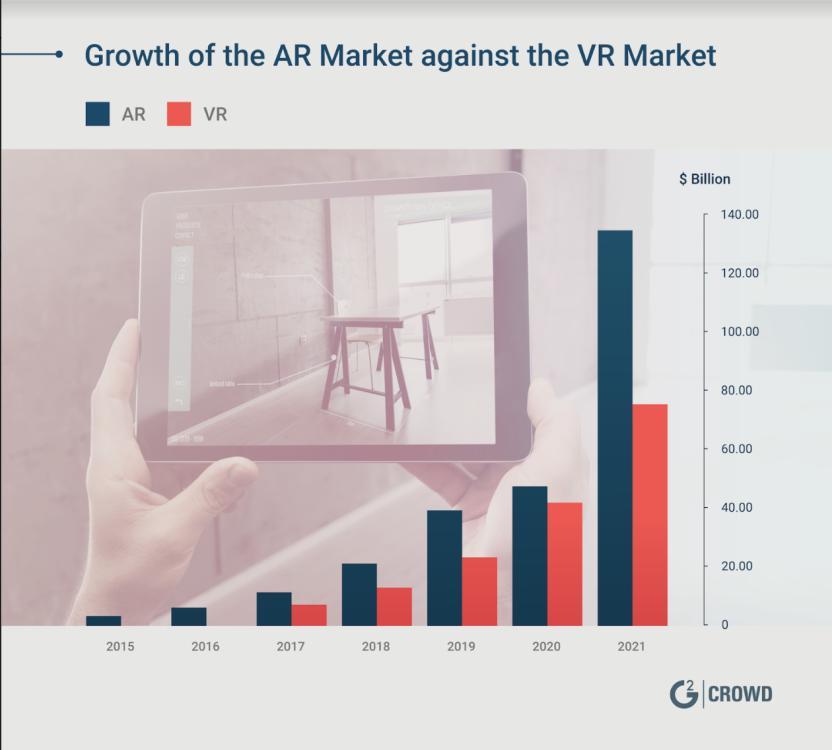 Brands are increasingly using this technology to enhance the consumer experience and increase sales.
ModiFace, which has recently been acquired by L'Oreal, produces AR applications for brands. Sephora Virtual Artist, an impressive example of ModiFace's technology, allows you to see how the different colors of various forms of make-up will look on your face, without having to go to a store and physically apply it: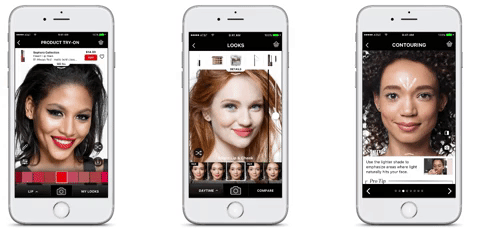 And IKEA has their own AR app called IKEA Place which allows you to take a picture of a room in your home with your smartphone camera (with just iOS 11.0.1 for now) in order to "test drive" IKEA's furniture in it. You can move the furniture around and check out how it looks from different angles: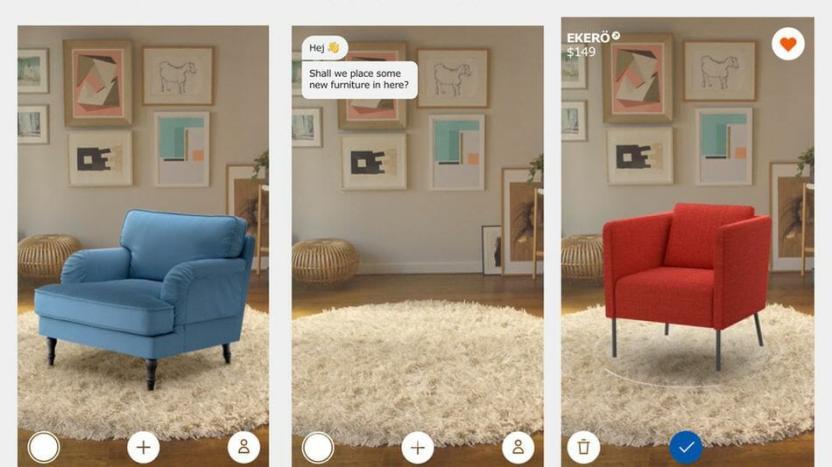 With AR improving rapidly, we will see a huge uptake in brands finding useful applications for the technology in the future.
20) Predictive & Augmented Analytics
Predictive analytics is the practice of using data mining, predictive modeling and machine learning to identify patterns and attempt to predict the future. It is becoming more and more sophisticated and widespread in many industries.
In terms of digital marketing trends, we will see a lot more of this, as it is being used in advanced lead scoring, as well as for segmentation and individual personalization, which helps marketers reduce churn and improve customer loyalty.
One such example is Amazon Assistant, a Chrome extension from the retail giant that allows users to permit product recommendations from Amazon to extend beyond the website to make personalized offers while they are browsing elsewhere on the web: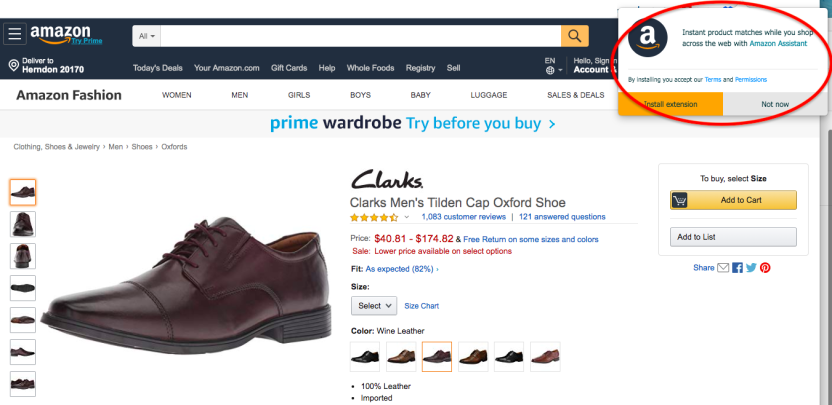 Augmented Analytics, on the other hand, uses machine learning and Natural Language Processing (NLP) to automate data preparation and enable data sharing.
As Bonnie D. Graham, host of the Game-Changers Business podcast, says:
"Where predictive analytics uses machine learning to predict what will happen, augmented analytics uses machine intelligence to boost human intelligence with the why, so we can work faster and smarter on ever-larger datasets."
Gartner predicts by 2020 over 40% of data science tasks will be automated, which means that insight into the enormous amounts of big data that businesses are collecting will allow for better and more personalized decision-making and thus increased productivity.
Dive Deeper:
21) Growth of Geo-Fencing
While the idea of marketing to people based on their location is nothing new, we do expect an increase in the use of geo-fencing – this market is set to grow to $2.4 billion by 2023 – along with the rise of mobile use: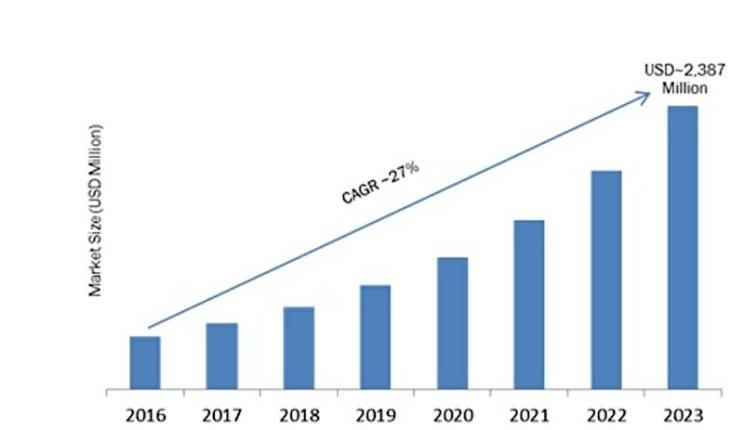 Geo-fencing allows real-time targeting based on a user's location. A target area is defined as, say, within a mile of a restaurant, and when a user enters or leaves this area, they receive a push notification, text message or another form of marketing communication.
Research shows that of people who open a push notification, 54% of users convert from segmented push compared to only 15% for broadcast messages. And 52% of users enable push messaging on their apps.
76, an American gas company, used Waze to mark their gas stations on a map throughout California. As drivers approached, a logo would pop up on their map showing them where to stop for gas and offering entry to a competition if they filled up. Their "Tank 5" campaign resulted in a 6.5% navigation rate to fuel stations: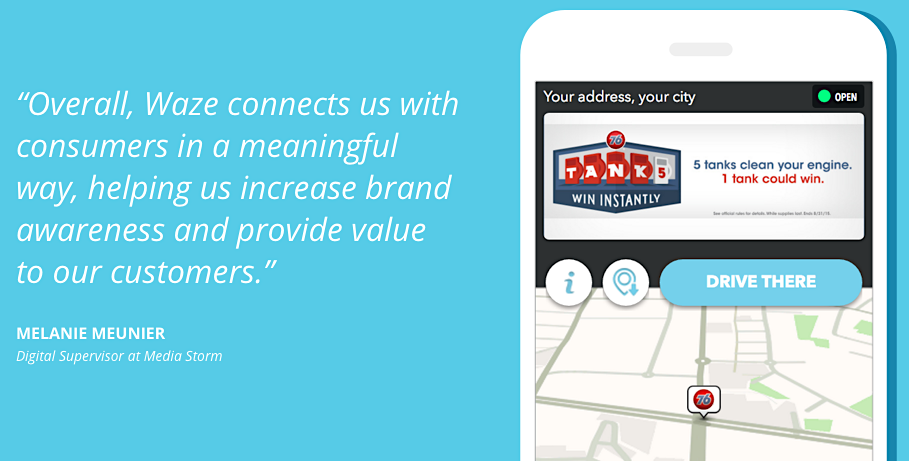 For industries that need to convert digital users into brick-and-mortar customers, geo-fencing is going to become more and more important in their marketing strategy.
22) Progressive Web Apps (PWAs)
Progressive Web Apps are essentially websites that work like mobile apps. They offer the functionality of a native mobile app – fast load times, push notifications, working offline, utilizing device hardware, etc. – without being limited to one platform (which in reality means Android or iOS).
This allows development teams to create web apps for any device that works just like a mobile app.
By 2020, the number of smartphone users is expected to reach 2.87 billion. With total page views on mobile increasing year-over-year by almost 50% worldwide, mobile is more crucial than ever to your digital strategy: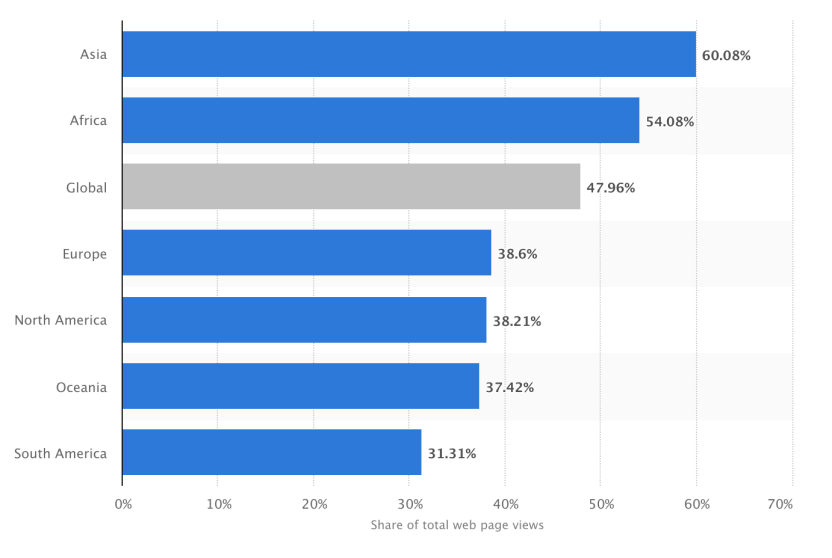 PWAs are going to become ever-more prevalent as the mobile revolution continues at pace.
Dive Deeper:
23) User-Generated Content (UGC)
User-generated content (UGC) is a potent resource for marketers who want to tap into the Millennial and Gen Z markets. You can encourage your audience to share unique content by offering them an incentive, such as a discount, or even partnering with them for a good cause.
Aerie, a women's clothing company, "made a pledge to stop retouching photos of models in its bathing suits. And for every Instagram user that posted an unedited photo of themselves in a bathing suit (using the hashtag #AerieReal, of course), Aerie now donates $1 to the National Eating Disorders Association (NEDA)."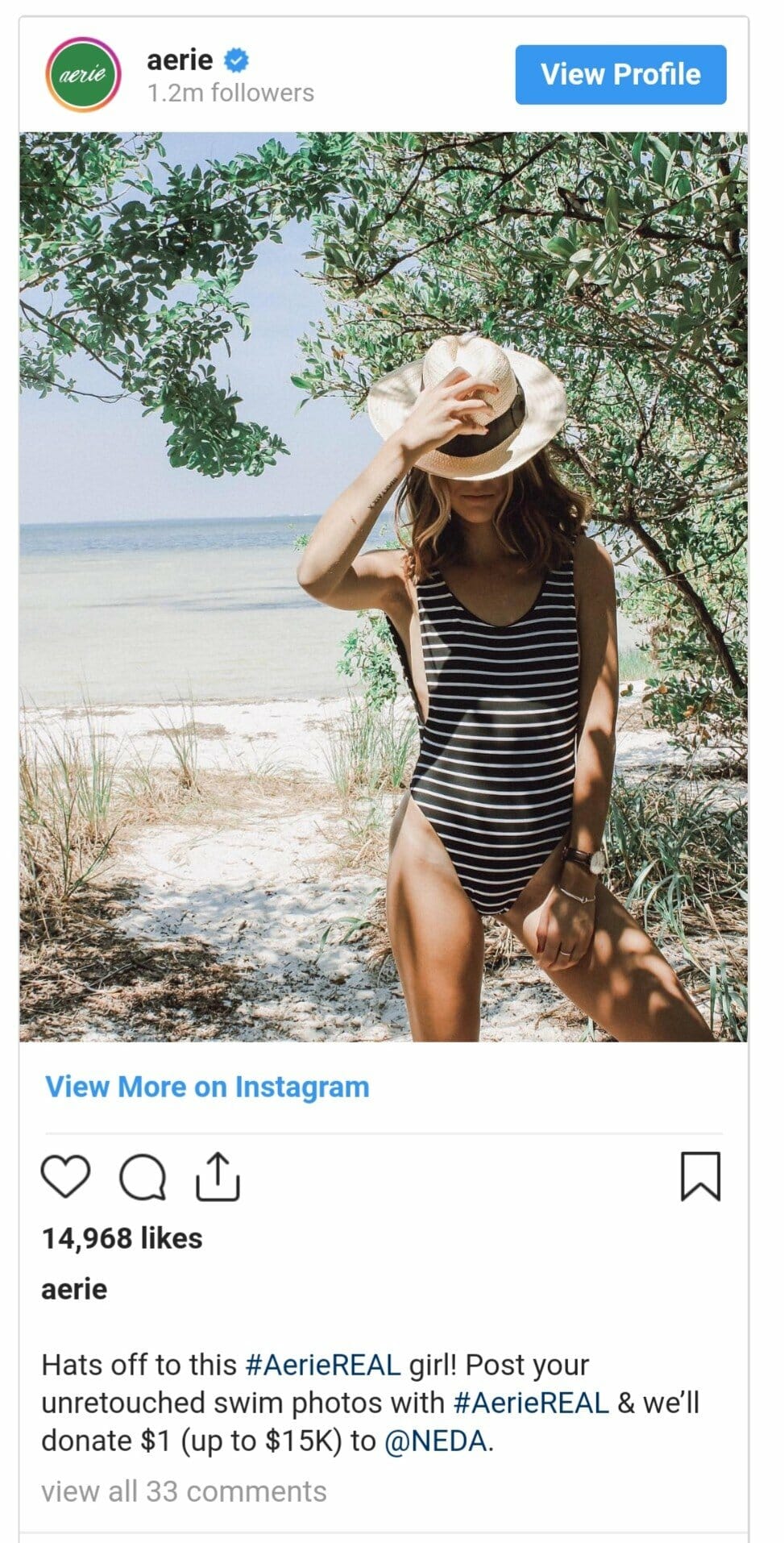 This simple UGC strategy can quickly increase brand engagement and drive conversion rates as more people discover your brand, and its products and services.
People trust others like themselves far more than they trust companies. In fact, one survey found that 90% of shoppers reported that UGC influenced their decision to purchase more than any other form of advertising, with a whopping 97% of 18-29 year olds saying that it had an "extreme influence."
UGC can be as basic as blog comments and testimonials or it can take the form of blog posts, images and videos created by users. GoPro's entire YouTube channel is dedicated to UGC, showing high-quality videos produced by its customers using its hardy, portable cameras. The channel is currently pushing 8 million subscribers.
Recently, GoPro created a UGC contest with the hashtag #MillionDollarChallenge in which their customers created and shared videos – and 25,000 people entered!
Dive Deeper: 8 Ways to Encourage More User-Generated Content (UGC)
24) Blockchain Technology
As defined by Blockgeeks:
"A blockchain is, in the simplest of terms, a time-stamped series of immutable data records that is managed by a cluster of computers not owned by any single entity. Each of these blocks of data (i.e. block) is secured and bound to each other using cryptographic principles (i.e. chain)."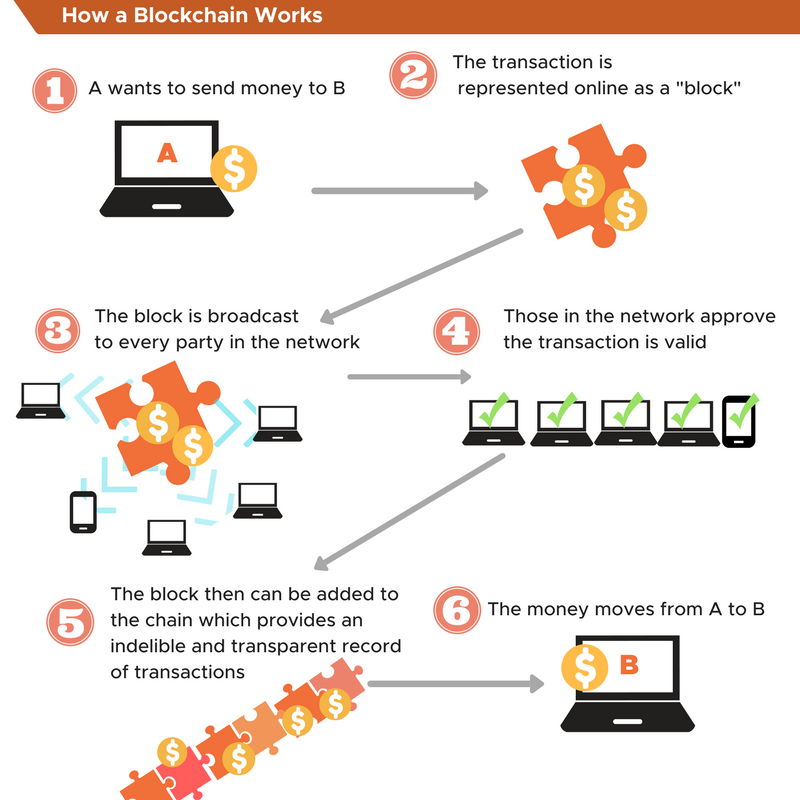 The uses of blockchain are far more wide-reaching than just the financial world, however; this technology is also making waves in the digital marketing world. Blockchain eliminates the digital marketing intermediary, builds trust by means of transparency, drives public accountability and offers benefits for branding.
But in 2021 and beyond, we'll see these trends in blockchain:
Dive Deeper:
25) Quantum Computing
Quantum computing is a new technology based on a quantum physics theory, which asserts that subatomic particles exist in more than one state simultaneously.
As per ITSPmagazine:
"Traditional computers store data in bits, which can exist in one of two states: one or zero. Quantum computers, however, use a new unit of measurement, a single atom known as a qubit (literally 'quantum bit'), which greatly increases the computational power of a system."
Another way to visualize quantum computing is to imagine a huge library:
"While a classic computer would read every book in a library in a linear fashion, a quantum computer would read all the books simultaneously. Quantum computers are able to theoretically work on millions of computations at once."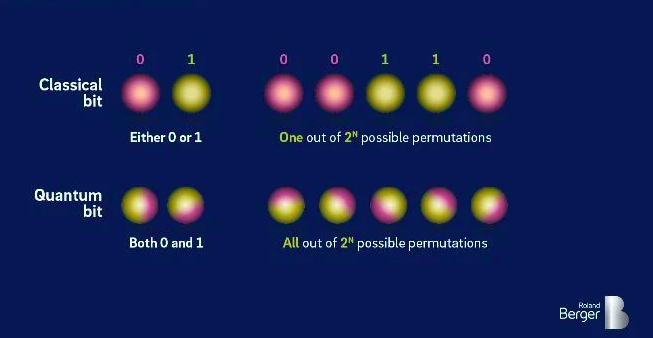 So, how can marketers use quantum computing? Here's what we can expect:
Improved mobile data coverage (a boon for mobile marketers)
AI becoming more human-like (Google AI is developing quantum algorithms that will drastically improve machine learning)
Increased relevance of ads (quantum annealing can help advertisements reach a wider range of people at a better cost)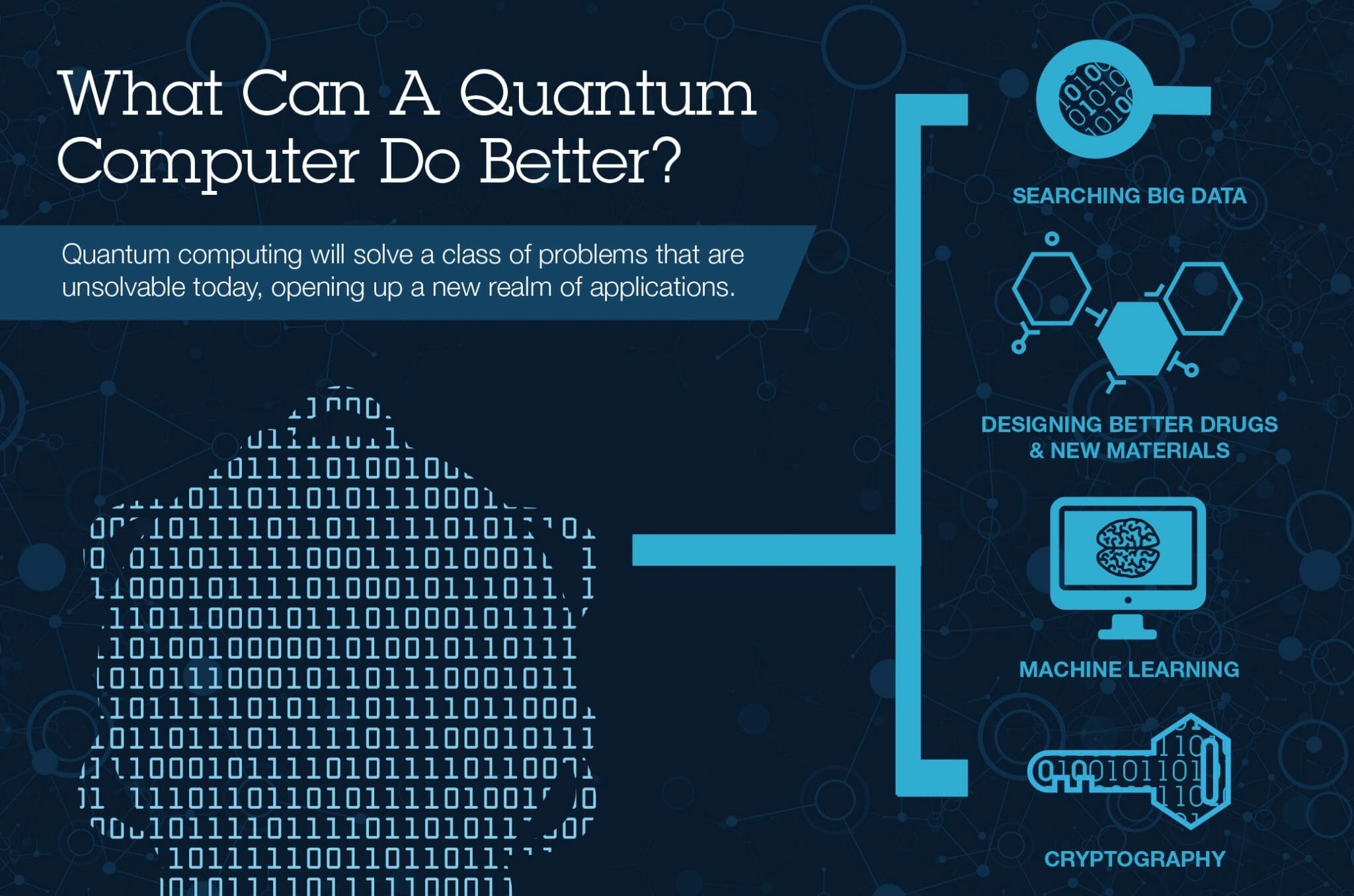 26) Big Data and Deep Learning
In 2021, the world's big data industry will continue to grow exponentially, which is great news for marketers – if you know how to harness the power of big data. A huge part of this task comes down to the tools you use, which is something that a lot of companies find challenging.
Forbes report that 78% of organizations either already have or are developing a customer data platform to help manage, analyze and leverage their data. It comes as no surprise that data experts top the priority list for many enterprises, with 41% of company owners saying it's now their most desired skill to hire.
With the benefits of big data comes the need for companies to leverage this data better to "significantly simplify tasks that formerly could only be completed by data scientists." More importantly, "This continued democratization will lead to new use cases that are closer to the needs of business users and will enable faster time-to-market for AI applications in the enterprise."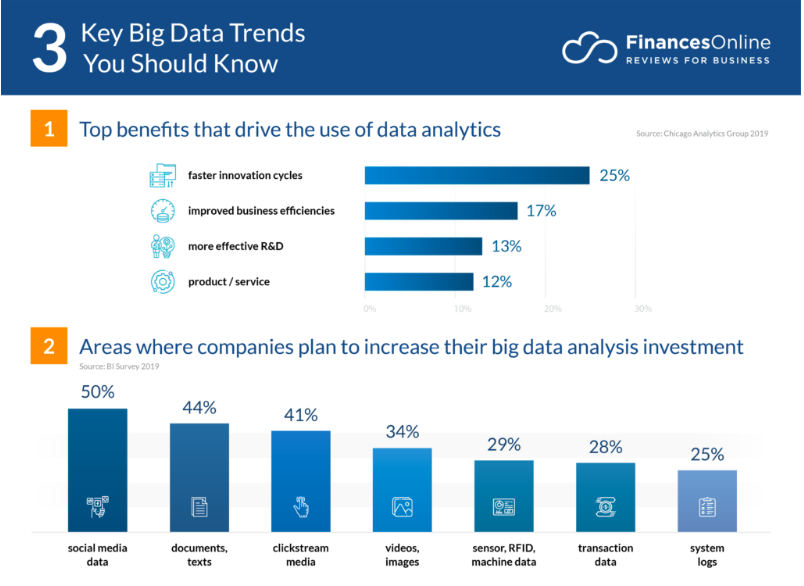 One caveat is that as big data grows even more powerful, the demands on how companies should manage consumer data becomes increasingly precarious. The GDPR changes lit the touchpaper for a global revolution on data privacy, with California set to roll out the California Consumer Privacy Act (CCPA) on January 1, 2020.
As such, big data is a double-edged sword, but one that many digital marketers will find hard to resist in the very near future.
Dive Deeper:
27) Automation (& AI)
Gartner projects that 30% of businesses will incorporate artificial intelligence (AI) in their sales processes in 2021. In fairness, we should expect more, especially when you consider the amazing benefits of AI and automation for sales and marketing: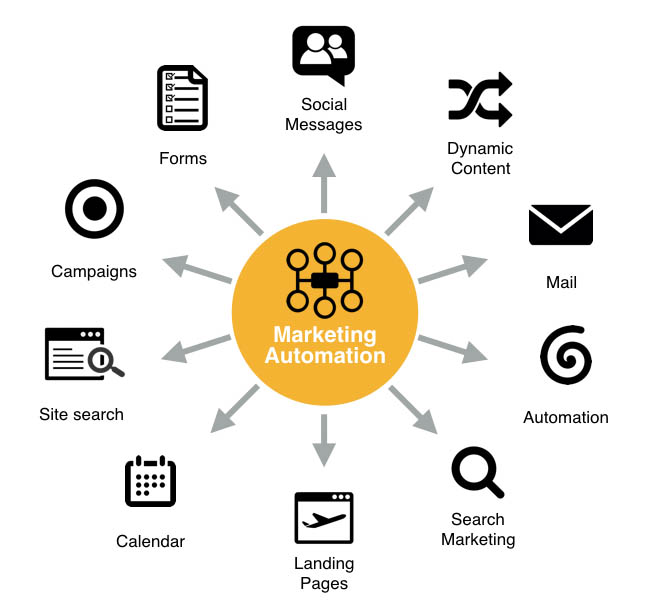 For example, you can use artificial intelligence and automation to:
Improve Customer Retention and Loyalty
Predict the Behavior of Your Customer with Propensity Modeling and Predictive Analytics
Use AI-Powered Chatbots to Improve User Experience
Leverage the Power of Audience Insights to Boost Search Ads
Scale Up Your Content Marketing with AI-Generated Content
Deliver a Highly Personalized Website Experience to Every User
Optimize for Voice Search Queries
Identify "Hot Leads"
Reduce Cart Abandonment
Target Customers Across Different Channels
Boost Customer Lifetime Value (CLV)
Upsell and Cross Sell to Customers
Improve Blogger Outreach
Generate Leads from Thank You Pages
Automatically Suggest Content to Visitors
Identify Bottlenecks in Your Sales Pipeline
Measure the Performance of Your Marketing Campaigns
Maintain a Central Hub for all Your Marketing Activities
Cut Costs and Save Time
But don't just take our word for it. As Neil Patel says:
"Marketing will become a more even playing field and you'll have no choice but to use automation."
Related Reading:
28) Google Ads Smart Bidding
With intense competition on social media slowly suffocating organic reach, paid advertising will become a more trusted force in 2021. And when you consider the Smart Bidding feature on Google Ads, you'd be a fool not to give it a try.
Google explains that with Smart Bidding:
"Machine learning algorithms train on data at a vast scale to help you make more accurate predictions across your account about how different bid amounts might impact conversions or conversion value."
In other words, advertisers can hand the reins of their pay-per-click (PPC) campaigns to Google's AI system, which will then optimize their budget to maximize their ROI. This works for any number of PPC goals, including:
Target CPA – Generate new leads and customers for a maximum cost per acquisition that you set.
Target ROAS – Set your sights on getting the best return on your advertising spend.
Maximize Conversions – Rack up your advertising conversion rates, whether your aim is to get more email subscribers, downloads, or product sales.
Smart bidding allows you to use many different signals for your bid optimization, including:
Device
Physical location
Location intent
Weekday and time of day
Remarketing list
Ad characteristics
Interface language
Browser
Operating system
Some of these signals are available as manual bid adjustments, but other signals (and combinations of signals) are only available via Smart Bidding: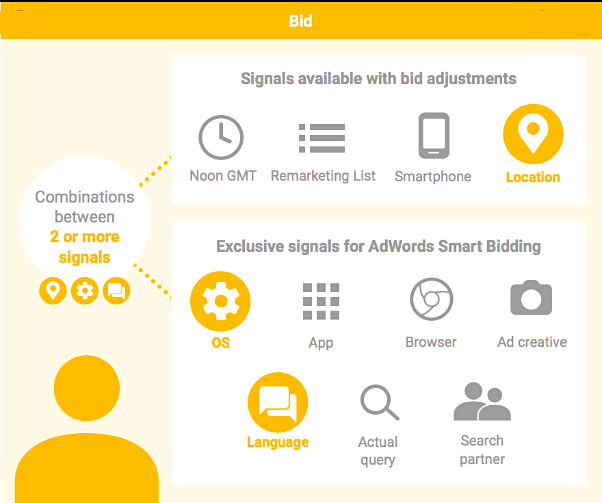 The bottom line is that with Smart Bidding running the show, marketers will have more free time to focus on strategy, copywriting, and analytics.
29) SERP Position Zero
For the past couple of years, voice search has been causing waves, changing the way search engine optimization works. Most notable is the rise of the featured snippet, which appears in the highly coveted "position zero" in Google's search engine results pages, like in this example: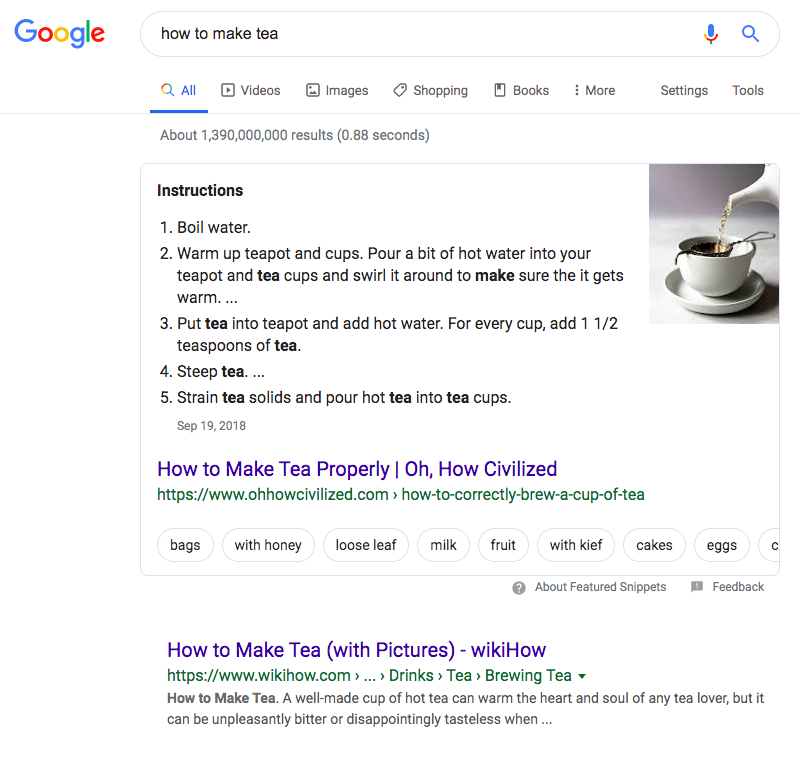 In 2021, at least 30% of all Internet searches will be conducted without a screen, and since 40.7% of all voice search answers come from a featured snippet, if your marketing is strong enough, you could be the one hitting that coveted spot.
Also known as rank zero snippet or position zero, this is the holy grail of modern-day SEO, as it directly answers user search queries without any need for the user to click a link. VSEO (voice search engine optimization) can give you an enormous competitive advantage (of course, this is only good news for one brand…).
This trend is growing, with 62.5% of mobile searches and 34.4% of desktop searches now resulting in "zero-click search" results. And according to Ahrefs, these are the most common words in search queries with featured snippets: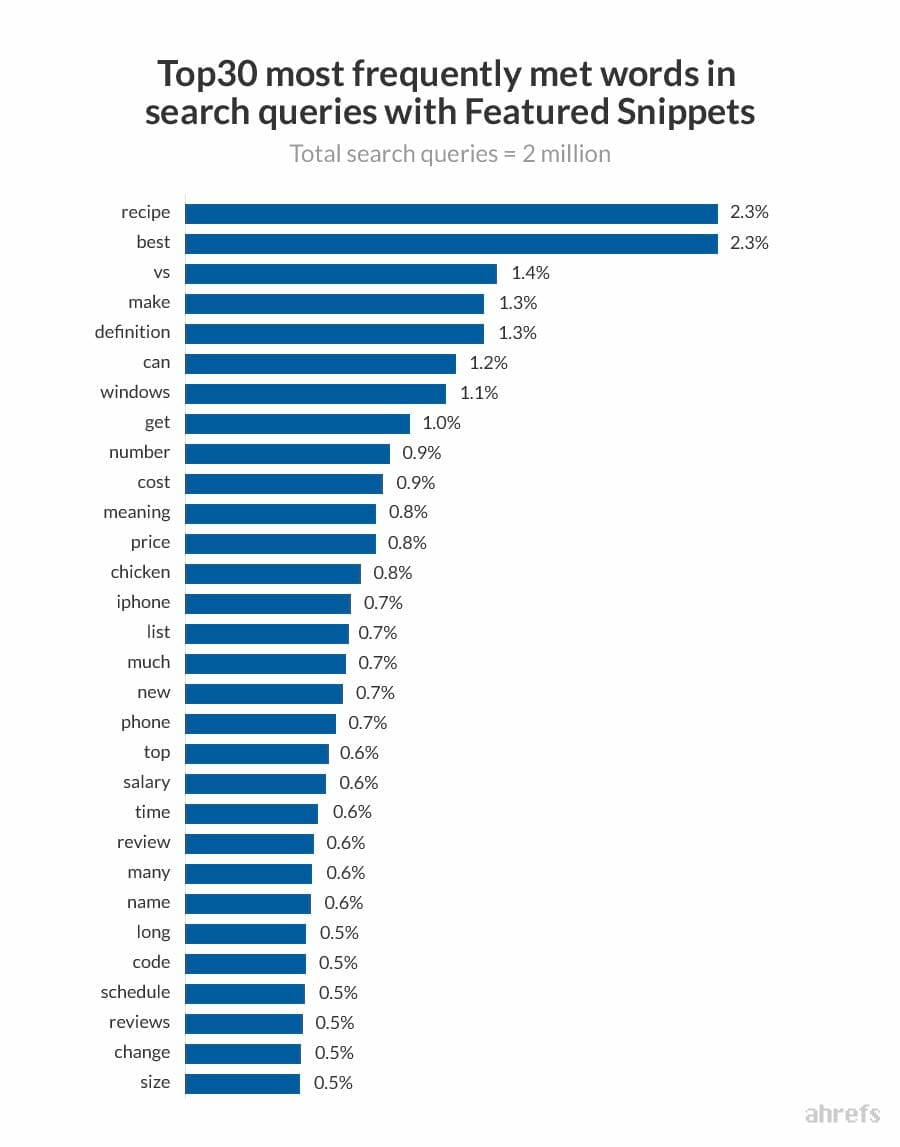 Because of this, more marketers will invest their resources in On-SERP SEO, which is the practice of optimizing web pages with the goal of claiming as much space in Google SERPs as possible. This boosts your click-through rate (CTR), driving more organic traffic to your site and increases the likelihood of claiming the top spot.
Dive Deeper:
30) Branding
We live in a time when consumers are spoiled for choice. It doesn't matter what niche you're in – it's unlikely that you operate in a vacuum. 66% of consumers say that they feel connected to a brand whenever they trust it, and to earn their  trust, you have to establish a solid brand.
The reason branding is so important now is because of Google's E.A.T. ranking factor, which stands for:
Expertise: the page needs to have quality content written by an expert writer
Authority: the site itself needs to have some authority on the subject
Trustworthiness: the site needs to have other authoritative links pointing to it from trusted sites
In essence, Google wants to do more than rank good content; they are catering to the user experience by demanding the most accurate, up-to-date, well-researched (i.e. authoritative) content on any given topic, preferably created by true experts in the field.
If Jimmy's Medical Blog (not a real site) gives some bad advice that leads to a mom poisoning her child with some amateur advice on home remedies, that's not good for Jimmy's brand – or Google's reputation of delivering quality results. So as the new year progresses and SEO evolves, Google may crack down on major industries, particularly in health and finance where accurate information is critical.
Neil Patel advises marketers to focus on building their expertise, pointing out that they can bolster their reputation with guest posts on industry-leading blogs, speaking at conferences, and by applying for awards. Always include an updated author bio at the bottom of all your published content pieces to build brand recognition and earn readers' trust: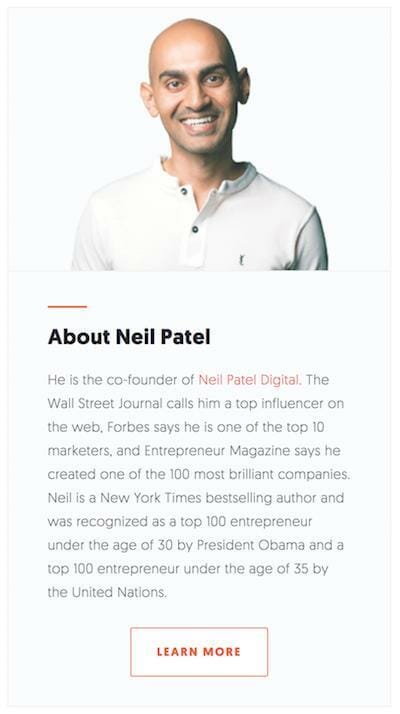 Dive Deeper:
31) Better Analytics
Modern marketing and metrics go hand-in-hand, so if you're not investing in better analytics, you'll struggle to drive the results you want to see. The problem, however, is that the customer journey is more complex now. We live in an omnichannel age where the average consumer engages a brand on up to six touchpoints before making a purchase.
With multiple channels to manage and a myriad of ways to market your products and services, the job of analytics tracking is fast becoming a gargantuan mission. As a result, many companies are looking beyond the basics of Google Analytics for a comprehensive business intelligence solution or analytics dashboard like Amplitude: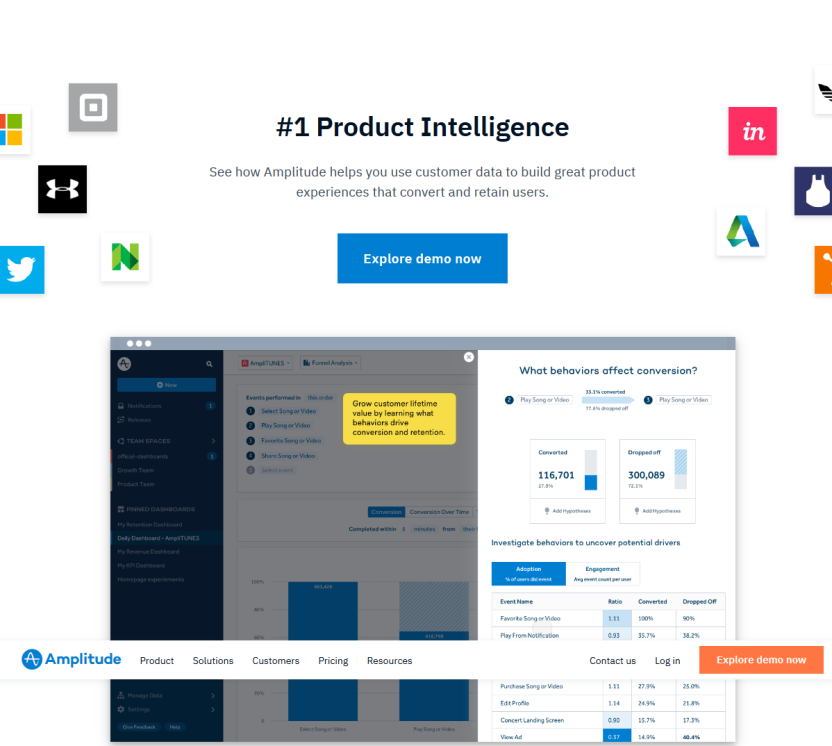 Another way this trend will play out is by moving towards business intelligence, the "technologies, applications and practices for the collection, integration, analysis and presentation of business information. The purpose of Business Intelligence is to support better business decision making."
As Neil Patel puts it, a BI options is "A central place where you can tie in all your data and make better-informed decisions so you can optimize for your lifetime value instead of your short-term income."
There are many business intelligence options, both paid and free, such as Google Data Studio (Google's reporting solution for power users who want to go beyond the data and dashboards of Google Analytics), Metabase and Tableau: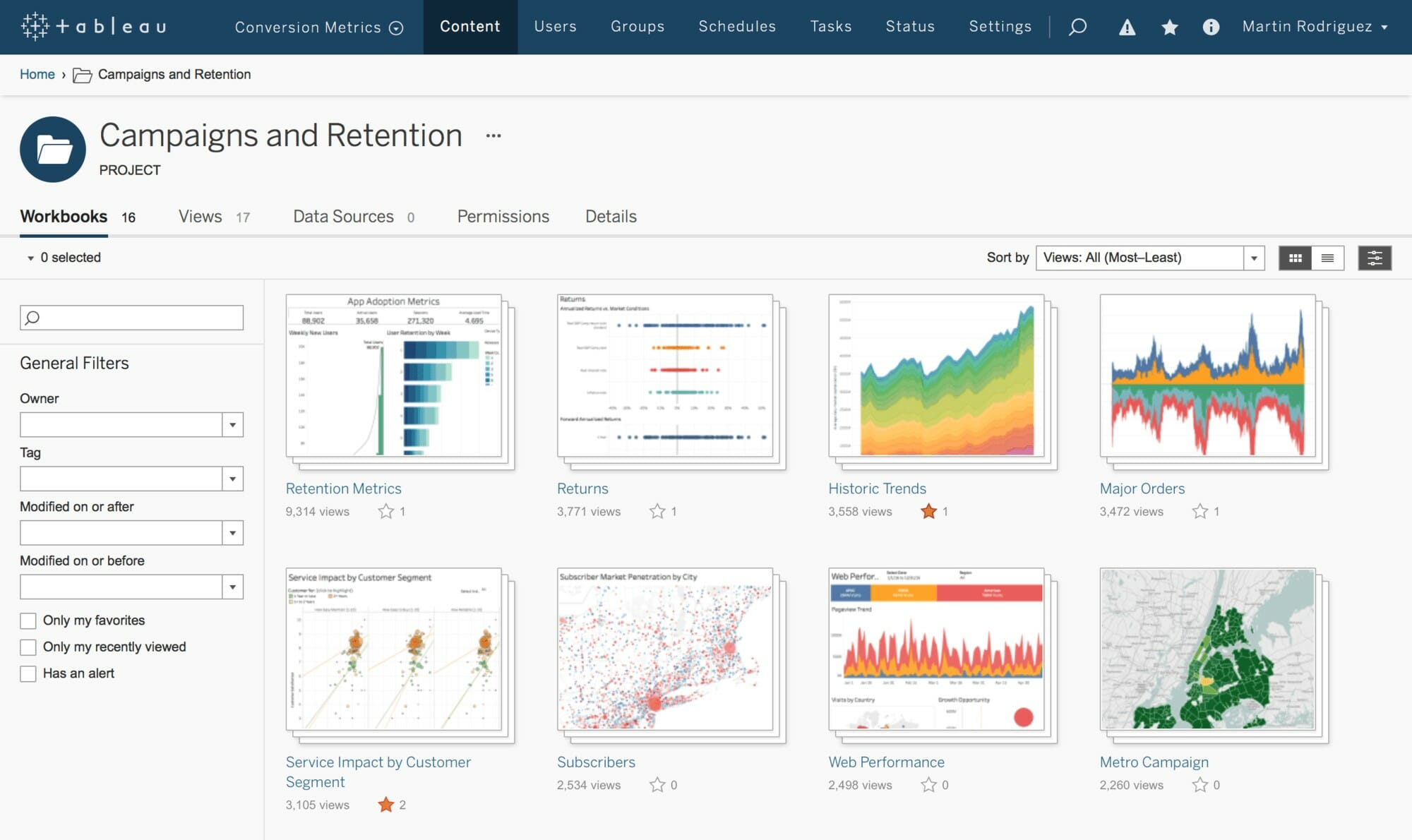 Dive Deeper:
32) 5G Technology
In a world gone mad for mobile, arguably one of the most significant digital marketing trends of 2021 is the dawn of 5G technology, or fifth generation of mobile technology. This update heralds a new era of digital communications and its impact will be felt across virtually every industry.
Asha Keddy of Intel says:
"5G will enable a fully-mobile and connected society — unleashing human and technological possibility, and fuelling business and financial opportunity."
As Adage puts it:
"The arrival of 5G may also finally bring millions of rural consumers into the high-speed data lanes where marketers increasingly sell their products. It might even disrupt the digital duopoly of Google and Facebook by arming telecom companies with unprecedented data for ad services."
T-Mobile points to the benefits 5G speed has for the burgeoning augmented reality industry, noting how it could be instrumental in developing a virtual heads-up display. As this picture below shows, 5G Internet speeds can help cyclists spot danger from all sides: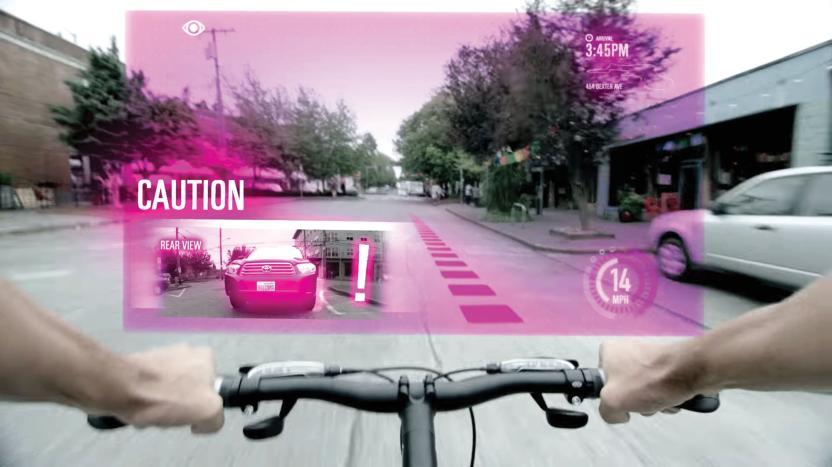 The European Union has an ambitious 5G action plan that includes uninterrupted 5G coverage for major roads and railways by 2025. What's more is that the technology is expected to power a staggering one hundredfold increase in the number of connected devices. Of course, this brings up concerns of adverse effects on health and the environment from RF (radio frequency) radiation, the electromagnetic emissions produced by wireless phones, but that is a topic for another article.
All that is to say 5G technology will transform how we access online content, from digital marketers to the average user.
33) Privacy Marketing
Recently, Forbes reported that British Airways was slapped with a £183M fine for a data breach, and the hotel chain, Marriott, got stung for £99M after failing to protect the personal data of 339 million guests.
The aforementioned CCPA (California Consumer Privacy Act) in trend #26 above will be the most restrictive state privacy law passed in the U.S. when it comes into effect in 2021. Despite opposition from big players in Silicon Valley like Facebook, the world's fifth-largest economy is pushing forward with its new consumer privacy act.
It's clear that the people (but not the companies) of the world are getting serious about privacy, and marketers – who rely on those people – have no choice but to play by the new rules or miss out. One of the new rules is that marketers and brands will have to "'earn' the contact information of their targets" rather than engage in mass marketing. As Forbes points out:
"In the United States, marketers have become so lax in their targeting practices that every one of us has to take several minutes a day to delete from our inbox – both professional and personal – the dozens of emails that are not relevant and clearly not welcome."
People want to know they can trust brands, and that their personal data is safe. Instead of being complacent, digital marketing teams should get strategic to reinforce their commitment to privacy so they can earn the trust of potential customers.
Some of the ways brands can earn consumers' trust is by:
Researching and understanding our audience(s)
Developing a relevant message to get an audience to engage
Finding the right channel to engage with that specific audience
Developing an "intimate" relationship through thoughtful engagement
Dive Deeper:
34) Website Security
In the same breath as privacy, we need to mention website security.
When a visitor lands on your site for the first time, they'll make up their mind about your security within seconds. If they don't feel safe, they won't hang around, which leads to increased bounce rates. Over time, a high bounce rate is bad news for your business, as you'll slide down in the SERPs when Google realizes that people don't want to stay long on your site.
Tech Republic notes that there have been over 3,800 data breaches within organizations – in one year alone! While the hacks at huge companies like Yahoo, Facebook, Equifax and Marriott make the headlines, there are plenty of breaches at smaller firms, too. As a result, just 25% of consumers believe that most companies handle their sensitive personal data responsibly.
In 2021, website security is no longer an option. As of August 2014, Google announced that HTTPS is a ranking signal and flags every site as unsafe unless it has an HTTPS (the "S" stands for "secure") certification: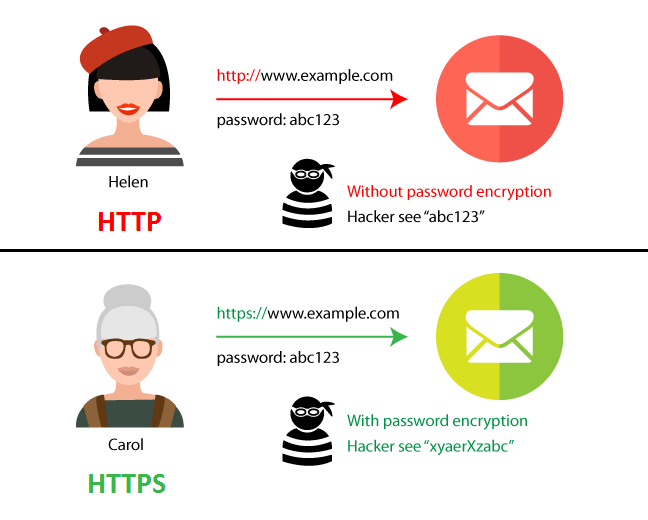 From now on, the bare minimum is to enable the HTTPS protocol for your site, which will show your visitors a little green padlock icon in the URL:
In addition, prominently displaying a security seal of trust or trust badge on your website will reassure your site visitors that you take their safety seriously:
Learn More: How Poor Website Security Negatively Impacts SEO Rankings
35) IoT Advertising
Never mind our mobile devices and laptops – from smart cars to household appliances to wearable tech, the Internet of Things (IoT) is getting more and more connected:

As per QuanticMind:
"These days, it's expected that connected devices and technologies will unobtrusively, and sometimes stealthily, collect data on our vital functions, what we do, where we go, what we share, what we believe, what we buy, who we know, how we move and even what we eat."
Which means, of course, that brands and marketers want to use (or are already using) this data for their own business and advertising purposes. For example:
Johnnie Walker has a Blue Label bottle with built-in electronic sensors that can tell if the bottle has been opened and where it is in the supply chain.
Malibu, another drinks company, takes it a step further, using their "connected" bottles as digital touchpoint to promote exclusive content.
And as 5G technology matures, more IoT devices will present more on-demand content for consumers and more advertising opportunities for marketers.

36) Long-Form Content
In 2021, shorter posts won't get you anywhere – with Google or your audience. Typically, posts that are at least 3,000 words long attract the most traffic, as they offer readers an in-depth exploration of topics. Long-form content allows content creators to establish themselves as an expert on a subject and gives them more scope for targeting keywords.
A study from Search Engine Journal indicates that long-form content gets 77% more backlinks than short articles, which is critical for driving organic traffic: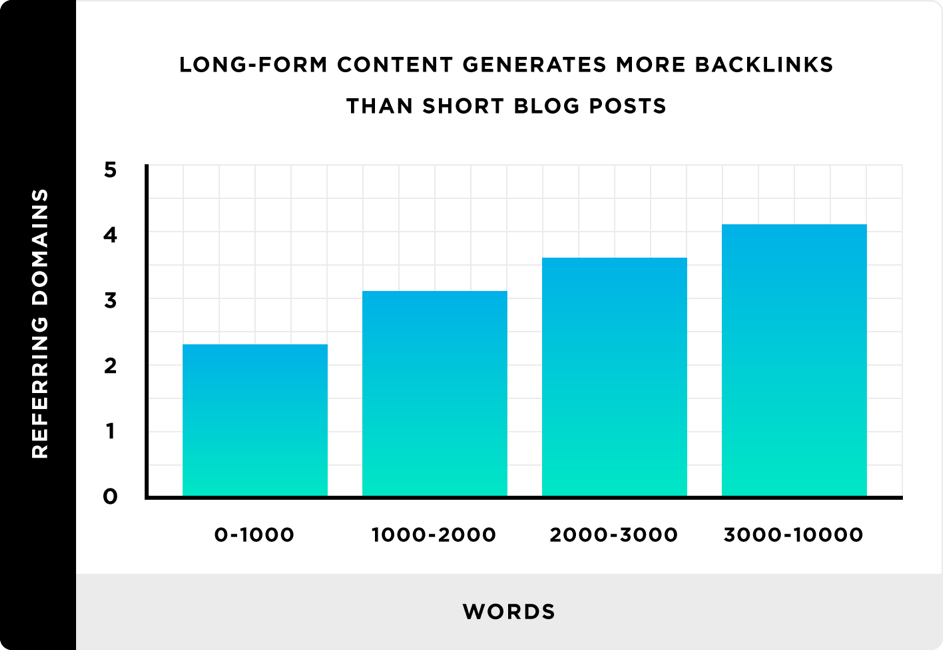 According to Small Biz Trends, 56% of bloggers generate a better ROI on their content when they spend over six hours creating a single blog post. That may seem excessive, but when it attracts more traffic, increases on-page time, and boosts your organic search rankings, it's a great business investment.
These epic posts are sometimes called 10X content or pillar content, which is basically content that provides a complete answer to any question a user may be searching for on a given topic. It's specifically designed to provide value for the reader, and also to rank highly in the search engines.
The benefits of long-form or pillar content are:
Longer time spent on your site's pages. The more content available for users to consume, the more time they'll spend doing so.
A decrease in bounce rate. If users find what they're looking for on your page, they won't go back to Google to find another source.
Backlinks and a ton of social media shares. Pillar pages get shared widely and often, especially among influencers in a given space.
Gets traffic throughout the lifetime of your blog or website. Pillar content is evergreen content, so its value doesn't diminish over time.
A high Google ranking. The high word count, shares and backlinks will all contribute to improved visibility on SERPs.
Dive Deeper:
37) Semantic Keyword Research
Here's something you need to keep in mind when you're creating long-form content: You must write for people, not for Google.
Banging out a 5,000-word post every other day is great, but you won't see the results you're hoping for if you don't keep user intent in mind. Also known as search intent or keyword intent, this is the main goal that a person has when they type or speak a search query. It could be to find a product, information or a store location.
Think about how Google analyzes your content. The search engine doesn't just evaluate keywords in a search box; it considers the content of a query and drills down to determine the user search intent. In this example below, if someone were searching for a missing cat, Google would use semantic analysis to include concepts like:
Related concepts (i.e. "pets" not just "cats"; "lost", not just "missing"; "pet shelters" and "animal control centers")
Related areas
Other possible ways to help you out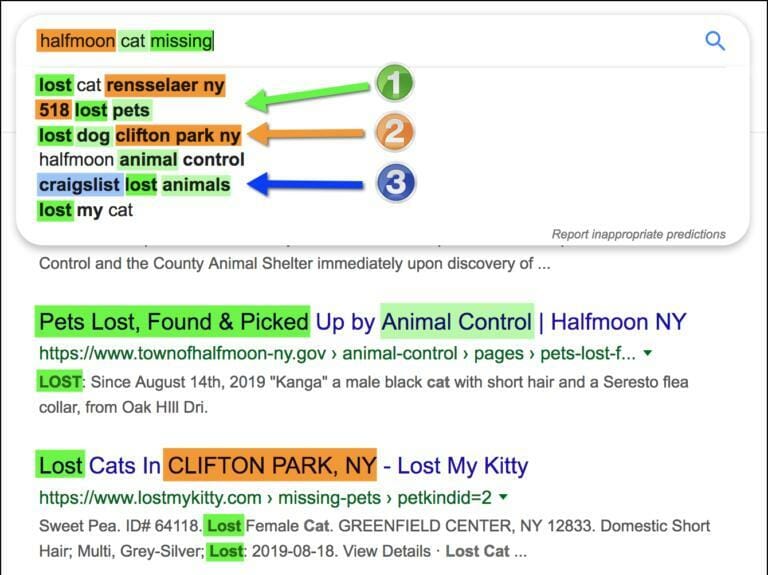 This analysis is called semantic search, and with AI and voice search on a meteoric rise, it's becoming a more central aspect of how search works.
Content marketers can leverage this to their benefit by going beyond their primary keyword to include related terms, questions and phrases in their content. Together, these latent semantic keywords will give Google a much better understanding of the nature of your content, as well as the solutions and benefits it offers to users.
In 2019, the annual Content Marketing Institute B2B report revealed that 90% of the world's most successful marketers put their audience's needs ahead of promotional targets. The companies with this attitude will rise to the top in 2021.
Dive Deeper:
38) Structured Data SEO
Among all the digital marketing trends you'll hear about soon (if not already), there will no doubt be the now obligatory annual claims that "SEO is dead."
Ignore these claims. Once again, SEO is not dead – it's a shapeshifter. In 2021, we'll see that structured data will become more prevalent in search engine results.
Structured data is any data that is organized in such a way that makes it easier for search engines to crawl and categorize. Content creators can do this in their back-end code or by neatly organizing information in tables with labeled columns and rows.
When it's done right, structured data delivers a big SEO boost, as you may rank in that coveted Position Zero in one form or another, such as a Knowledge Graph Box, which displays important information about your business: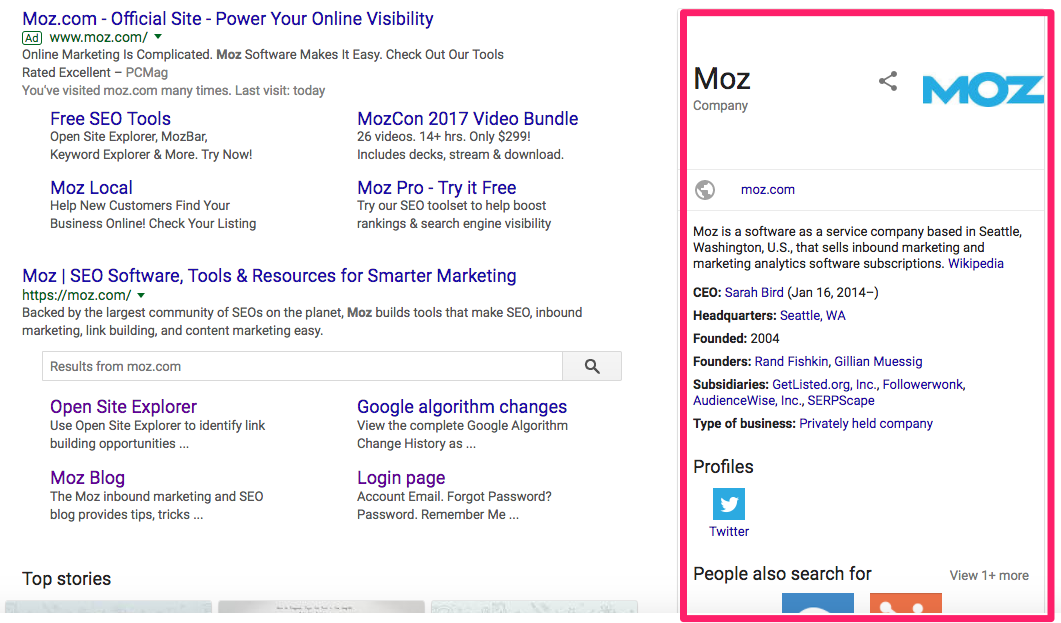 Another possible boon of using structured data is that you can generate Rich Snippet results, which display images, review stats, and pricing. These rich snippets – also known as rich cards – are excellent for driving clicks, especially on mobile.

Schema.org is a semantic vocabulary of tags that enables website owners to embed structured data on their web pages so that search engines can clearly understand, interpret and represent the content in response to a search query. The list keeps growing but so far, here are the content-only schema.org types that Google is actively using: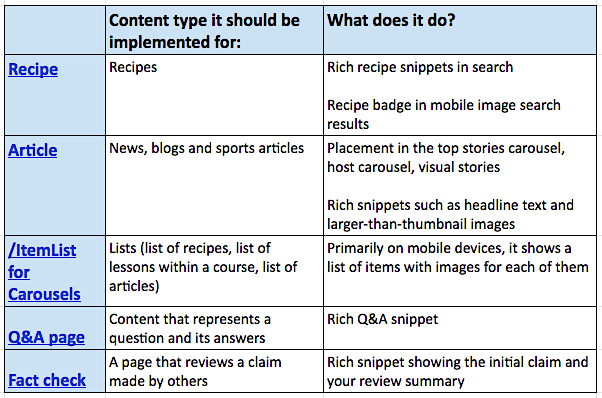 With almost 50% of all global Internet traffic now happening on mobile devices, the competition for these rich results is heating up, so we'll see a lot of marketers focusing on leveraging structured data in 2021.
Learn More: How (and Why) to Create an Effective Content Structure for Better Ranking
39) Alternate Search Engines
Research from StatCounter shows that over 92% of all traffic on search engines is through Google, dwarfing its "closest" rivals, Yahoo and Bing:

The world's most dominant search engine is a sophisticated juggernaut of innovation, finely-tuned to deliver the most relevant, recent and comprehensive results for any user search query. It's hard to fathom a catastrophic collapse happening any time soon, making it seemingly impossible for any other search engine to give Google a run for its money.
That being said, DuckDuckGo – a privacy-focused search engine founded in 2008 that has gained a niche popularity among privacy-minded users – has made some waves recently with its tagline "the search engine that doesn't track you" because "search engines don't need to track users to make money."
According to DuckDuckGo's general counsel and head of policy, Megan Gray, this model is profitable: "We make a ton of money. We are a privately held company, so I can't tell you exactly how much we make. But we are subject to the California Consumer Privacy Act (CCPA), which requires at least $25 million in annual revenue, and we are well above that."
In the spirit of online privacy (trend #33 above), while Google has become embroiled in data scandals such as the Cambridge Analytics fiasco, DuckDuckGo has meanwhile seen massive growth as it hit 1 billion searches in the month of January 2019: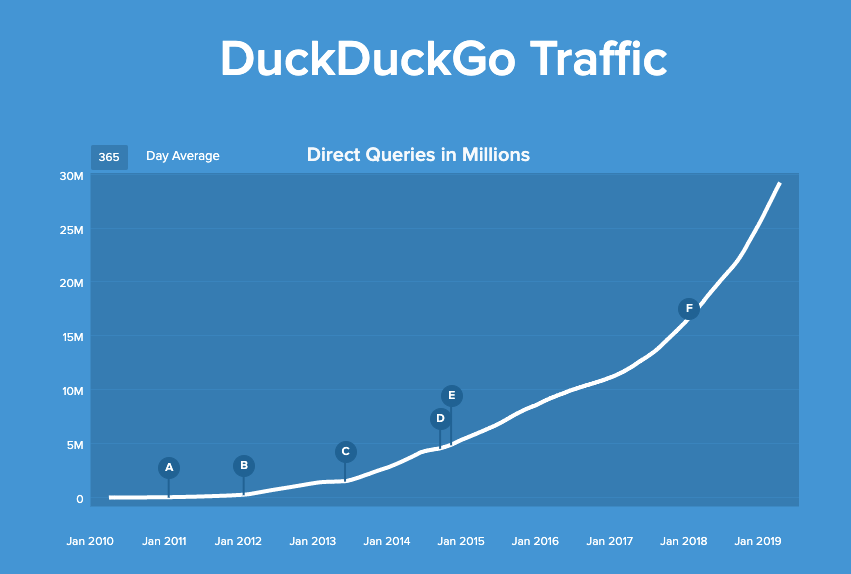 Just recently, the engine got another boost when it was endorsed by Twitter CEO, Jack Dorsey:

Ultimately, marketers should consider their audience and think about where their brand's content is likely to be viewed. With that in mind, optimize your content for more than just one search engine.
40) Voice Marketing Funnels
We already mentioned the impact of voice search earlier in this guide (trend #11). What we didn't explore was the cumulative impact that voice-enabled devices and voice search will have on a fundamental aspect of business: your marketing funnel.
With these rapidly growing digital marketing trends, there's no way that your traditional funnel can stay the same. It must evolve. In 2021, the linear funnel will cease to be relevant. In fact, that transition is already underway.
In the new voice marketing funnel, leads can enter the funnel at different stages of the customer journey, as many consumers now conduct a lot of their own research online. This updated model demands that each customer is treated as an individual instead of a generic prospect. As a result, the funnel must cater to the demand for customized solutions:

Another way that the sales funnel is being revolutionized is from funnel to engine, in which the brand no longer dictates the buyer's journey – rather, the brand and customer "synergistically interact with each other":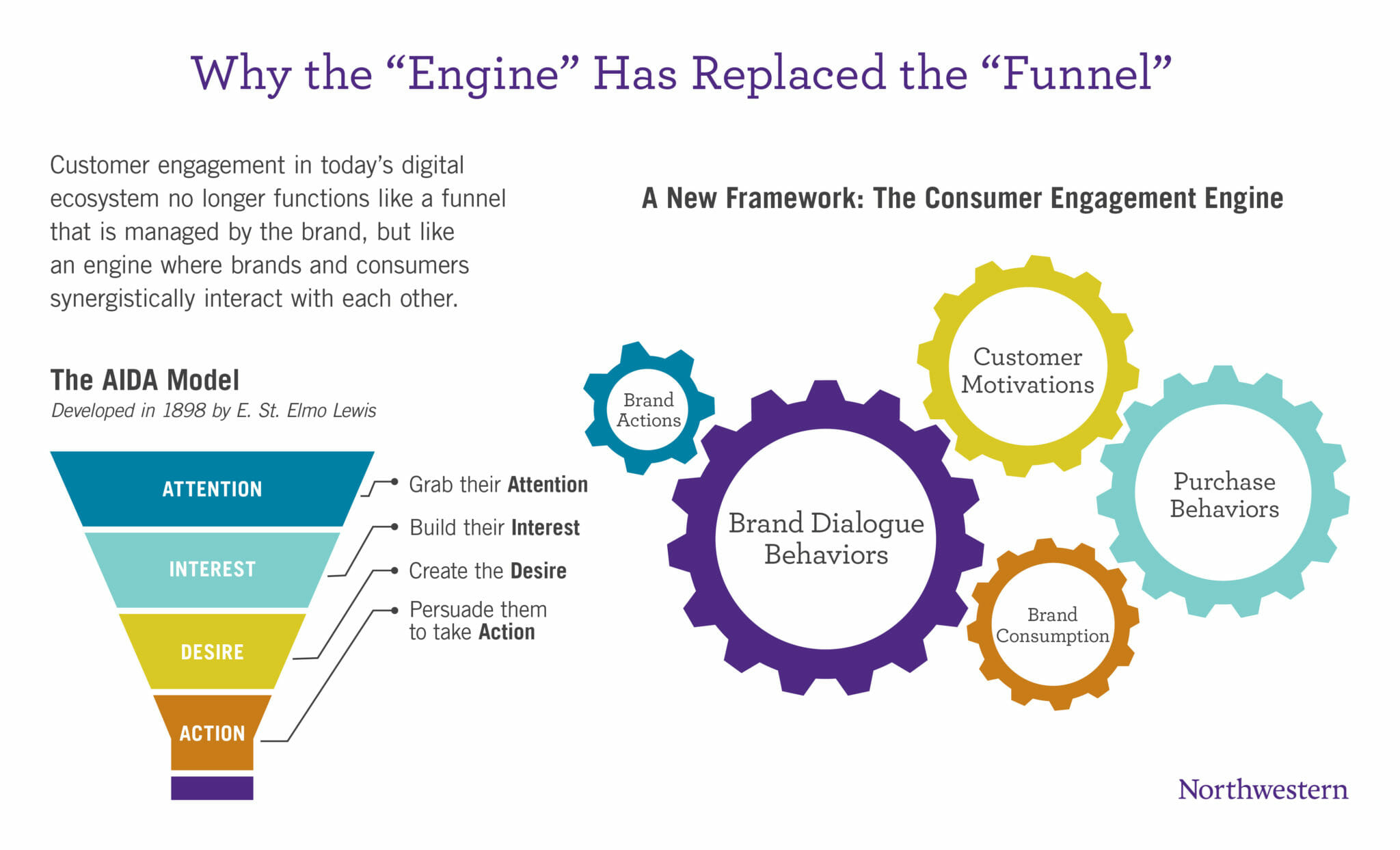 The bottom line is that we can, and should, expect that technology will continue to metamorphose, so marketers must develop funnels that are capable of reacting to constant shifts in the digital landscape.
Search Engine Journal asserts that the first brands to adjust to the demands of voice search will reap the greatest rewards, increasing their digital online revenue by 30% or more.
Related Reading: How to Create the Ultimate Marketing Funnel (Templates Included)
41) Social Media Marketing
In 2021, we'll see brands tapping more into the potential of video and interactive content on social media to get attention, but they must follow it up by being authentic on their social channels, and by working hard to nurture a community of engaged, loyal followers.
As social media strategy consultant Neal Schaffer puts it:
"If your business wants to survive in organic social media in 2021, I believe that this sort of humanization of your brand will be necessary."
This growth is unlikely to falter in the wake of Instagram removing likes from the platform.
From Social Media Today, here are some social media trends to keep an eye on:
Facebook Pay: Launched in the U.S. in November 2019, this payment feature would "facilitate on-platform payments, in-stream, making it easier for people to buy products on Facebook, Instagram, WhatsApp and Messenger."
Facebook Watch: Facebook's own video-on-demand service.
Oculus: VR technology that makes social media more interactive, which Facebook is touting as "the next evolution of social."
Cross-stream messaging: Facebook's integration of messaging functionalities of Messenger, Instagram and WhatsApp.
Instagram removing likes: In response the growing realization of the adverse effects on mental health, Instagram is focusing on better humanization of their brand.
IGTV: Instagram's long-form video platform is not new, but will probably get another push in 2021.
Twitter's mDAU: A new monthly and daily active user metric called "monetizable daily active users," a move to clean up its platform from bots.
Narrowcast tweets: An option that would "limit the audience and usage of your tweets, including the capability to remove the retweet function from chosen tweets, and to restrict your tweet reach to only chosen hashtag discussions and/or to certain friends…[and allow you] to target your tweets to specific audiences."
Tweet streaming: A new live-streaming feature.
LinkedIn groups: Similar to Facebook Groups. Not exactly a new feature, but LinkedIn may try to push it again next year.
LinkedIn video: Since LinkedIn users are 20x more likely to share a video on this platform than any other type of post, LinkedIn seems bent on improving their video discovery tools and putting more emphasis on uploaded video content.
Snapchat AR: An Augmented Reality version of its Spectacles could be on the way, which would "overlay digital graphics over people's real-world view."
Dive Deeper: The Beginner's Guide to Crafting a Highly Effective Social Media Strategy
42) Neuromarketing
Last, but certainly not least, we'll dip our toes into one of the most wow-inspiring digital marketing trends of 2021: neuromarketing. While this may sound like we're quoting from a sci-fi movie, the reality is that this technology is advancing quickly and may become a viable tool for marketers soon.
For the uninitiated, neuromarketing is a strategy that analyzes measurements of a person's brain activity and nervous system to determine which types of content they find engaging.
It is essentially designing marketing materials (including your website, ads, email campaigns and content) to evoke specific neurological reactions that trigger emotions or responses that are linked to purchasing. You can use this information to optimize your content accordingly and adjust your strategies, improving the effectiveness of your marketing.
SPARK Neuro, a neuroanalytics company that measures emotion and attention to optimize advertising and entertainment, is a leader in the space. The company combines biometrics, neurometrics and complex algorithms to analyze attention and emotion levels, effectively helping marketers figure out what content to focus on and what to avoid.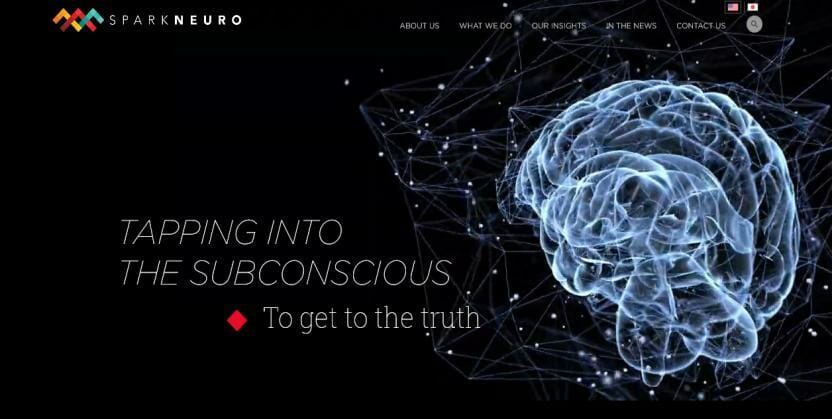 Forbes reports that the company is expected to work with political campaigns in the future. But whether that happens or not, we can be sure that neuromarketing will have a major impact on the future of marketing. The richest consumer data resides in the brain and any tool that helps companies understand the brains of their prospective customers is sure to be worth its weight in gold.

Wrapping Up
So, there you have it – our definitive guide to the 42 most important digital marketing trends you can't ignore in 2021.
As John F. Kennedy once said: "Change is the law of life. And those who look only to the past or present are certain to miss the future."
For anyone in digital marketing, change is an integral part of the job. You must keep looking ahead and strive to embrace new technologies, tools and strategies in order to gain an edge over your competitors.
Check out our 10-minute video How Digital Marketing Will Change in 2021 (and find tons more marketing videos on our YouTube channel!):
Additional contributions by CJ Haughey, a creative tech copywriter with a desire to help innovative brands grow. He specializes in creating engaging growth content for exciting brands and startups in eCommerce, SaaS, AI, and martech. Find him on Twitter @cyberjuicetweet
6 essential marketing trends for 2020 | Smart Insights
Examples of digital marketing tools and techniques to give you an edge in the year ahead
Well, we've nearly made it! For years I've been looking to the future, predicting how innovations in digital media, platforms and technology will shape marketing in 2020. The cutting edge examples certainly show the exciting opportunities available – there is almost too much choice…
In this article, I'll explore six key marketing trends based on examples and research on the adoption of the latest marketing techniques and technology marketers can use.
For recommendations on tapping into the innovations in different digital marketing channels, including email, social media and search engine marketing, see all the other posts from the Smart Insights team covering channel-specific digital marketing trends for 2020.
In 2020, we can see the huge impact that digital marketing has had over the last decade, and more. Looking at advertising alone, these eMarketer predictions show how the duopoly of Facebook and Google dominate paid media investments online, although offline media buys remain important for many larger brands.alfred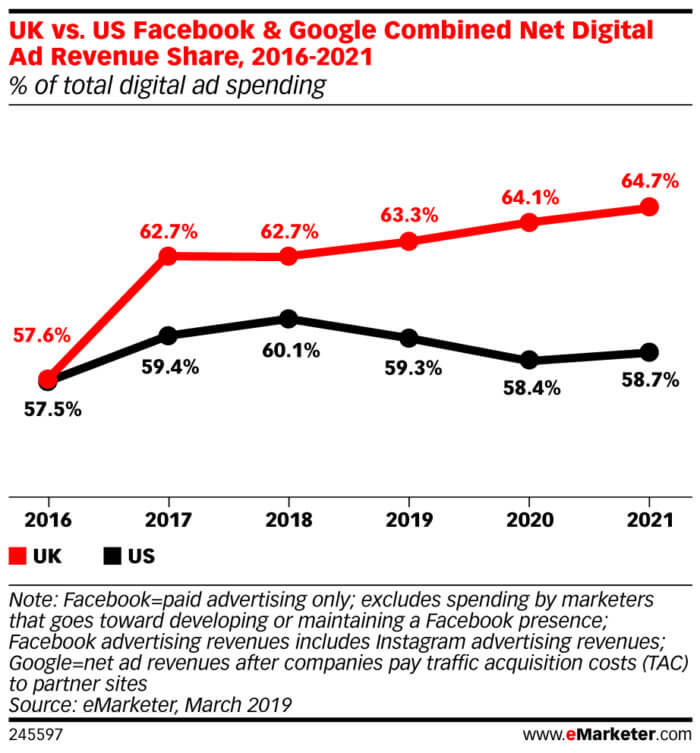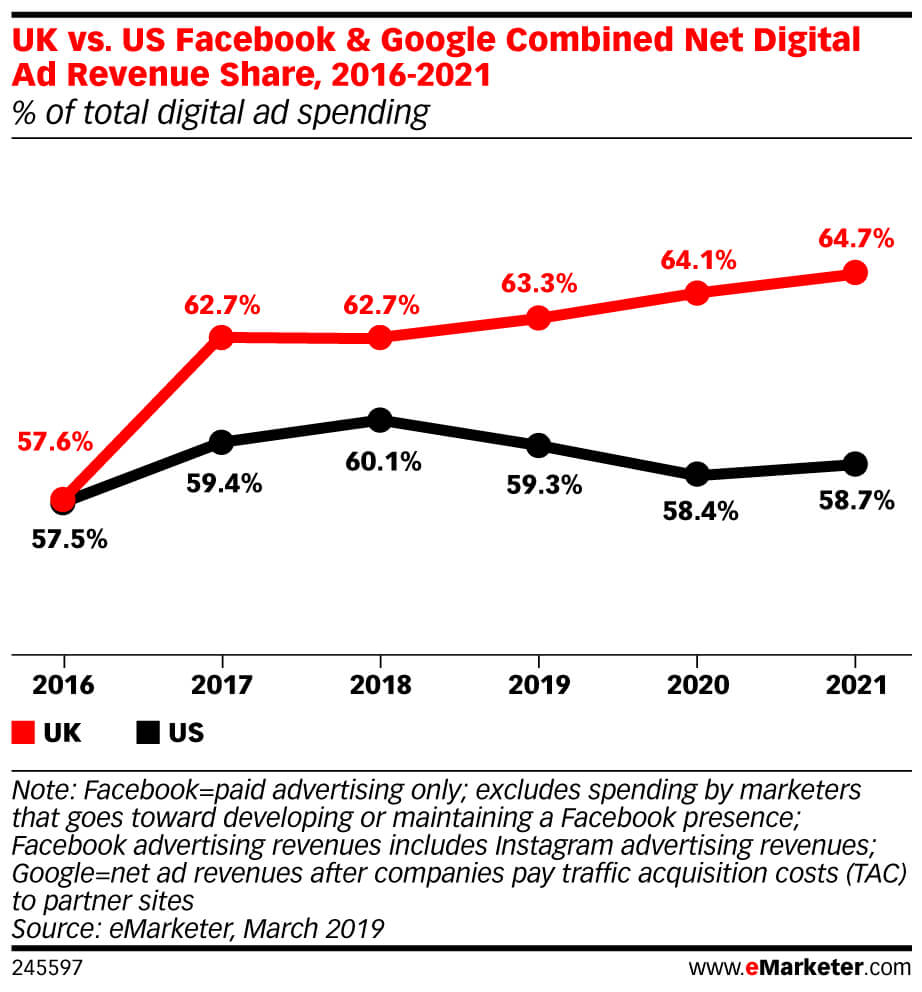 Trend 1. Lifecycle marketing
Although it's often said that the 'funnel is dead' since consumer follows non-linear journeys, regardless of the product or service you're involved with marketing, it will always be the case that to grow a business, your primary focus is growing awareness, closely followed by increasing customer leads and prospects.
This focus is shown by the latest Altimeter / Prophet State of Digital Marketing report, which shows a primary focus on increasing awareness.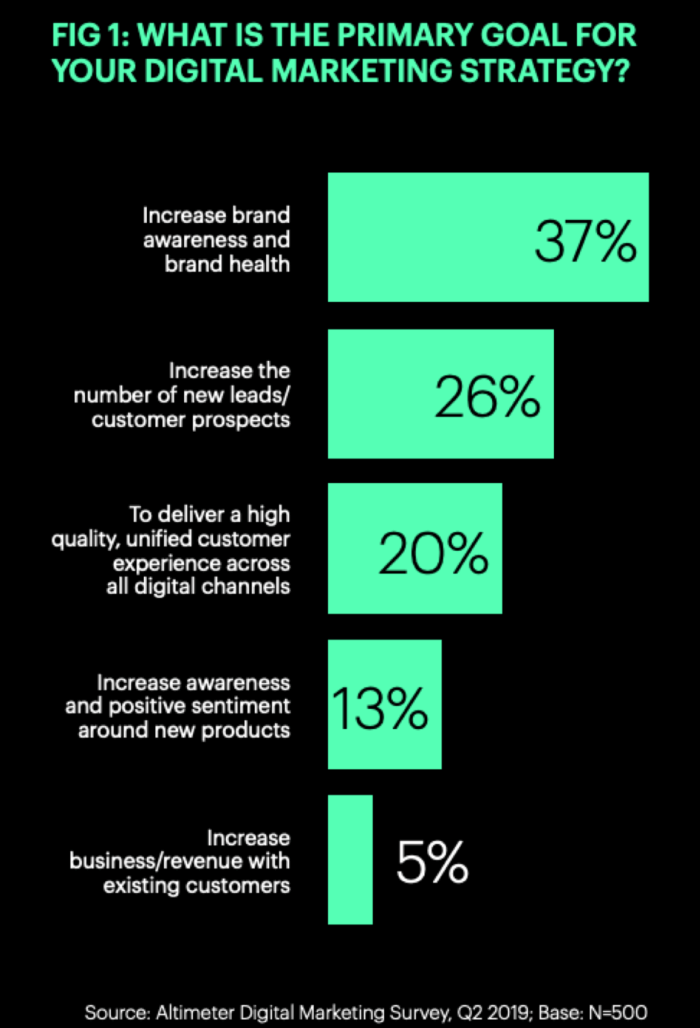 The role of digital in creating a unified customer experience is also high in the response, but it's shocking that digital marketing isn't seen as a driver of boosting revenue from existing customers. It's an artefact of the question since digital marketing is effective in achieving all of these goals, including customer retention.
A more practical way to plan to integrate online marketing into marketing activities is to consider communications from a customer point-of-view through the customer journey. I call this always-on lifecycle marketing and recommend you review your use of online AND offline media across the customer lifecycle.
An example of an audit is shown by this example of the use of marketing activities by a B2B company, which although strong at the top-of-funnel in terms of activities used, is less strong in the middle and bottom-of-funnel nurture and re-targeting activities. Many businesses are adopting marketing automation and account-based marketing technology to implement these touchpoints. See the article linked to above for all of the potential activities that can be audited.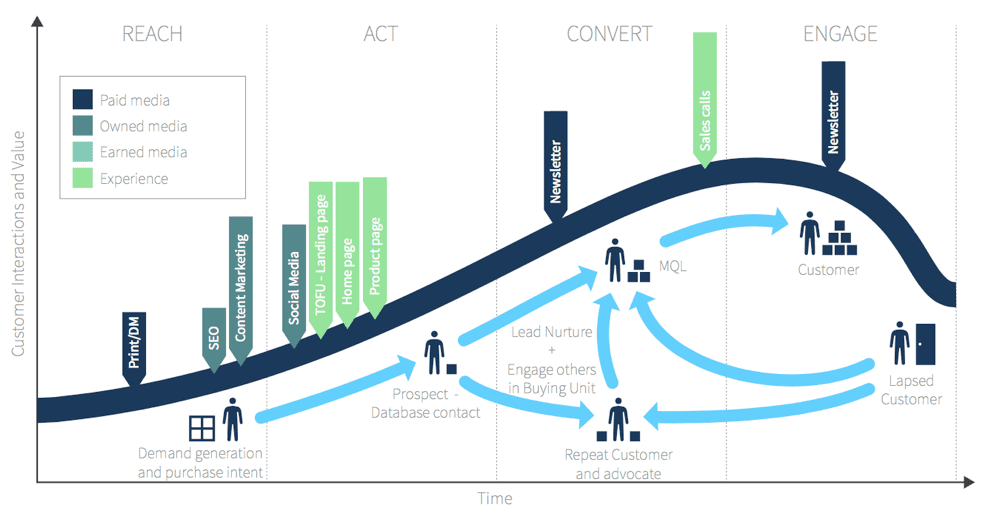 Trend 2. Conversational marketing
For me, this is the most exciting trend in marketing today, bringing together rapid consumer adoption of smart speakers and innovation in search query processing, conversational interfaces and messaging.
Conversational marketing was highlighted as a key innovation in the latest Gartner hype cycle alongside Artificial Intelligence, which often fuels it.  You can see that of the technologies on the Innovation Trigger slope, many aren't expected to become mainstream for 5 to 10 years. Of those forecast to hit the mainstream within the next 2 to 5 years, the three most significant for marketers to consider are personification, real-time and conversational marketing.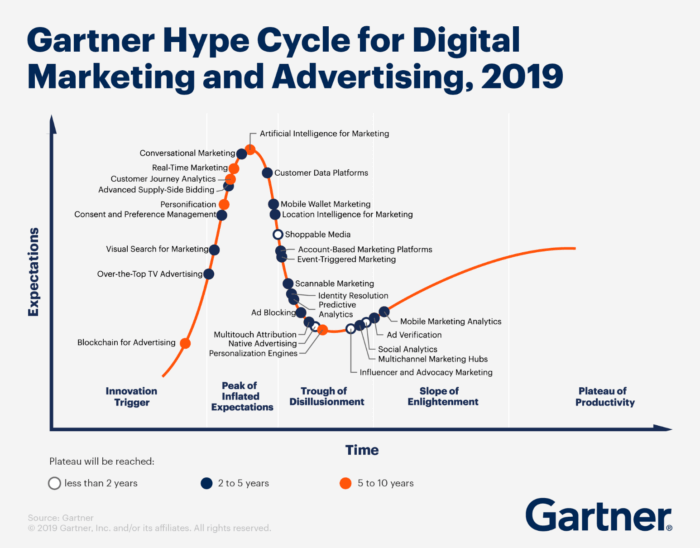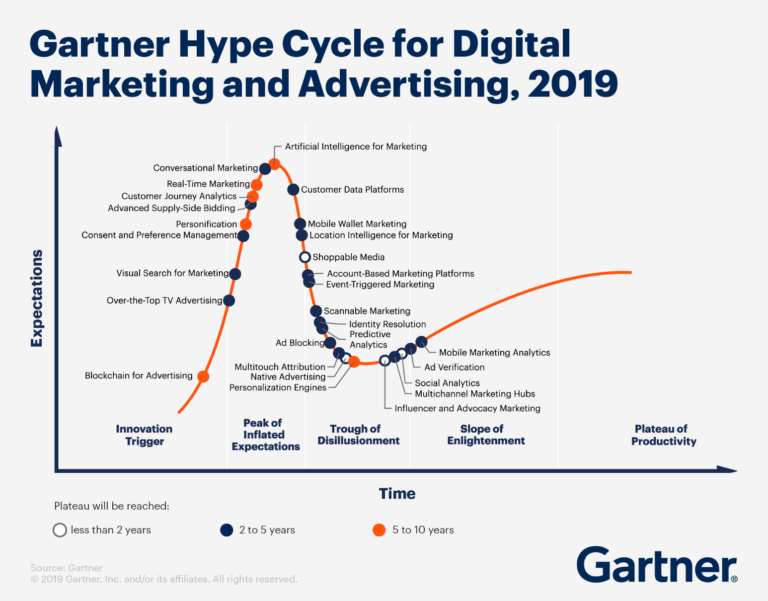 Gartner explains:
"Conversational marketing technologies enable interactions between companies and customers that mimic human dialogue and do so at scale. This category is near the Peak of Inflated Expectations phase".
Personally, I think the hype about smart speakers to support the purchase journey is just that. While some products lend themselves to purchase, where a choice is to be made amongst complex products, they just won't cut it until we have truly intelligent comparison bots. However, the research suggests I may be wrong. A study of 2,000 British adults commissioned by Artefact UK, an AI and data-driven agency, reveals that:
"Six out of ten smart speaker owners (60%) have used them to make a purchase in the past year. In fact, nearly a quarter (22%) said they have done so within the past week".
I believe that building in more relevant to web, email and mobile-based conversations can have a bigger impact by boosting relevance and speaking in a more personal tone. Persado is an interesting tech here.
Persado uses a copy impact classification applied to existing copy, which is used to tailor copy and calls-to-action on an individual basis.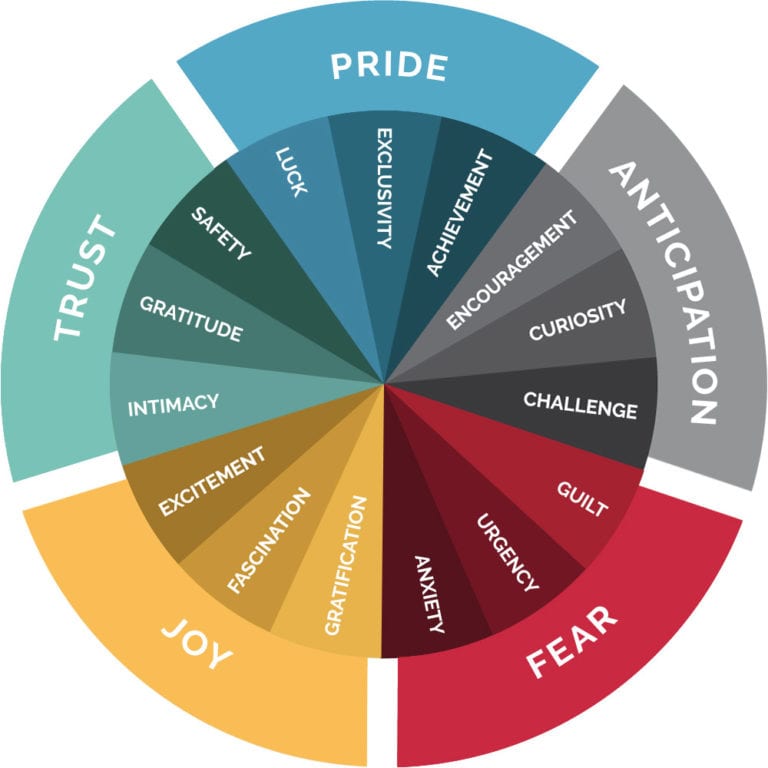 For example, using Persado Natural Language Generation to run an experiment, Air Canada sparked a higher response using Anxiety language getting a 3% engagement lift, compared to a 5% drop using Exclusivity language, and a 3% drop using Safety language.

Another example of  AI application is nutrition and wellness retailer Holland & Barrett using AI to provide better-targeted emails. This Machine Learning approach from Tinyclues goes beyond optimizing copy using a tool like Persado, instead, it also involves targeting based on the behaviour of individuals to create more micro-targeted campaigns.
Speaking at a session I chaired at the Email Innovation Summit, Richard Lallo, Head of Digital Marketing, described what he calls 'strategic promotions and mono-product pushes' in a campaign. The business was able to drive campaign revenue and increase re-purchase rate while sending emails. Campaign revenue increased by 27%, open rates increased by 19%, while email send volume decreased by 23%, which also gives cost savings.

Trend 3. Insights-driven marketing
At Smart Insights we're huge fans of using analytics and insight to drive business performance and optimize the results from digital marketing. It's why we're called what we are.
Improving their data-driven marketing is an aim of many businesses indicated by the most desired skill amongst digital marketers revealed by the Altimeter/Prophet State of Digital Marketing report.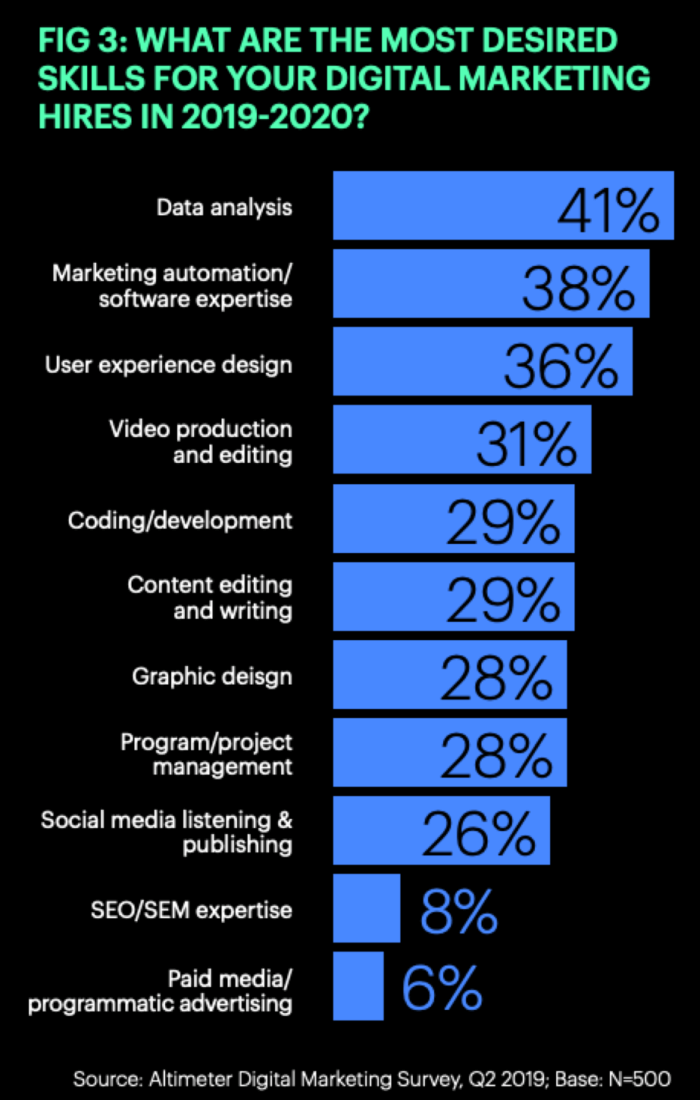 Businesses using this approach are trying to gain the benefits reported by Mckinsey research that suggested that:
Intensive users of customer analytics are 23 times more likely to clearly outperform their competitors in terms of new customer acquisition than non-intensive users, and nine times more likely to surpass them in customer loyalty.
In addition to advances in customer analytics supported by CDPs described in the next section, new Voice of the Customer (VoC) techniques, such as online-hosted customer communities, can improve customer preferences for future products and how they are delivered.
For example, Red Bull used insight platform Vision Critical to launch a community of consumers passionate about the energy drink category. By providing a deeper understanding of consumer preferences, the community challenges widely-held assumptions. The company, for instance, learned who consumes Red Bull drinks — and how and when they buy — were changing. Data from the community provides insight on the competitive landscape, revealing channels the company can enhance to improve growth. The community also helps Red Bull deliver more value to retailers.
Trend 4. Marketing technology
Today, Marketing Technology (Martech for short) presents a bewildering choice of software services for businesses looking to improve their management of digital media, experiences and supporting data. If your business and your agencies adopt the right blend of Martech, it can help give you an edge against competitors, but if not, you may be missing out on the insights and automation processes they are using.
The latest 2019 Martech supergraphic from Scott Brinker, a specialist who hosts Martech conferences and has advised on technology for HubSpot, has created this somewhat scary map of all the potential categories and services that companies can use.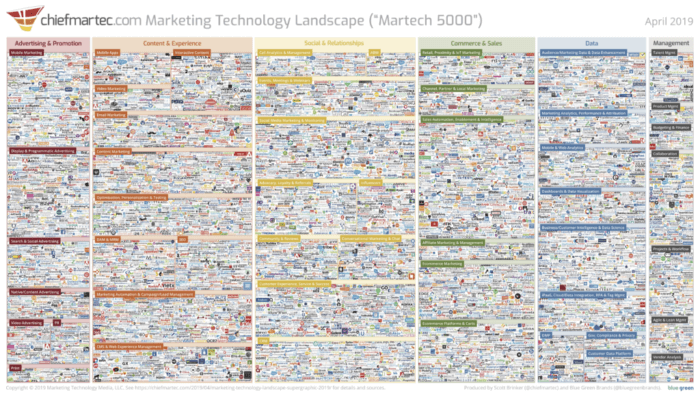 To highlight the range of great services available and to simplify the options a little, we designed this essential digital marketing tools infographic to recommend the categories of tools you should consider across the Smart Insights RACE Planning system and highlight the most popular, most capable tools.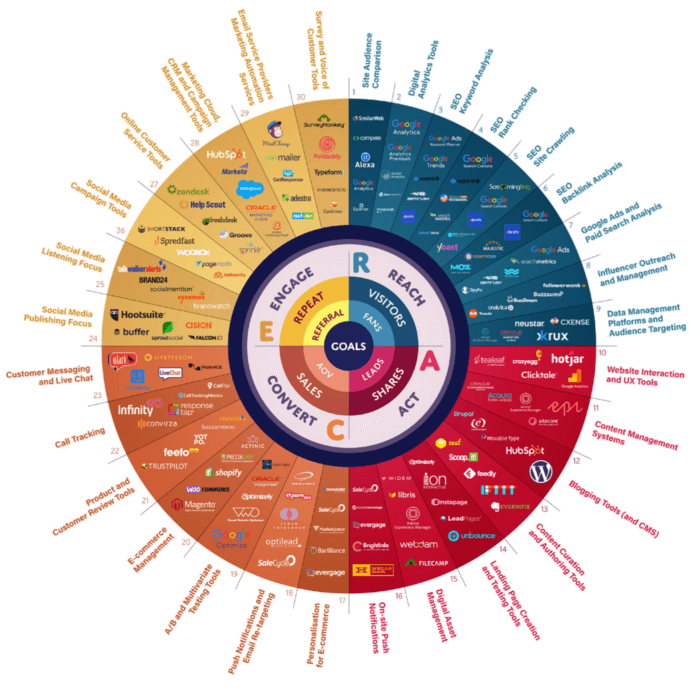 We will create the annual update for this in early 2020, discussing it recently on LinkedIn has highlighted some of the latest trends that aren't evident from this version of the wheel. Raviv Turner, Co-Founder, of B2B service @CaliberMind said:
"No MarTech stack is complete these days without the third leg of CRM, MAP & CDP. The only way to map, store, analyze and act on the complete end-to-end customer journey is having all the data in one place using a Customer Data Platform (CDPs)."
I'm not sure 'the only-way' is accurate, but that is the sentiment.
Kristen Obaid, Always On digital marketing campaigns manager for an international Education company, added:
"The Salesforce and Adobe MAPs are underrepresented here (eg Pardot can be used for email, social, CRM, CMS, audience management, analytics. Krux is now SF. They can both be used as DMPs if the data is configured properly.) BI with simple data integrations (like Domo, Tableau) are also missing, plus Intercom for service CMS eg FAQs, and Drift for automated service chat".
Trend 5. Consumer Privacy and KYC
Repeated privacy faux-pas by Facebook, Google and security breaches at other brands leading to the release of customer details have highlighted to consumers that their data isn't as safe with online brands as they may have once thought. Privacy regulations like GDPR have been enacted to improve data privacy with increased fines.
Record fines have arisen in 2019 from the maximum penalty for contraventions increasing under GDPR to up to €20m (£17.5m) or four percent of global turnover – whichever is the greater.
British Airways, was issued with a proposed fine of £183m for a breach of customer data and a £99 million fine on hotel chain Marriott for failing to protect personal data contained in approximately 339 million guest records.
While these may be more the concerns of the CIO or CFO rather than the CMO, it shows the need for marketers to work with colleagues to mitigate the potential impact of security breaches and reassure customers.
At the same time, we have seen a decreasing effectiveness of traditional identification methods such as cookies for tracking, which makes media ROI determination – supposedly one of the key benefits of digital channels – more difficult.
Emerging technologies can potentially help with both of these challenges.
New Identify Management or Know Your Customer solutions are being developed that can both improve security, reduce fraud and improve insight about customers across multiple devices.
For example, UK startup Hooyu blends traditional methods of customer verification such as database checks (where available) with ID document validation, digital footprint analysis, geo-location and facial biometrics. While this is most relevant for banks and other gambling applications, it indicates the range of data points that are now available.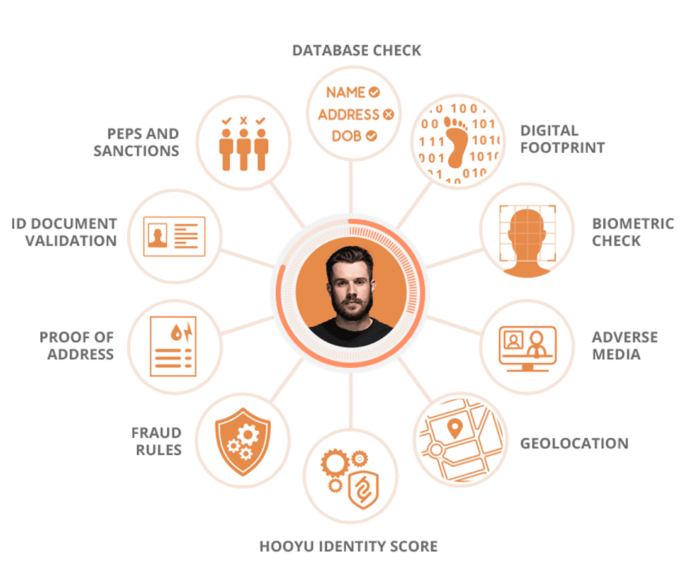 With these consumer concerns and new legislation such as the EU ePrivacy legislation about to be launched and the inaccuracy of tracking online with increasing restrictions built into browser like Chrome and Safari it seems like the days of the cookie (and particularly third-party cookies) and digital fingerprinting may be numbered. This means that businesses should be considering other alternatives if they aren't already.
Discussing Unified ID – Why Identity becomes a key success factor in the post-cookie era era – Alwin Viereck, Head of Programmatic Advertising and Ad Management, United Internet Media estimates that
"More than 20% of all cookies in a desktop environment do not live longer than a day and a further 15–20% do not survive a month. For vendors in a third party context (which are typically all participants of the programmatic ecosystem), the problem might even be worse.
Multiplatform consent solutions like Sourcepoint and Identity and Access Management integration solutions like Auth0 and OneIdentity will be adopted more widely. Within AdTech new solutions will have to be found in response to Google and Apples Ad-targeting limitations.
Trend 6. Digital transformation and Marketing Transformation
Our managing digital marketing research revealed many challenges in terms of how digital marketing is run in companies today. Problems included a lack of focus on integrated strategy, testing, and optimization and structural issues like teams working in silos or a lack of skills in integrated communications.
To counter these types of problems and to make the most of the opportunities for growing a business through digital marketing, many businesses are now putting a digital transformation programme in place.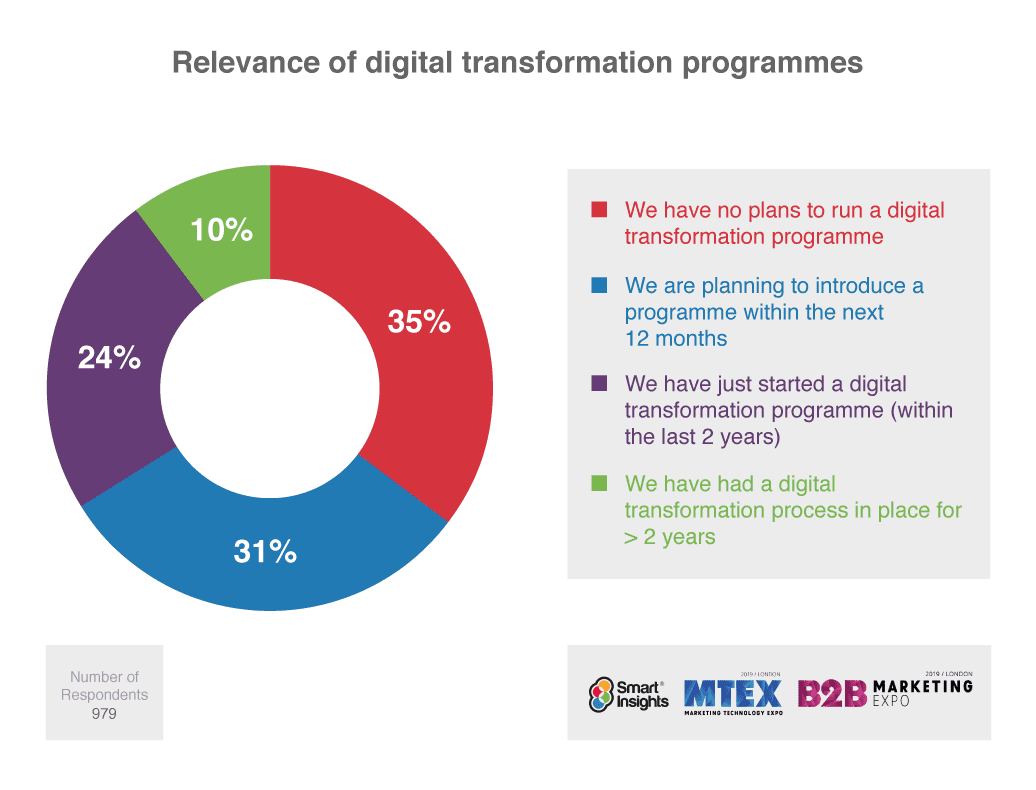 The aim of digital transformation is to develop a roadmap to improve digital capabilities and skills, while at the same time, integrating 'always-on' digital marketing activities with brand and product marketing in the business.
This chart from the research shows that many businesses are active in transformation to try to achieve this aim through the success factors covered in this briefing.
Despite some talk that we might be in a post-digital world by 2020 and some traditional marketers suggesting that "it's time to shut down digital marketing for good" the reality is that many specialist digital job roles and are needed to run digital marketing activities as my post '10 reasons you still need a digital team' shows.
A common practice that we can expect to continue in the future is a move to a hybrid approach to managing digital marketing with digital marketing skills being developed in marketing teams as suggested by this structure.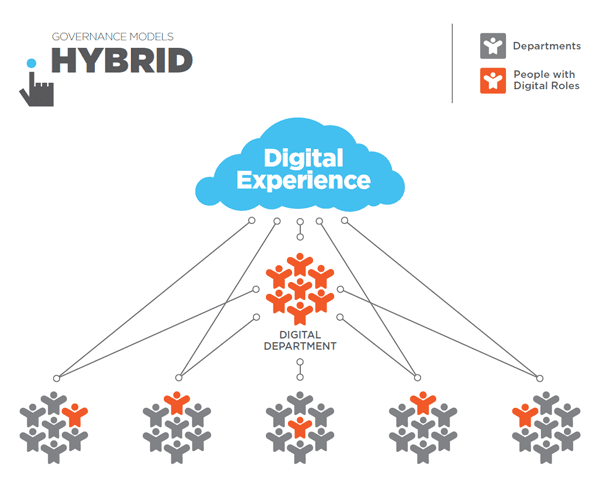 However, the label of a 'digital department' is outmoded, since the creation of large digital teams has caused silos to develop with other marketing and product teams. Instead, we can expect a continued move to a digital/marketing Centre of Excellence model. The DCoE will be smaller 'digital services units' that track the latest developments in development, advising on new digital techniques and technologies.
Through the year, we've been adding to our tools to help all members assess how well their businesses are adapting to using digital media and technology as part of Digital Transformation. To review your digital readiness, either for integrated digital marketing or individual channels, download our benchmarks or take our interactive capability graders.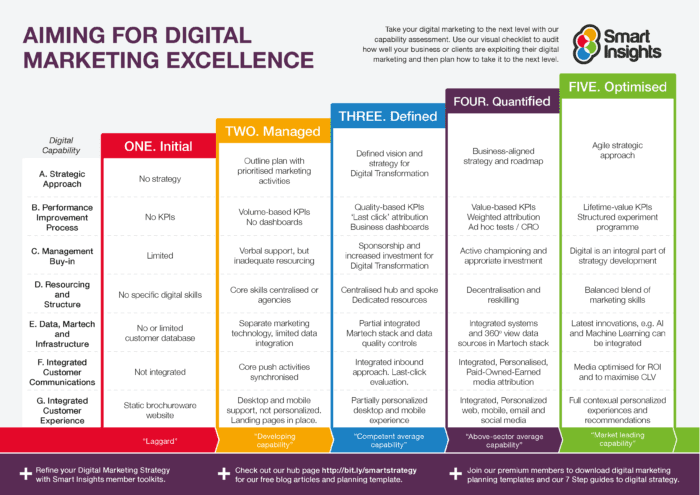 All the best for grasping the opportunities from digital marketing in 2020 and beyond! To help you on your way take a look at our benchmarking templates, each of which will give you a quick review for digital marketing governance and the key channels like search, social, email marketing plus analytics, content marketing and experience.
7 Digital Marketing Trends to Consider for 2020 – Chief Marketer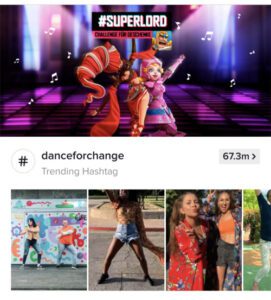 What are biggest digital marketing trends for 2020? More—as in more influencer marketing, more content, more web video and more of what will get digital consumers engaged with your brand online.
Here are seven key digital marketing trends that you should consider investing your time and resources in to succeed in 2020.
1- The Ascent of Social Influencer Marketing
Influencers used to be huge celebrities or "internet celebs" with millions or hundreds of thousands of followers. But now, companies are turning to people with a much smaller social media following to leverage as influencers and reach a targeted audience with a voice they trust.
Influencer marketing has evolved into to become more personalized. As it becomes more authentic, 92 percent of people trust other consumer recommendations over corporate advertising. For this reason, marketers from a leading gaming company launched their highly successful influencer marketing campaign #Superlord on the social video app TikTok, which took Germany by storm:
Further, a mediakix study predicts that the ad spend for influencer marketing could reach $10 billion by next year. It's clear that influencer marketing is here to stay.
---
You May Also Enjoy:
---
2-Streaming Video Ad Engagement
Video was a digital marketing must in 2019 and it will continue to be one in 2020, according to IAB's 2019 Video Advertising Spend Report. Marketers report digital budgets increased 25 percent year over year. Consumer viewing habits explain this budget increase—advertisers go where their customers are spending their time. Per the IAB:
74 percent of U.S. consumers 13 years and older watch streaming or online video at least weekly and 41 percent watch daily.
78 percent of digital video viewers will watch advertising in exchange for free content.
Online video viewers pay closer attention to both content and ads when watching educational videos.
And, in addition to adding videos to your social networks and on your site, live videos on Facebook Live and Instagram Live get watched 3x longer than videos that aren't live. It's time to take streaming and live video ads seriously in 2020.
3-Emerging Tech Rising
From 5G technology on mobile devices to advancements in AI, voice and connected TVs, how consumers engage with ads will truly transform in the coming year:
5G technology will transform how consumers access and use content, meaning mobile usage will dramatically increase among global audiences.
AI tech advancements for content will enable greater personalization in digital video.
Voice search for smart speakers will continue to expand as homes continue adopting Alexa, Siri and Google Home, and while developers continue to make improvements to accuracy.
Advancements in connected TVs and OTT (over the top media) will enable users to interact with ads from their TV and mobile devices that lead to increased product placement within streaming video.
4-Interactive Content Takes Off
Ninety-one percent of buyers are looking for more interactive content online. In 2020, content marketing will shift its focus to give audiences more of what they want: shoppable posts, AR/VR, 360-degree video, quizzes and polls are just a few examples of interactive content.
Rome: A Guided City Tour is a great example of a 360-degree video:
The reason interactive content will be one of 2020's top marketing trends is because this level of interactivity in retail is new and original—take for instance, a shoppable Free People ad on Instagram. When a user taps the photo, the dress name and price appear. When tapping the price, the user is taken to a screen with more information and the option to view the item on the Free People website. This type of ad cuts through the noise, and gives visitors a reason to stay and engage. And it's extremely shareable, expanding an ad's reach even further.
5-Micro-Moments Go Mainstream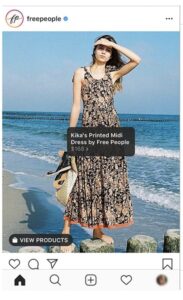 Micro-moments are moments when we turn to a device—often a smartphone—to take action on whatever we need or want now. People generally make instant decisions on what to eat, which restaurant to choose, what to purchase or where to go. This tactic looks to take advantage of showing a relevant ad at the right place at the right time to the right audience.
To take advantage of micro-moments in 2020, you need to be where consumers are searching for information in the moment—as Google puts it, marketers have to "be there, be useful, be quick."
The rise of micro-moments means that marketers must rethink the linear buyer's journey that follows a set path: awareness, consideration and decision. Today, the customer journey is becoming more of a whirling funnel wherein people think, see or talk about something and then want to learn about it, watch it or buy it, all at an instant. Expectations are high, and patience is low.
Identify your customer's potential "have to buy" moments, and be ready to deliver quality content in those moments of need for mobile devices, and make it easy for them to then purchase.
6-Social Media Stories Become a Marketing Mainstay
First Snapchat came out with the concept of "My Story," then Instagram and Facebook stories were introduced, and then YouTube unveiled their own story format: Reels. Now we have the emergence of TikTok, where users create videos on the spot and behind the scenes for a less polished and more authentic look.
Since these types of stories disappear after a set period of time, this is a great opportunity for marketers to make good use of FOMO (fear of missing out).
There are several benefits to using social media stories including:
Increased brand awareness
Constant engagement with followers
Cost-effective ad solution
Increased traffic to your web page
Opportunity to reach younger audiences
A simple way to engage users is to add Polls to your Stories. For instance, the National Basketball Association used Polls to ask their followers who they thought would win the upcoming matchups. Additionally, it was a useful tool to build anticipation around the event itself.
Consumers often use Stories to search for local businesses. For instance, on Instagram Stories, some location searches have a story icon that allows users to view recent stories that have used the particular location sticker. Additionally, the use of hashtags for places or events have a similar effect of driving user traffic to that destination to learn more. This is a great way to help your brand get discovered locally.
7-Content Experiences Will be the Face of Content Marketing
"Content experiences" are the amalgamation of content and context. This matters because every piece of content conveys an experience—both good or bad—through elements like design, placement, environment and more.
Consider Coca-Cola's "Share a Coke" campaign, started in 2011 and still going strong today. Coca-Cola lovers can personalize bottles with their name or friend's name from the Coca-Cola website or look for a name on a bottle at in a real-world store. The campaign went viral as consumers began posting pictures online with their personalized drinks.
Consumers naturally loved the ability to personalize bottles, and it became a great way for Coke to engage their audience—and get them to make a purchase.
Content experience is about addressing the whole user experience when engaging with the content. It puts control back in the hands of the marketer, while also focusing on the brand experience. It's about thinking holistically as a marketer, an important part of considering your 2020 strategy.
Sven Lubek is managing director of WeQ.